RENAULT SPORT FORMULA ONE TEAM SUFFERS DISAPPOINTING DOUBLE RETIREMENT IN MONACO
By: Infiniti
---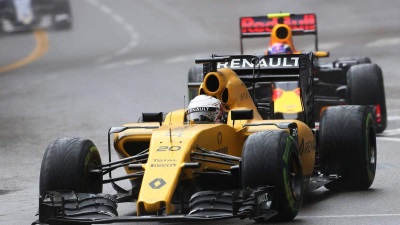 MONACO
– The Renault Sport Formula One Team suffered a disappointing double retirement from an eventful Monaco Grand Prix. Kevin Magnussen showed promising progress with an early swap to intermediate tires after a race start on full wet tires behind the safety car. Kevin's potential was ultimately undone by an unfathomable onslaught from a one-lap-down Daniil Kvyat. He continued to race but subsequently ended up in the barriers again and retired from the Grand Prix. Jolyon Palmer's race was far shorter, ending after aquaplaning into the barriers on the main straight, then into the barriers at Sainte Devote on the seventh lap. ◾Kevin started the race in P16 on the full wet Pirelli tires. He made a switch to the intermediate tires on lap 7 then had a Kyvat-induced stop for a new front wing and replacement intermediates on lap 21. He later stopped for new super softs on lap 29 and new ultra softs and a further front wing on lap 32. He retired a lap later. ◾Jolyon started the race in P18 on the full wet Pirelli tires. He aquaplaned into the barriers and out of the race on lap 7.
Kevin Magnussen, #20, R.S.16-02: Started P16, DNF
'We had a good start to the race and made a really good strategic call to change to the intermediate tires just after the safety car. We were the only ones to do it so early, and it was the right decision. We were in a good position as a lot of people were still to pit, and we gained a lot of places. Unfortunately, Kvyat just lost his mind and crashed into me, and that was effectively the end of my race. We did continue and made an early change to slicks as we had nothing to lose, but ultimately I hit the wall and damaged the front wing. We were several laps down at that point, and the car had been in the wars so it was safer to retire. It's a shame we didn't have a good weekend as we were very optimistic for the race. Now we have to shift our focus to Canada and have a better weekend there. Montréal should be a stronger track for us and should play to the strengths of the updates for the car.'
Jolyon Palmer, #30, R.S.16-03: Started P18, DNF
'The traction was appalling after the safety car and I got caught out. I had wheelspin in fifth gear on the white line that crosses the track. There was nothing I could do; I was just a passenger and went straight away into the wall. It's so difficult as we know that the white lines are slippery but they are everywhere. I'm disappointed as I love this track and it's been good for me in the past. But I'm now looking forward to Canada and putting this weekend behind me. Monaco hasn't been good to me this year, so we need to move on to the next race and look for a better weekend.'
Fred Vasseur, Racing Director
'It was a tough weekend for both cars. Jolyon's race ended on the straight as soon as the race got underway. He had a pretty serious shunt, a fast one, and that put an end to his day; there was nothing to be done. For Kevin, he asked to swap to intermediates pretty early in the race, which was a good call, despite suffering from being in traffic for a while. His race effectively ended thanks to the incident with Kvyat, which is a shame especially as there may have been something to be done from where he was ranked as we had a strategy that was slightly out of step from everyone else's. In any case, we'll go lick our wounds and move our focus to Canada.'
Photo credit:
Infiniti
posted on
conceptcarz.com
Loading............
Loading............
Loading............
Loading............
Loading............
Loading............
Loading............