1915 Stutz Bearcat news, pictures, specifications, and information

Tweet
In 1876, Harry C. Stutz was born. He grew up on the family farm where he often helped repair their farm equipment. This led to a fascination with engines and in 1897 he built his first car; soon after he began designing and creating engines. The Stutz Company, based in Indianapolis, Indiana, introduced its first production vehicle in 1911. The vehicle, after only five months of design and build, was immediately entered in the inaugural Indianapolis 500 mile race where it captured an 11th place finish. Not bad for its first vehicle and first race. Throughout the company's life span, it would endure good and bad times. The Stutz Company was in production during World War I and the Great Depression, both responsible for negatively affecting Industry.

Stutz will be forever remembered for their Bearcat model, a vehicle produced until 1925. This pure-bred race car had an aggressive and masculine stance; the interior was void of luxury and amenities. With its high revving straight 8-cylinder overhead camshaft engine and lightweight construction, the vehicle was poised to compete in national and international competition.

In 1919, Harry Stutz was forced by stock holders to leave his company. In 1922, Charles Schwab was given control of the company. In 1925, Schwab gave control of the company to Frederick Moskovics. Moskovic planed to revitalize the company by shifting the priorities from racing to producing luxurious automobiles. This did not mean that the company was to abandon its racing heritage, rather Moskovics wanted to expand its racing prowess by entering it in International competition. The 24 Hours of Le Mans is a grueling endurance battle that tests stamina, speed, and durability. In 1928 a Stutz Series BB Black Hawk Speedster, driven by Edouard Brisson and Robert Bloch, was entered in the French LeMans race. The vehicle did well, leading for most of the race. Half way through the 22nd hour, the gearbox broke on the Stutz and a Bentley 4.5-liter was able secure a first place finish. The Stutz was second, the best an American car had ever placed in this prestigious race.

In 1929, the Stutz Company decided to increase their chances of victory by entering more than one vehicle into the Le Mans race. The vehicles were designed and prepared especially for the race. Gordon Buehrig was tasked with designing the bodies for the 2-seater sportscars. A modified 5.5-liter straight 8-cylinder with a supercharger were placed in the front and powered the rear wheels. Three vehicles entered by Stutz Paris, Colonel Warwick Wright, and Charles Weymann were anxiously anticipating a repeat of the prior years success or possibly an overall victory. Sadly, only one vehicle would finish. Behind a fleet of Bentley's was the Stutz followed by a Chrysler 75. With a fifth place finish, the Stutz cars were no match for the powerful and agile Bentley Speed Six models.

In the early part of 1929, Moskovics resigned and Edgar Gorrell assumed the duties of president. Many manufacturers were developing multi-cylinder cars which attracted a larger market share of the already small luxury car market. The Stutz Company was not in a financial position to develop an engine of this caliber. Instead, Stutz embarked on developing an inline eight cylinder engine with single overhead cams. The result was the SV16, representing the side-valve 16 meaning that one exhaust and one intake valve per cylinder was allocated for the eight cylinders. By using the name SV16, it gave the vehicle an allure of equal capacity to other nameplates such as the Cadillac and Marmon V16. The SV-16 came equipped with a windshield safety glass and hydrostatic brakes. The chassis sat lower than most of the competition giving it an advantage through turns. During its production run, around 100 examples were produced.

Following on the heals of the SV16 was the DV-32. The engine featured updraft Schebler carburetors and four valves per cylinder equaling 32 valves and dual overhead camshafts. The power-plant was capable of producing 156 horsepower. The vehicle sat atop of a 145 inch wheelbase and outfitted with Stutz 8 hubcaps. At $6,400 these vehicles were extremely expensive at the time.

In 1929, the Blackhawk series was introduced. These sports cars were affordable, competitive, and compact; outfitted with a six-cylinder engine.

The demise on the race track would slowly transcend to the market place. For all of 1930, there were less than 1500 cars produced. Sales declined even more in the following years and in 1934, after only six Stutz cars produced, the factory closed its doors. This is not to suggest the racing results were solely responsible for the company's woes. The Great Depression crippled and destroyed many auto manufacturers at this time. Competition in design and technology was ever present and the dependable, mass-produced, low-cost automobile manufacturers were in the best positions to come out on top. The Stutz Company had an impressive racing heritage and its automobiles are legendary. The Stutz name is respected by many including those overseas.
By Daniel Vaughan | Aug 2005
This Stutz Bearcat was discovered in a shipping container in England during the early 1980s. The vehicle had several European accessories at the time, that may have been installed when the car was first shipped to England. The car was imported to the United States by a California-based collector, and was soon restored and driven for several years in California before being sold to a new owner. The car found several more owners over the years, before being acquired by an owner in 2004. A through, ground-up, professional restoration soon began, which included a complete engine rebuild. A short time after the work was completed, the car was shown at the Meadow Brook Hall Concours d'Elegance in 2005, where it competed in the featured 'Magnificent Brass Cars' class. The current owner acquired the car in 2006.

This Bearcat is powered by a 390 cubic-inch, four-cylinder, T-head engine cast in pairs and capable of producing 50 horsepower. There is a three-speed selective sliding transaxle and two-wheel mechanical rear brakes.

In 2010, this Bearcat was offered for sale at the Vintage Motor Cars of Meadow Brook presented by RM Auctions. The car was estimated to sell for $275,000 - $350,000. As bidding came to a close, the car had been sold for the sum of $330,000, inclusive of buyer's premium.
By Daniel Vaughan | Aug 2010
This 1915 Stutz Bearcat is a replica built to similar specifications as the legendary Bearcats of the era. A Ford Model A frame and Ford axles and wheels were used to provide the base. The engine is a Ford Model B unit from the 1932-1935 period. The body is nearly identical to the original Bearcat designs, including the fuel tank and trunk. The badges are believed to be original and authentic, along with the VIN tag which reads serial number 2476. It has a monocle windscreen and right-hand drive configuration.

In 2008 this Bearcat Replica was brought to RM Auctions' Vintage Motor Cars of Meadow Brook. It was estimated to sell for $70,000-$100,000 and offered without reserve. If it had been an original, the estimated value would have been much, much higher. Bidding was not as enthusiastic as hoped and the 'no reserve' on the vehicle meant the high bid of just $27,500, including buyer's premium, was enough to secure new ownership. The lot was sold.
By Daniel Vaughan | Sep 2008
The Stutz Bearcat was produced from 1914 through 1924. The first version was produced from 1914 to 1917 and was powered by a 6388 cc four-cylinder engine. The Bearcat was a creation inspired by a Indy sports car racer built by the Stutz Motor Company in 1911. It was powered by a 361 cubic-inch four-cylinder engine that produced 50 horsepower. The Bearcat continued the tradition of lightweight construction, potent engine, and superior performance. The vehicle utilized an 'underslung' design which allowed the vehicle to be constructed lower than most vehicles, sitting closer to the ground. They were void of any unnecessary amenities, had no doors and only a small 'monocle' windscreen to protect the driver. It weighed just 4500 pounds and rested on a 120 inch wheelbase. There was usually seating for two and no top to protect the driver or passenger from the elements.

In 1912 the Stutz Bearcats proved their potential by winning 25 out of the 30 races in which they were entered. Their slogan was 'The car that made good in one day'. This was a popular slogan and is still remembered by many even to this day. The title was adorned on Harry C Stutz in 1911 when his driver, Gil Anderson, placed 11th at the Indianapolis 500, an amazing accomplishment and one that immediately inspired sales. The car had been built in just five weeks and was the first automobile to bear the name 'Stutz'. At Indianapolis, it had averaged 110 km/h (about 68 mph) and was only beaten by vehicles with engines much larger than its own.

A disgruntled buyer of a Stutz complained to the Stutz Company that Mercer's were beating his car. In response, the Stutz Company set out to be the coast-to-coast record. In 1915, Erwin George 'Cannonball' Baker drove a Bearcat from San Diego to New York in 11 days, 7 hours, and 15 minutes. This broke the previous record. Baker went on to set 143 distance records. Sales continued to climb. A Wall Street investor spear-headed by Allan A. Ryan bought controlling interest in Stutz. This allowed more capital and allowed Stutz to expand their manufacturing facilities. Harry Clayton Stutz sold his interest in the company in 1919. He turned his attention to two new endeavors, the Stutz Fire Engine Company and the H.C.S. Motor Car Company.

The production of the Stutz Bearcat continued until 1924. The car continued its tradition of being a sports car. It was fast and had excellent performance for the era. The clutch was said to be so stiff that it prevented woman from driving the vehicle - many said this was a 'man's car.' The two-wheel mechanical brakes also required much force to operate.

The Stutz Company stayed in business until 1935 when it was forced out of business due to the Great Depression. In 1923, Frederick Ewan Moskowics, became the president of the Stutz Motor Car Company. Under his direction, the company was repositioned as a company that produced elegant sedans renowned for safety. Essentially, he turned the he-man cars into luxury beauties. In 1929 Moskowics resigned and was succeeded by Edgar S. Gorrell.
By Daniel Vaughan | Dec 2006
BMW TEAM RLL – TWELVE HOURS OF SEBRING PREVIEW
Woodcliff Lake, N.J. – March 12, 2014 . . . After five years of beginning its season at the Twelve Hours of Sebring, BMW Team RLL arrives ready for the 62nd annual event with something it has never had before – momentum from a prior race. The new TUDOR United SportsCar Championship that has merged the GRAND-AM and ALMS series began with the Rolex 24 At Daytona in January. BMW Team RLL finished second and fourth - the only team in the GTLM class to finish both team cars in the top-five. ...[Read more...]
VOICES: BMW TEAM RLL IS READY FOR THE ROLEX 24 AT DAYTONA
Woodcliff Lake, N.J. – Jan. 23, 2014 . . . BMW Team RLL brings a power-packed driver lineup to the 52nd Rolex 24 at Daytona to pilot the two BMW Z4 GTLM racing machines. Bill Auberlen, Joey Hand, Maxime Martin and Andy Priaulx will share the black No. 55 car. John Edwards, Dirk Müller, Graham Rahal and Dirk Werner will co-drive the white No. 56 machine. Among them Auberlen has two class wins (1997 GT3, 1998 GT3) and Müller one (1998 GT1) while Hand and Rahal co-drove to the 2011 overal...[Read more...]
THE 2014 AMELIA ISLAND CONCOURS D'ELEGANCE HONORS FIFTY YEARS OF McLAREN
McLaren's 50th anniversary will be celebrated at the 19th annual Amelia Island Concours d'Elegance on March 9, 2014, with a display of rare and significant McLaren racers from five decades of competition. McLarens were not only victorious in the world's richest and most prestigious races, the company changed motorsport through a relentless pursuit of perfection and brought a strictly professional approach to a sport that had been more of a glamorous hobby than a true business. Today McLaren...[Read more...]
Mazda Raceway Laguna Seca : Another Chapter Closes
MONTEREY, CA, Make no mistake about it. After three days of competition at the Rolex Monterey Motorsport Reunion, there were awards to be won, but they were not necessarily bestowed upon the actual winners in 16 different classes that took to the straights, curves, hairpin turns and challenging drops of Mazda Raceway Laguna Seca. In fact, Rolex Awards of Excellence were awarded in each race category to individual drivers who were determined by an independent panel to be 'most deserving,' ...[Read more...]
Townsend Bell To Make Grc Debut At X Games Munich
Townsend Bell, a seven-time Indianapolis 500 starter and current American Le Mans Series driver, will make his Global Rallycross debut at X Games Munich on June 30, 2013. Bell will drive the #7 Royal Purple Ford Fiesta for OMSE2. Bell's major professional career began after he won the 2001 Indy Lights championship, launching him into CART, Formula 3000, and Formula One test drives. Since 2004, he has mostly focused on IndyCar, earning a fourth place finish in the 2009 Indianapolis 500 and 12 ...[Read more...]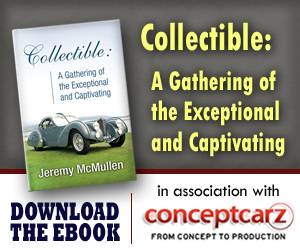 © 1998-2014. All rights reserved. The material may not be published, broadcast, rewritten, or redistributed.