1962 Chrysler Imperial Crown news, pictures, specifications, and information

Tweet
The Imperial was designed by Virgil Exner and hailed by Chrysler as 'The Finest Car America Has Yet Produced.' A very bold statement considering some of the masterpieces produced from Packard, Cadillac, and countless others. This was Chryslers first vehicle to have a wraparound windshield. Produced in limited numbers, only 11,430 examples were created in 1955. This was Chryslers interpretation of a true luxury automobile.
The Imperial was a highly priced vehicle for its time, costing $4,483 for the four door sedan, over $500 more than the Cadillac Series 62. Even though it was pricy, it offered items as standard equipment that were optional on other vehicles. For example, power brakes and power steering were both included with the sticker-price of the vehicle, while other manufacturers charged extra for these luxury items. The Imperial Newport hartop coupe sold for roughly $4,720.

A two speed automatic transmission with a 250 horsepower Hemi engine was offered for the base models.

The 1957 Chrysler Imperial is probably the most famous and popular Imperial in history. Styling was once again handled by Virgil Exner. Tailfins could be found in the rear of the vehicle. The curved door glass were not only creative, they were the first in the industry. The long, stylish front hood hid a giant 392 cubic inch V8 capable of producing 325 horsepower. The Hemi V8 version produced 350 horsepower.

In 1956, Chrysler had introduced a TorqueFlite, three-speed automatic transmission. In 1957, it found a home in the Imperial. This transmission, coupled with the V8 powerplant could propel this large, luxury vehicle from zero to sixty miles per hour in 9.8 seconds easily beating the nearest competitor. Its top speed of 125 miles per hour was also unmatched.

Three body styles were offered, they were the two door hardtop, convertible, pillared sedan, and four door hardtop.

In 1957, 35,734 Imperials were produced, the best year Chrysler would have with this vehicle. Production continued until the 1970's with both mechanical and styling changes occuring throughout the years.

In 1958, the Imperial was fitted with cruise control and electric door locks. In 1959, a new 413.2 cubic inch V8 engine was introduced, producing 350 horsepower at 4600 rpm. In 1961, large tail fins were fitted to the rear of the vehicle. This was not the first time tail fins were used on the vehicle. The tail fins first appeared on the vehicle in 1956 but they were subtle, unlike the 1961 fins that were large and commanding. Was it styling, was it more competition Was it a market that was headed towards more economically friend vehicles, or Was it simply some other reason? During the 1961 model year, Chrysler only produced 12,249 Imperials. Whatever it was, the Imperial carried a bold statement, an unbeatable powerplant, superb luxury elements, and handling that could tame and control the vehicle even at high speeds.

In 1966, the horsepower was increased again with the introduction of a 440 cubic inch V8. Better power-to-weight ratio improved the performance and handling. With 350 horsepower at 4400 rpm and 480 ft-lbs at 2800 rpm, the Imperial 440 was the most powerful luxury American automobile ever.

In 1967, 17,620 Impericals were produced.
By Daniel Vaughan | Jan 2006
'We invite you to test America's most carefully built car...', the advertising slogan for the Imperial, a product of Chrysler Corporation. Through the use of personal invitations, specific advertising was directed to Leading Doctors, Chief Executives of the 100 top banking firms, and America's eminent Attorneys.

The Imperial features a high compression 90-degree Imperial V8 with wedge-type combustion chambers and an overhead in-line valve arrangement. With a bore of 4.18 inches and a stroke of 3.7-inches, piston displacement is 413 cubic-inches, producing 340 brake horsepower at 4600 rpm. The compression ratio is 10.1 to 1. The transmission is a redesigned for 1962 Imperial Push Button TorqueFlite.
DODGE EARNS THREE J.D. POWER APEAL AWARDS FOR CHARGER, CHALLENGER, DART
◾Dodge Charger leads Large Car segment for fourth consecutive year ◾Challenger ranks highest in Sporty Car segment for third time in four years ◾Dodge Dart leads highly competitive Compact Car segment ◾Five additional Chrysler Group models rank among top three in their segments: Jeep® Cherokee, Jeep Grand Cherokee, Dodge Durango, Ram 2500/3500 and Fiat 500L July 23, 2014 , Auburn Hills, Mich. - The Dodge brand ranks highest in three segments in J.D. Power's 2014 U.S. Automotive Perf...[Read more...]
RARE REUNION: CHRYSLER CONCEPT CARS GATHER AT AMELIA, 2014
Nine rare and important Chrysler Concept Cars from the forties, fifties and sixties will be presented together for the first time at the 19th annual Amelia Island Concours d'Elegance on March 9, 2014. From the two-seat Chrysler Thunderbolt roadster and the dual-cowl Chrysler Newport of 1941 through the radical 1963 Chrysler Turbine car, Amelia's Chrysler Concept Car Class shows the genesis of the styling and engineering philosophy that summoned Chrysler's industry-changing 'Forward Look...[Read more...]
2014 RAM 1500 ECODIESEL ORDERS TOP MORE THAN 8,000 UNITS IN THREE DAYS, FILLING INITIAL ALLOCATION
◾Between the afternoon of February 7th and the morning of February 10th, Ram Truck received more than 8,000 Ram 1500 EcoDiesel orders, which quickly filled the initial allocation for the exclusive powertrain ◾First round of Ram 1500 EcoDiesel orders account for more than 50 percent of the total order mix ◾Special order rate nearly twice the corporate average – an all-time high ◾Overwhelming response attributed to best-in-class 28 MPG with 9,200 lbs. of towing capacity and strong consumer dema...[Read more...]
Crowd Shakers And History Makers At Mecum's Chicago Auction Oct. 10-12
• Hemi Under Glass Collection and Harley J. Earl Corvette Part of 1,000-Car Lineup
Walworth, WI - September 16, 2013 -- Mecum Auctions is taking the gavel to Chicagoland this Oct. 10-12 with 1,000 vehicles expected to cross the block at the breathtaking Schaumburg Convention Center. The lineup is already fraught with headline-worthy consignments including the most famous wheel-standers in drag racing history– the Hurst Hemi Under Glass Collection – as well as the one-of-a-kind,...[Read more...]
Final Countdown Underway To South Florida's Premier Collector Car Auction
• Auctions America kicks off its 2013 auction season, March 22-24 with its highly anticipated Fort Lauderdale Collector Car Auction • Celebrating its 11th year, the multi-day auction features more than 550 quality collector cars • Latest feature attractions include an outstanding 1963 Shelby Cobra and a 1974 Ferrari Dino 246 GTS • Digital catalog now available for download at auctionsamerica.com AUBURN, Indiana (February 27, 2013) – With the final countdown underway to its highly an...[Read more...]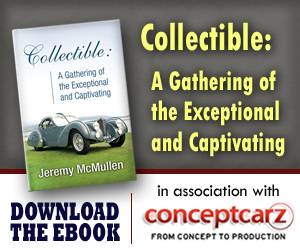 Chrysler
Monthly Sales Figures
Volume
October 2014
27,546
September 2014
28,781
August 2014
29,762
July 2014
23,455
June 2014
24,026
May 2014
22,592
April 2014
21,967
March 2014
26,140
February 2014
25,230
January 2014
21,113
December 2013
20,270
November 2013
21,024
(More Details)
© 1998-2014. All rights reserved. The material may not be published, broadcast, rewritten, or redistributed.