1948 Pontiac Silver Streak news, pictures, specifications, and information

Tweet
Pontiac: A Brief History
Introduced by GM in 1926 as a 'companion' car to the Oakland, Pontiac replaced that marque in the automaker's lineup starting in 1932.

After a shaky start as a stand-alone badge (this being the height of the Depression) Pontiac began to hit its stride in the mid-'30s when it gained its own personality, thanks to the addition of the famous 'silver streak' trim stretching from the cowl to the bottom of the radiator.

Pontiac continued to produce solid, mid-priced cars in both six- and eight-cylinder models through the 1930s and into the early 1940s, until war production brought the assembly line to a halt, as it did wîth the rest of the Ú.S. auto .


In 1946, a face-lifted Pontiac emerged, lòòking much like its predecessor except for a more lavish use of chrome trim. Additional mild face-lifts followed for 1947 and 1948 wîth the '48s carrying the most elaborate grille treatment yet. Buyers must have liked what they saw because Pontiac racked up record sales of 235,500 cars for that year.

The 1948 Pontiacs
Pontiac offered four different series of cars in 1948: the Torpedo Six, on a 119 inch wheelbase; the Streamliner Six, on the larger 122 inch wheelbase; the Torpedo Eight, again on the 119 inch wheelbase; and the Streamliner Eight on the bigger wheelbase. DeLuxe station wagons in six- and eight-passenger models were available only the Streamliner series and at $2,490 were the most expensive Pontiacs for that year.

This Car
A scarce sight even when new, this 'woody' has some outstanding attributes, including its remarkable-originality. Únlike many wood-bodied cars, this one has been conscientiously maintained and preserved rather than restored. The result is a car wîth original, untouched wood throughout that still shows very well throughout.


A Pontiac woody was never a high-production vehicle. Most of the few that were built were on the six-cylinder chassis. This car is one of a handful built on the eight-cylinder chassis, and is also fitted from new wîth a Hydra-Matic automatic transmission, which is rare on any car from 1948, not to mention a woody wagon.

It was repainted to a high standard in correct medium gray some time ago.
Source - Gooding & Company
120 years of motor sport at Mercedes-Benz take centre stage at the Goodwood Festival of Speed 2014
'Addicted to Winning': at this year's Goodwood Festival of Speed, Mercedes-Benz looks back on some fascinating racing victories of the last 120 years •The unique motor sport heritage of the Mercedes-Benz brand is being celebrated with an exclusive installation by sculptor Gerry Judah •Mercedes-Benz and Gran Turismo®6 jointly celebrate '120 years of motor sport' Stuttgart. – The thrilling victories of the Mercedes-Benz Silver Arrows mark the peaks of the history of motor sport for...[Read more...]
80 years ago: victory by the Mercedes-Benz W 25 in the International Eifel Race gave birth to the legend of the Silver Arrows
•The silver-coloured body of the W 25 gave this nickname to the racing cars from Mercedes-Benz •Successful new development by Mercedes-Benz for the750-kilogram racing formula •Manfred von Brauchitsch drove the W 25 to victory and established a new track record for Nürburgring It was a debut in sparkling silver, and it ended with shining gold: the first race at Nürburgring with the completely newly developed Mercedes-Benz W 25 racing car on 3 June 1934 was won by Manfred von Brauchitsch with...[Read more...]
1964 Nurburgring 1000 Kilometers: Survive for One Last Victory
During the late 1950s, Richie Ginther would begin a relationship with John von Neumann and this partnership would result in one of the most dominant periods of American sportscar racing in which Ginther and Porsche would be virtually unbeatable. Nearly a decade later, that same combination would again join forces to provide one more moment of glory. By the mid-1950s Porsche had developed its 550. This was a small car more than capable of dominating its class and consistently able to challenge...[Read more...]
Mercedes-Benz USA Announces Pricing for 2014 SLS AMG Black Series and C63 AMG Edition 507
MONTVALE, N.J. – Mercedes-Benz USA (MBUSA) today announced pricing for the 2014 SLS AMG Black Series coupe and the 2014 C63 AMG Edition 507 sedan and coupe. Both models are part of an exclusive lineup of high-performance AMG models available at all U.S. Mercedes-Benz dealers. The Manufacturer's Suggested Retail Pricing for the MY14 SLS AMG Black Series is $275,000 (plus $1,800 for destination and delivery). Pricing for the MY14 C63 AMG Edition 507 sedan will begin at $70,000 (plus $925 fo...[Read more...]
Goodwood Festival of Speed 2013: auction of Mercedes-Benz W 196 R one of highlights at world's 'largest motorised garden party'
• Mercedes-Benz Classic presents great moments in motor-racing history at Goodwood • Motorsport festival celebrating its 20th anniversary • Auction of only privately owned post-war Silver Arrow by Bonhams sure to cause a stir Stuttgart – This year's Goodwood Festival of Speed in West Sussex, England, includes the auction of a Mercedes-Benz Type W 196 R Grand Prix racing car on 12 July 2013. The auction will be one of the highlights of a weekend dedicated to motor sport. Mercedes-Benz...[Read more...]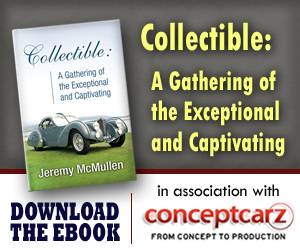 Similarly Priced Vehicles from 1948
Chevrolet Fleetline ($1,400-$1,502)
Oldsmobile Sixty Series ($1,600-$2,620)
Plymouth Special Deluxe ($1,445-$2,070)
Chevrolet Fleetmaster ($1,379-$2,000)
Nash Ambassador ($925-$2,350)
Ford Super Deluxe V8 ($1,335-$2,280)
Chrysler Windsor ($1,900-$2,885)
Willys Jeepster VJ2 ($1,760-$1,760)
Pontiac Torpedo ($1,505-$2,075)

Average Auction Sale: $14,802
© 1998-2014. All rights reserved. The material may not be published, broadcast, rewritten, or redistributed.