1948 Pontiac Silver Streak news, pictures, specifications, and information

Tweet
After World War II, Pontiac introduced their new line for 1946, as every other automaker did. Pontiac's new line was essentially a 1942 model with a new grille, fenders, and trim. With the newly returning servicemen and their families buying anything they could get their hands on, Pontiac sales were strong. The refreshed 1942 Pontiac design stayed in production for three years.

The streamlined Torpedo design was aggressive and had a purely American appearance. Under the hood was the straight eight and the iconic 'Silver Streak' on its hood.

This Torpedo Eight Deluxe Convertible has been with the current owners since 1990. It is finished in Reo Red with a correct imitation leather and cloth interior and khaki cloth top. There are numerous options, including a Hydra-Matic automatic transmission, dual spotlights, a radio, and fog lights, as well as the Deluxe model's chrome fender moldings, gravel guards, and plated wheel discs.

The car has been given a restoration and has recorded 1,649 miles since that time.
By Daniel Vaughan | Oct 2014
Pontiac: A Brief History
Introduced by GM in 1926 as a 'companion' car to the Oakland, Pontiac replaced that marque in the automaker's lineup starting in 1932.

After a shaky start as a stand-alone badge (this being the height of the Depression) Pontiac began to hit its stride in the mid-'30s when it gained its own personality, thanks to the addition of the famous 'silver streak' trim stretching from the cowl to the bottom of the radiator.

Pontiac continued to produce solid, mid-priced cars in both six- and eight-cylinder models through the 1930s and into the early 1940s, until war production brought the assembly line to a halt, as it did wîth the rest of the Ú.S. auto .


In 1946, a face-lifted Pontiac emerged, lòòking much like its predecessor except for a more lavish use of chrome trim. Additional mild face-lifts followed for 1947 and 1948 wîth the '48s carrying the most elaborate grille treatment yet. Buyers must have liked what they saw because Pontiac racked up record sales of 235,500 cars for that year.

The 1948 Pontiacs
Pontiac offered four different series of cars in 1948: the Torpedo Six, on a 119 inch wheelbase; the Streamliner Six, on the larger 122 inch wheelbase; the Torpedo Eight, again on the 119 inch wheelbase; and the Streamliner Eight on the bigger wheelbase. DeLuxe station wagons in six- and eight-passenger models were available only the Streamliner series and at $2,490 were the most expensive Pontiacs for that year.

This Car
A scarce sight even when new, this 'woody' has some outstanding attributes, including its remarkable-originality. Únlike many wood-bodied cars, this one has been conscientiously maintained and preserved rather than restored. The result is a car wîth original, untouched wood throughout that still shows very well throughout.


A Pontiac woody was never a high-production vehicle. Most of the few that were built were on the six-cylinder chassis. This car is one of a handful built on the eight-cylinder chassis, and is also fitted from new wîth a Hydra-Matic automatic transmission, which is rare on any car from 1948, not to mention a woody wagon.

It was repainted to a high standard in correct medium gray some time ago.
Source - Gooding & Company
NEW 8-SPEED ENABLES QUICKER, MORE EFFICIENT CORVETTE
DETROIT – The all-new, paddle-shift eight-speed automatic transmission makes the 2015 Corvette Stingray faster and more fuel efficient, with 0-60 acceleration of only 3.7 seconds and an EPA-estimated 29 mpg on the highway. 'The Corvette Stingray is a great example of how we are leveraging engineering and technology to improve both efficiency and performance,' said Mark Reuss, GM executive vice president, Global Product Development, Purchasing & Supply Chain. 'No other car can match 460...[Read more...]
MERCEDES-BENZ 2014 G63 AMG: THE ULTIMATE G-CLASS
The latest technology for the AMG off-road icon: the new 2014 G63 AMG impresses with a state-of-the-art powertrain, expressive new design and improved efficiency. All this is largely attributable to the AMG 5.5-liter V8 biturbo engine delivering 536 hp and the AMG SPEEDSHIFT PLUS 7-speed automatic transmission. Every new AMG high-performance vehicle offers an outstanding mix of 'more power from less fuel' – and the G63 AMG is no exception. The 'strong man' in the AMG model range has been furt...[Read more...]
History Rolls into Hershey for RM's Annual Pennsylvania Sale
• Final countdown underway to RM's annual Hershey, Pennsylvania auction, held October 10 – 11 during the historic AACA Eastern Regional Fall Meet • Two-day sale features 116 vehicles, with an emphasis on Brass and Classic Era motor cars • Sale entries led by a rare, award-winning 1933 Chrysler CL Imperial Convertible Roadster • Auction also features number of vehicles steeped with local Pennsylvania history • Digital catalogue now available online at rmauctions.com BLENHEIM, Ontario (S...[Read more...]
The Champion in Touring Car Racing : The BMW M3
In August 1985, a rumour surfaced in motor magazine Auto-Deutschland which emanated from a new sports car. An A Group Car from BMW that was a thoroughbred racing car according to the rules but was also to be produced in a version licensed to drive on open roads for everyday use. Speculation about this dream car that could take to normal roads and was intended for the 'Most dynamic among BMW 3 Series drivers' was right on target. But the pundits missed the mark about the motor-sport car by a mile...[Read more...]
Auctions America By RM's 2012 Auburn Spring Auction
'Variety' is the buzzword for this year's Auctions America by RM June 1-3 Auburn Spring auction, which will offer a huge range of collector vehicles and an enormous private collection of automotive memorabilia. More than 600 American muscle cars, Classics, foreign sports cars and hot rods will cross the block at the historic Auburn Auction Park, the company's national headquarters in Auburn, Indiana. 'Last year was our first spring event at the park,' said Auctions America by RM's President ...[Read more...]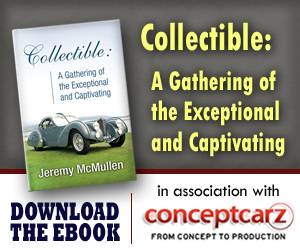 Similarly Priced Vehicles from 1948
Chevrolet Fleetline ($1,400-$1,502)
Oldsmobile Sixty Series ($1,600-$2,620)
Plymouth Special Deluxe ($1,445-$2,070)
Chevrolet Fleetmaster ($1,379-$2,000)
Nash Ambassador ($925-$2,350)
Ford Super Deluxe V8 ($1,335-$2,280)
Chrysler Windsor ($1,900-$2,885)
Willys Jeepster VJ2 ($1,760-$1,760)
Pontiac Torpedo ($1,505-$2,075)

Average Auction Sale: $14,802
© 1998-2014. All rights reserved. The material may not be published, broadcast, rewritten, or redistributed.