1952 Buick Series 70 Roadmaster news, pictures, specifications, and information

Tweet
1953 was the final year Buick offered wood on its Estate Wagons. This 1952 Buick Series 70 Roadmaster Estate Wagon was the most expensive and rarest of all the Roadmaster built in 1952. It came with a price that of $3977 and only 359 customers were willing to give them a home. The Estate 79R was custom finished by Ionia. A partially assembled body was sent to Ionia to be completed. The car would then be mounted on a jig and assembled in a small production line. When it was finished it was shipped back to Buick and final assembly was completed.
By Daniel Vaughan | Sep 2009
This 1952 Buick Roadmaster is a unique creation constructed for Harlow Curtice. Curtice was the Head of Buick in 1933 and the Executive Vice-President of General Motors in 1948. In 1953 he became president and C.E.O. of Buick in 1953. In 1955, he was Time Magazine's 'Man of the Year.'

Buick began with a Roadmaster 72R chassis and incorporated styling inspired by Harley Earl's concept and Motorama cars. The car began a rolling tribute to the design inspirations of General Motors that had transpired in the prior years. The roof was removed in favor of a sloping, padded limousine-styled unit which gave the rear passenger compartment blind quarter roof and rounded window panes. All windows that could be opened and closed, including the center divider window, were given hydraulic power operation. This design had been used on GM Concept Cars.

Modifications and customization continued on the interior. The door handles were replaced with sliding-style handles. The passenger compartment is finished in light blue broadcloth while the driver's compartment is dark blue leather.

All appropriate and available amenities were included in the car. This included a single seeking radio, power brakes, power steering, backup lights, floor heaters, and special ducting to the rear compartment.

Under the hood was a 320.2 cubic-inch straight eight Dynaflash engine mated to a Dynaflow automatic gearbox. The engine was modified to an 8:1 compression ratio and given special camshafts which drove the horsepower to 200.

The car has remained in the possession of General Motors unit it was purchased by its first private owner in 1988. Two years later it was added to the Bortz Collection of concept and prototype automobiles. Nearly two decades later it was sold by RM Auctions at Arizona to the Motorcar Portfolio collection. The car has since been given an extensive restoration.

This 1952 Buick Roadmaster Harlow Curtice Limousine was offered for sale at hte 2007 RM Auctions held in Amelia Island, Florida. The car was offered without reserve and estimated to sell between $50,000 - $70,000. It has four-wheel power drum brakes and a Dynaflow transmission.

It is extremely hard to place value on a vehicle, especially one with this degree of customization. This unique car would be a welcomed entrant at many concours's and automotive events. It is a car that tells a progressive story of General Motors attempts at designing futuristic vehicles that could answer the desires of next generation of automobile buyers. At auction, bidding make a mockery of the estimated values, as it quickly surpassed those estimates and continued to climb. A final bid of $110,000 was enough to secure the vehicles next owner.
By Daniel Vaughan | Apr 2007
Harlow H. Curtice became the head of Buick in 1933 and eventually Executive Vice-President of General Motors in 1948. Naturally, coming from the Buick division, when he became president of GM in 1953, he did not want a Cadillac as his company limousine. He ordered Harley Earl and the GM design team to produce a custom built Buick limousine, resulting in this extensively modified 1952 Buick Roadmaster limousine. With an estimated 200 horsepower, it features a 320.2 cubic-inch inline eight-cylinder overhead valve engine, Dynaflow transmission, independent front suspension with coil springs, live axle rear suspension with coil springs, four-wheel power drum brakes and a wheel base of 130.8 inches.

The car features a special roof line with a padded limousine style roof and rounded pattern rear door window frames and windows to fit the redesigned blind quarter roof. All exterior windows and the center divider window received hydraulic lifts. A first for GM, it also received hydraulic operated vent windows. All windows were controlled with special switches and panels seen only on other GM concept cars. Similar to the Cadillac El Dorado concept car and unique to 1952, the inside door handles were sliding-style handles. The car has power steering, power brakes, back-up lamps and a signal seeking radio as well as special floor heaters and ducting to the rear compartments. A stunning Cobalt Blue, it features dark blue leather in the front chauffeur's compartment and light blue broad cloth in the passenger compartment with rear area wood graining in dark green. Harlow Curtices' 1952 Buick Roadmaster limousine is truly one of a kind.
The Roadmaster named first appeared on Buick automobiles in 1936 as a celebration of their engineering improvements and advancements in design. The Buick Series 80 became known as the Roadmaster. The Roadmasters were built on the longest wheelbase Buick had to offer. From 1946 through 1957 they were the most elegant and prestigious automobiles that Buick sold.

From 1936 through 1948 the Roadmaster appeared in coupe, sedan, convertible and station wagon bodystyles. A hardtop coupe was added in 1949 and dubbed the Riviera.

The Roadmaster named reappeared in 1991 and continued in production until 1996. It served as a replacement for the Electra model line and offered as an Estate Wagon. A sedan was introduced in 1992.

The end of the 1953 Buick Roadmaster station wagon meant the end of the last wood-bodied station wagon to be mass-produced in the United States. In 1996, the end of the Buick Roadmaster Estate Wagon meant the end of the full-size family station wagons.
By Daniel Vaughan | Mar 2006
For more information and related vehicles, click
here
BUICK TURNS 110: MOST SIGNIFICANT BUICK OF EACH DECADE
DETROIT – Remaining in business for 11 decades requires constant innovation, so choosing one model to represent a decade of significance can be a catalyst for debate. Among the hundreds of models designed and engineered for Buick, the 11 below stand out as the most significant for their respective decades since May 17, 1903. Let the debate begin. ◾1903-1912: The first Buick ever is quite significant, so Buick's first decade honor goes to the 1904 Model B. The first one of the line was so...[Read more...]
Corvette Shines in the Big Apple
All-new Corvette Stingray comes to New York City 60 years to the day after Motorama debut 2013-01-16 Sixty years ago tomorrow, spectators lined New York City's posh Park Avenue, waiting to get a glimpse of the ground-breaking Chevrolet Corvette on display at the General Motors' Motorama show. On Thursday, the Corvette will be back in The Big Apple, marking the historic milestone with the all-new 2014 Chevrolet Corvette Stingray. The all-new Corvette Stingray debuted earlier...[Read more...]
CADILLAC CONCEPT CARS STAR at AMELIA CONCOURS d'ELEGANCE
There are limited production cars, there are rare cars and there are concept cars that never find their way to the showroom. A fleet of Cadillac's rare and mythic Motorama and Detroit Auto Show Concept Cars will take to the field at the 18th Annual Amelia Island Concours d'Elegance on Sunday March 10, 2013. Created under the supervision of GM's legendary styling chief, Harley Earl, the Cadillac Concept cars of the 'Fifties were created as the stars of GM's Motorama shows. All are blood anc...[Read more...]
GM Design: 85 Years of Making Art That Moves You
As GM Design celebrates its 85th birthday this month, the 1,900 men and women in GM's 10 global design centers are focused on the future, united in their vision to entice consumers to fall in love and see vehicles as they do: art that moves you. 'Our global team is united around its passion for designing vehicles that make an emotional connection with customers,' said Ed Welburn, GM vice president, Global Design. 'What was true 85 years ago is still true today: A designer's role is to create...[Read more...]
Auctions America By RM's 2012 Auburn Spring Auction
'Variety' is the buzzword for this year's Auctions America by RM June 1-3 Auburn Spring auction, which will offer a huge range of collector vehicles and an enormous private collection of automotive memorabilia. More than 600 American muscle cars, Classics, foreign sports cars and hot rods will cross the block at the historic Auburn Auction Park, the company's national headquarters in Auburn, Indiana. 'Last year was our first spring event at the park,' said Auctions America by RM's President ...[Read more...]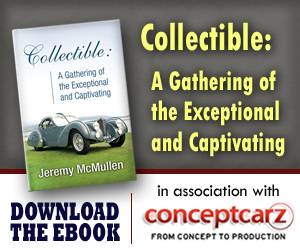 Similarly Priced Vehicles from 1952
BMW 501 ($3,630-$3,630)
Allard J2 ($3,244-$3,244)
Hudson Hornet ($2,720-$3,315)
Allard J2X ($3,480-$3,480)
Buick Series 50 ($2,480-$3,300)
Allard J2X LeMans ($3,480-$3,480)
Cadillac Series 62 ($3,540-$4,110)
Chrysler Saratoga ($3,185-$4,170)
Packard 250 ($3,295-$3,450)

Average Auction Sale: $49,730
Buick
Monthly Sales Figures
Volume
December 2014
20,357
November 2014
19,143
October 2014
18,699
September 2014
17,466
August 2014
22,143
July 2014
17,683
June 2014
21,403
May 2014
19,957
April 2014
19,214
March 2014
20,428
February 2014
19,192
January 2014
13,278
(More Details)
© 1998-2014. All rights reserved. The material may not be published, broadcast, rewritten, or redistributed.