1946 Buick Series 50 Super news, pictures, specifications, and information

Tweet
The Super was powered by a straight 8-cylinder engine fitted with a two-barrel carburetor and displacing 112 horsepower. Top speed was 90 miles per hour. Buick introduced the Estate Wagon on the Super chassis in 1946 and given a woody body produced by Hercules Body Company of Evansville, Indiana. The Hercules' ash-framed mahogany paneling made it a recognizable builder in the wood body industry, as most other builders used the plainer birch-paneled products. The Hercules' woodies featured an Everflex-covered padded roof and a horizontally split tailgate with a single window on the top and a built-in folding tray on the bottom. In 1946, there were 570 Hercules Body cars produced.

This 1946 Buick Super Estate Wagon was delivered new in northern Michigan and has remained in the area since and has the original wood. It has been given a restoration since new.
In 1903, the Buick Motor Car Company was formed by David Dunbar Buick. In 1907, over 725 vehicles were produced and one year later, it grew drastically to over 8,800 with the help of the ever-popular Model 10. By 1940, Buick had moved into the higher end and larger car range. Even though over 16,500,000 cars use the Buick name, Mr. Buick was only involved with 120 of them. In 1929, he passed away due to cancer in the motor city, Detroit.

The 1940's Buick design, took a different turn than most of its competition. With fuller grilles having horizontal bars, the headlamps were set-back into the fenders, hoods that opened much differently, and more space throughout provided a different choice for consumers. Most Buicks of this time came with dual carburetors as standard options. The convertibles came with an automatic power top, which was a great luxury option of that era.

The early Super Series 50 were powered by an eight-cylinder engine and was distinguished by its three chrome ventiports on the sides of the hood. The term 'Super' was placed on the front fenders. The Supers were the same size as the Specials with their 121.5 inch wheelbase, unless the Super Series 50 LWB version was ordered. This extended the wheelbase by four inches and provided extra interior room for its passengers.

The three-speed manual gearbox was standard but a Dynaflow transmission could be ordered for an additional cost.

In 1955 the Buick Super Series 50 sat atop a 127-inch wheelbase and was powered by an eight-cylinder engine which produced just under 240 horsepower. There were three body-styles offered, a four-door sedan with seating for six cost $2,875. The two-door Riviera Hardtop had seating for six and cost $2,880. This was the most popular of the Super Series 50 with 85,656 examples being produced. The two-door convertible with seating for six cost the most, setting the buyer back $3,225. These were the fewest produced of the series with only 3,527 examples being created.

For 1956, the Series 50 continued to be a large vehicle in the Buick lineup, with features such as four ventiports per fender and a very vertical windshield as part of its distinguishable features. For 1956, a Riviera sedan was added to the lineup, which quickly became the most popular in the series, fetching $3345 for a base model. All bodystyles rested on the 122-inch wheelbase and power came from a overhead-valve V8 engine that displaced 322 cubic-inches. Horsepower was impressive at 255, and torque measured just over 340. Dynaflow drive was standard on the Series 50.

The lowest production series 50 for 1956, was the 56C, which demanded a price of $3,540. There was seating for six on this two-door convertible bodystyle, and a total of 2489 examples were produced during this year. This was Buick's most 'exclusive' bodystyle in regards to it being the lowest produced bodystyle for all Buicks. The next bodystyle to have the fewest production figures, was the Buick Series 70 76C, which saw production reach 4,354.

For 1957 the Super and Roadmaster were Buicks were given unique roof treatments and a new C-body. The word 'SUPER' was spelled in block letters on the trunk. Three bodystyles were available, the '53' which was a four-door Riviera hardtop with seating for 6. This was the most popular of the Series 50, with a total of 41,665 examples being produced during this year. The '56R' 2-door hardtop Riviera also had seating for six and was the second most popular bodystyle in the Series 50 line-up. The two-door Convertible '56C' continued to lag in production figures, with a mere 2,056 examples being produced. It cost $3,980 which was a couple hundred dollars more than the other Series 50 bodystyles. Having only two-doors, it was less versatile and required a buyer who was interested in its convertible top and sporty persona. These were truly marvelous cars and have become highly sought after in modern times.

There were two bodystyles offered on the Series in 1958, the two- and four-door Riviera hardtop. The two-door version was the less example model of the two, costing $3640. Included with this price were standard power steering, power brakes, safety-cushion instrument panel, Dynaflow gearbox, carpeted floors, and courtesy lights.

The name 'Series 50' would continue until 1959, when new names and modified styling was introduced.

For a period in time, the Series 50 was Buick's most popular model. They were elegant and stylish, and in a price range that many, in this price group, could afford. They were not an entry level vehicle, but one higher up the ladder . The early 1950s saw the unique ventiport design and 'buck-tooth' front-end grille. The round styling of the bodies were modern and flowed nicely with the one-piece windshield. Power was adequate and dependable, capable of carrying this prestigious cars to adequate speeds.

The name 'Series 50' had been with Buick since 1930, when it served as a replacement for the Series 121. At the time, they rested on a 124-inch wheelbase and powered by a six-cylinder engine that displaced 331 cubic-inches and produced just under 100 horsepower. The Great Depression was a difficult time for many marques, but Buick was able to weather the storm and came through with their Series 50 still intact.
By Daniel Vaughan | Jul 2007
Buick's best-selling vehicle of 1930, the Series 40 was the precursor to the Series 50. With a wheelbase that stretched to 124 inches, the Series 121 was renamed the Series 50. The large six engine was enlarged to 331.5 cubic inches and achieved 98 hp and 2,800 rpm. The Series 50 ranged in price from $1,510 to $1,540. The styling of the Series 50 was new and featured conservatively sporty lines and much less chrome than the public had grown used to.

The Buick Series 50 Convertible came with hydraulically operated top, front seat adjustments and door windows. The wheelbase was a total of 124 inches.

Buick faced a lot of pressure during the Great Depression, while Buicks were a substantial part of the medium-price range, almost the enter class was being squeezed out. Unfounded rumors were milling about that the Buick nameplate was about to cease, these obviously proved untrue. The Series 40 was introduced in May, 1934 by the new Buick GM, Harlow Curtice. The Series 40 was basically a Chevy body mounted on a Buick straight-8 chassis and featured 2 overhead-valve straight-8 engines. The Buick series were given names in 1935. The Series 40 became the Special and the Series 50 became the Super. The following year the three larger engines were all replaced by a 320 c.i.d. unit that would be the mainstay of Buick engines until 1953.

The Super series were next renamed Roadmaster. Following the war, the Century line was deleted and Buick filled the demand with the larger Supers and Roadmasters.
By Jessica Donaldson
For more information and related vehicles, click
here
BMW PRESENTS FRIEZE SOUNDS AT THE FRIEZE ART FAIR NEW YORK
Frieze Art Fair New York and BMW will once again present Frieze Sounds, a program of sound works that are showcased in the BMW 7 Series shuttle service at the fair. For this unique event three specially commissioned audio works were created by the artists Trisha Baga, Charles Atlas and New Humans, as well as Haroon Mirza. Frieze Sounds is programmed and curated by Cecilia Alemani. 'Each of the participants has taken a different approach to this brief: Trisha Baga will estrange everyday noise; Ch...[Read more...]
Inaugural Concours d'Elegance of Texas deemed a massive success
Houston, Texas. May 15, 2012. Last weekend, the award winning La Torretta Lake Resort & Spa in Montgomery played host to the biggest and most prestigious classic car weekend in Texas, welcoming thousands of visitors through its gates for the inaugural Concours d'Elegance of Texas, a highlight of The Houston Classic Weekend. Concours organizers had promised a spectacular gathering of world class cars at a world class venue, and they definitely delivered, assembling a superb selection of ra...[Read more...]
Renowned Dingman Collection Joins RM's Expanding 2012 Calendar
Building on its reputation as the specialists for private and estate collection sales, RM Auctions is delighted to announce the addition of The Dingman Collection to its expanding 2012 calendar. Scheduled June 8 – 9 in Hampton, New Hampshire, just 50 miles from Boston, Massachusetts, the upcoming sale is a continuation of RM's highly successful Dingman auction in 2006. The result of many years of careful and meticulous acquisition by prominent businessman, investor and philanthropist, Michael...[Read more...]
58th PEBBLE BEACH CONCOURS d'ELEGANCE NAMES 1938 ALFA ROMEO 'BEST OF SHOW'
More than 200 Classic Cars from 12 Countries are Showcased During Competition Along California's Monterey Coast A 1938 Alfa Romeo owned by Jon and Mary Shirley of Medina, Wash., was named 'Best of Show' at the 58thth fairway of Pebble Beach Golf Links®. Proceeds from raffles, auctions, sponsorships and gate receipts helped contribute more than $1.3 million to charity for the third consecutive year. Jon Shirley, the former president and chief operating officer of Microsoft who r...[Read more...]
2008 Pebble Beach Concours d'Elegance® to Feature Lancia, Lamborghini and General Motors Centennial
Events of Pebble Beach Automotive Week Culminate with Aug. 17 Show The 58th annual Pebble Beach Concours d'Elegance, Sunday, Aug. 17, 2008 at The Lodge at Pebble Beach™, will showcase the historic Italian marque Lancia, Italian super sports car Lamborghini and the General Motors centennial. The full field of 175 collector cars will also include several special classes. 'Fantastic styling, an impressive race history and innovative engineering are earmarks of Lancia's more than 10...[Read more...]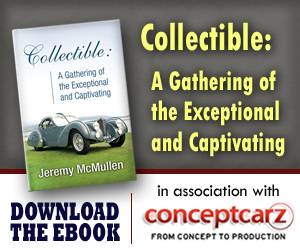 Similarly Priced Vehicles from 1946
Nash Ambassador Series 60 ($1,450-$1,930)
Mercury Series 69M ($1,450-$2,210)
MG TC ($2,240-$2,240)
Packard Clipper Deluxe Eight ($1,800-$1,870)
Buick 76C Roadmaster ($2,350-$2,350)
Chrysler Town & Country ($2,365-$2,722)
Cadillac Series 62 ($2,285-$2,560)
Packard Custom Super Clipper Eight ($2,910-$4,500)

Average Auction Sale: $156,750
Buick
Monthly Sales Figures
Volume
December 2014
20,357
November 2014
19,143
October 2014
18,699
September 2014
17,466
August 2014
22,143
July 2014
17,683
June 2014
21,403
May 2014
19,957
April 2014
19,214
March 2014
20,428
February 2014
19,192
January 2014
13,278
(More Details)
© 1998-2014. All rights reserved. The material may not be published, broadcast, rewritten, or redistributed.