1951 Allard J2-X LeMans news, pictures, specifications, and information

Tweet
After World War II, a war torn Europe was recovering and rebuilding. Buildings had been bombed, attacked, and devastated. Materials were in short supply. A decree was put forth for H.M.'s government which allocated scarce materials to enterprises that produced revenue. In response, Sydney Allard adapted a V8 engine to his racer, dubbed it the J2, and began looking for US buyers. The earliest examples had a Ford flathead engine. As time passed, J2s were given engines from Oldsmobile, Cadillac and Chrysler.

The inboard drum brakes from the Allard J2 were from the Jaguar XK 120. The front suspension had coil springs and split beam swinging arms while in the rear was a de Dion setup with a live axle. The lightweight and minimalist body was mounted on a ladder frame. In an effort to keep weight down, the cockpit was given only necessary items and non-essential items were eliminated. The Brookland aeroscreens was the only protection for the passengers from the elements.

In 1950, Tom Cole and Sydney Allard drove a J2 with a Cadillac engine to a third-place overall finish in the 1950 24 Hours of LeMans. Following this success, Blakes, the main Ford distributor in Liverpool, England, placed an order for a J2 which he intended to enter in the 24 Hours of LeMans for 1951. The #1 car was driven by Sydney Allard and the second was given #2 and fielded by Blakes. Both cars failed to finish, however, car number two was officially ranked as 31st of 60. It was later sent to South America where it continued to be raced for a number of years.

The green example shown wearing number 40 was offered for sale at the 2006 RM Auction in Monterey, CA. This is the #2 car that was raced at the 1951 LeMans race and driven by Hitchins and Reece. It was found still outfitted with the original Cadillac OHV V8. A full restoration was undertaken and safety features were added such as the roll bar and seatbelts.

There were only 90 examples of the J2 produced with only a small amount of those being used as competition vehicles. The competition cars were often give large, 55-gallon fuel cells, and aluminum bodies. This vehicle had those options. This vehicle has been a participant in the Pebble Beach Concours d'Elegance in 1994. At auction it was expected to sell between $275,000-$375,000. At the conclusion of the auction, the vehicle had been sold, netting $313,500.
By Daniel Vaughan | Dec 2006
In 1929 Sydney Herbert Allard began working in the Adlards Motors garage, an official Ford dealer, preparing racers for international motor racing. His Allard Specials quickly proved their potential and Allards reputation began to build. After racing motorcycles and three-wheeled Morgan's, he began racing four-wheeled vehicles. During World War II, the Allard Motor Company repaired military vehicles. Though their duties kept them very busy, Allard still found time to design and build sports cars.

In 1936 the first Allard Special, commonly referred to as the CLK5 because of its registration number, had been created using Ford products. It sat atop a Ford 40 chassis, outfitted with a Ford flat-head V8 engine, and given a Bugatti Type 51 body. The cockpit was pushed back as far as possible with much of the weight resting on the rear wheels. The lightweight construction and ample ground clearance made the Allard Special a formidable opponent on the racing circuit. This success translated to increased interest in a production version of the Special. Prior to World War II, a few Specials were created that were powered by the Ford V8 or a Lincoln V12. The flat-head engine and its manifold design was its Achilles heal, which often overheated at high speeds. Nevertheless, the Specials continued to be highly competitive, though produced in limited numbers.

After World War II, Allard introduced the J1. Under the hood was a 3.6 liter Ford V8 engine matted to a three-speed manual gearbox. The engine continued to suffer from overheating problems and was criticized as being underpowered. The front suspension was a split axle with a live axle in the rear. Transverse leaf springs were also used in the front and rear. The J1 carried a full body with removable wings which could be replaced with cycle fenders, leaving the J1 prepared for road and track. In total there were twelve examples of the J1 produced.

The J1 was quickly followed by the K1, a two-seater sports car. Produced in larger quantities, the K1 was profitable and provided means in which to continue their race car creations.

The next iteration of the Allard race cars was the J2, introduced in 1950 and designed similar to its J1 sibling. The transverse leaf springs of the J1 were replaced with coils and the live axle was changed in favor of a De Dion setup. The engine was moved even further back putting extra weight on the rear tires, a design Allard continued to favor. The Ford side-valve V8 was the engine of choice however a variety of engines were used including Cadillac's pushrod V8 and Chrysler's HEMI.

A year later the J2X was introduced which was nearly identical to the J2 but had its engine moved forward providing more cockpit room. The J2X Le Mans and JR were enclosed bodies and the final iteration of the J2 racer.

Sydney Allards greatest appearance at a sporting event came in 1950 when he and Tom Cole drove a J2, powered by a Cadillac engine, to a first in class victory and third overall finish at the prestigious 24 hours of Le Mans race. This was truly an impressive accomplishment and a testament to the abilities of the automobile. The Allard J1, J2, and J2X racers have dominated racing on many continents and continue to provide stiff competition in modern Historic sporting events.

In 1959 Allard was forced to cease production due to financial difficult and rising competition from other marques. A total of 1908 Allards had been constructed.
By Daniel Vaughan | Jul 2006
For more information and related vehicles, click
here
WIND TURBINES OUTPERFORMING EXPECTATIONS AT HONDA TRANSMISSION PLANT
• Two turbines have exceeded power projections in first six months of operation
09/09/2014 - RUSSELLS POINT, Ohio -- Just six months after the landmark installation of two power-producing wind turbines at Honda Transmission Mfg. of America, Inc., the turbines are producing more renewable, low emissions electrical power than was anticipated when the towers went into operation in January. The wind turbines have exceeded the projected power output figures by 6.3 percent, and hav...[Read more...]
GM STARTS WORK ON NEW PERFORMANCE AND RACING CENTER
• Pontiac, Mich. facility dedicated to race engineering, electric motors and more
PONTIAC, Mich. – General Motors today began construction of a state-of-the-art facility for race engine design and development, as well as an electric motor laboratory and gear center. GM's continued investment in motorsports comes from the time-tested belief that racing is the ultimate proving ground for much of the technology that applies to the vehicles GM sells. 'The GM Performance and Ra...[Read more...]
'TOYOTA CAR OF THE FUTURE' ON SALE NEXT YEAR; OPENS 2014 CONSUMER ELECTRONICS SHOW (CES)
LAS VEGAS (Jan. 06, 2014) – 'We aren't trying to re-invent the wheel; just everything necessary to make them turn,' said Bob Carter, senior vice president of automotive operations for Toyota Motor Sales (TMS), U.S.A. Inc., at the opening of CES, the world's largest trade show. 'Fuel cell electric vehicles will be in our future sooner than many people believe, and in much greater numbers than anyone expected.' Two vehicles shared the stage at the Toyota press conference: The FCV conce...[Read more...]
Toyota to Launch 'New Era' of High-MPG Hybrids, Expand Its Global Hybrid Rollout
•Early information on Next-Generation Prius •VP Carter challenges industry: 5 million U.S. hybrid sales by end of 2016 •Global verification tests of new wireless/inductive charging system •2015 hydrogen fuel cell vehicle at Tokyo and CES shows YPSILANTI, Mich., August 28, 2013 — Want to save money and gas? Toyota plans to help consumers do both. Promising continued gains in fuel economy, Toyota Motor Corporation (TMC) Managing Officer Satoshi Ogiso outlined the launch of a new...[Read more...]
Third Annual Sonoma Historic Motorsports Festival to Feature Moments in Time
The Sonoma Historic Motorsports Festival, the third annual event under that title, returns to Infineon Raceway in Sonoma, Calif., June 2-3, 2012, featuring 'Moments in Time: a Celebration of the History of Motorsports.' The program for the 26th annual historic-car event organized by General Racing Ltd. in Sonoma will focus on highlights of the 1950s, '60s, '70s and '80s - the eras in which auto racing began to cement its international status as a world-class spectator sport. In addition, 400 his...[Read more...]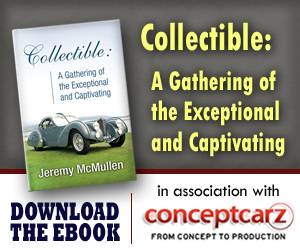 © 1998-2014. All rights reserved. The material may not be published, broadcast, rewritten, or redistributed.