1951 Allard J2-X LeMans news, pictures, specifications, and information

Tweet
After World War II, a war torn Europe was recovering and rebuilding. Buildings had been bombed, attacked, and devastated. Materials were in short supply. A decree was put forth for H.M.'s government which allocated scarce materials to enterprises that produced revenue. In response, Sydney Allard adapted a V8 engine to his racer, dubbed it the J2, and began looking for US buyers. The earliest examples had a Ford flathead engine. As time passed, J2s were given engines from Oldsmobile, Cadillac and Chrysler.

The inboard drum brakes from the Allard J2 were from the Jaguar XK 120. The front suspension had coil springs and split beam swinging arms while in the rear was a de Dion setup with a live axle. The lightweight and minimalist body was mounted on a ladder frame. In an effort to keep weight down, the cockpit was given only necessary items and non-essential items were eliminated. The Brookland aeroscreens was the only protection for the passengers from the elements.

In 1950, Tom Cole and Sydney Allard drove a J2 with a Cadillac engine to a third-place overall finish in the 1950 24 Hours of LeMans. Following this success, Blakes, the main Ford distributor in Liverpool, England, placed an order for a J2 which he intended to enter in the 24 Hours of LeMans for 1951. The #1 car was driven by Sydney Allard and the second was given #2 and fielded by Blakes. Both cars failed to finish, however, car number two was officially ranked as 31st of 60. It was later sent to South America where it continued to be raced for a number of years.

The green example shown wearing number 40 was offered for sale at the 2006 RM Auction in Monterey, CA. This is the #2 car that was raced at the 1951 LeMans race and driven by Hitchins and Reece. It was found still outfitted with the original Cadillac OHV V8. A full restoration was undertaken and safety features were added such as the roll bar and seatbelts.

There were only 90 examples of the J2 produced with only a small amount of those being used as competition vehicles. The competition cars were often give large, 55-gallon fuel cells, and aluminum bodies. This vehicle had those options. This vehicle has been a participant in the Pebble Beach Concours d'Elegance in 1994. At auction it was expected to sell between $275,000-$375,000. At the conclusion of the auction, the vehicle had been sold, netting $313,500.
By Daniel Vaughan | Dec 2006
In 1929 Sydney Herbert Allard began working in the Adlards Motors garage, an official Ford dealer, preparing racers for international motor racing. His Allard Specials quickly proved their potential and Allards reputation began to build. After racing motorcycles and three-wheeled Morgan's, he began racing four-wheeled vehicles. During World War II, the Allard Motor Company repaired military vehicles. Though their duties kept them very busy, Allard still found time to design and build sports cars.

In 1936 the first Allard Special, commonly referred to as the CLK5 because of its registration number, had been created using Ford products. It sat atop a Ford 40 chassis, outfitted with a Ford flat-head V8 engine, and given a Bugatti Type 51 body. The cockpit was pushed back as far as possible with much of the weight resting on the rear wheels. The lightweight construction and ample ground clearance made the Allard Special a formidable opponent on the racing circuit. This success translated to increased interest in a production version of the Special. Prior to World War II, a few Specials were created that were powered by the Ford V8 or a Lincoln V12. The flat-head engine and its manifold design was its Achilles heal, which often overheated at high speeds. Nevertheless, the Specials continued to be highly competitive, though produced in limited numbers.

After World War II, Allard introduced the J1. Under the hood was a 3.6 liter Ford V8 engine matted to a three-speed manual gearbox. The engine continued to suffer from overheating problems and was criticized as being underpowered. The front suspension was a split axle with a live axle in the rear. Transverse leaf springs were also used in the front and rear. The J1 carried a full body with removable wings which could be replaced with cycle fenders, leaving the J1 prepared for road and track. In total there were twelve examples of the J1 produced.

The J1 was quickly followed by the K1, a two-seater sports car. Produced in larger quantities, the K1 was profitable and provided means in which to continue their race car creations.

The next iteration of the Allard race cars was the J2, introduced in 1950 and designed similar to its J1 sibling. The transverse leaf springs of the J1 were replaced with coils and the live axle was changed in favor of a De Dion setup. The engine was moved even further back putting extra weight on the rear tires, a design Allard continued to favor. The Ford side-valve V8 was the engine of choice however a variety of engines were used including Cadillac's pushrod V8 and Chrysler's HEMI.

A year later the J2X was introduced which was nearly identical to the J2 but had its engine moved forward providing more cockpit room. The J2X Le Mans and JR were enclosed bodies and the final iteration of the J2 racer.

Sydney Allards greatest appearance at a sporting event came in 1950 when he and Tom Cole drove a J2, powered by a Cadillac engine, to a first in class victory and third overall finish at the prestigious 24 hours of Le Mans race. This was truly an impressive accomplishment and a testament to the abilities of the automobile. The Allard J1, J2, and J2X racers have dominated racing on many continents and continue to provide stiff competition in modern Historic sporting events.

In 1959 Allard was forced to cease production due to financial difficult and rising competition from other marques. A total of 1908 Allards had been constructed.
By Daniel Vaughan | Jul 2006
For more information and related vehicles, click
here
Honda Civic Type R Concept Model set for Worldwide Debut at the 2014 Geneva Motor Show
Honda today reveals its 2014 Geneva Motor Show line-up, including the worldwide debut of the Civic Type R Concept model, the European debut of the Fuel Cell Electric Vehicle (FCEV) Concept, the powertrain layout of the new NSX and the 2014 Civic World Touring Car Championship race car. Racing Car for the Road – Civic Type R Concept Honda's appearance at the 2014 Geneva Motorshow will lead with the worldwide reveal of the Civic Type R Concept model, providing the styling direction f...[Read more...]
The Elise S Cup R makes global debut at Autosport 2014
The Elise S Cup R takes its place in the stable alongside big brothers the Exige V6 Cup and Exige Cup R and the mighty Evora GT4 in Birmingham between 9th and 12th January 2014, illustrating the variety of appeal of the Lotus Motorsport family. The Lotus suite of products caters for all levels of experience, budget and talent! Enjoying motorsport could not be more rewarding than through the legendary Lotus marque. Be it a novice shopping for a 1-day driving experience or comprehensive driver ...[Read more...]
TOYOTA: FOCUSED ON PLANTS, PEOPLE AND PLANET
TORRANCE, Calif. (Dec. 4, 2013) – Looking for a new vehicle? How about one that was assembled at a North American facility that helped save 61 million gallons of water last year? And you can buy that vehicle at one of the most environmentally advanced dealerships in the country. These examples of environmental leadership and more are highlighted in the recently published 2013 Toyota North American environmental report. Noteworthy efforts for the year include: 1. Toyota...[Read more...]
POTEET, CIZEK EARN TOP AWARDS AT GOODGUYS 16TH PPG NATIONALS
Columbus, OH – Tennessee's George Poteet and Nebraska's Ron Cizek collected the top two awards at the Goodguys 16th PPG Nationals in Columbus, Ohio last weekend. Under brilliant sunshine and in front of record crowds, Poteet's vintage NASCAR-inspired '69 Torino won the Goodguys 2013 Optima Batteries Street Machine of the Year while Cizek's popular Ridler award-winning '40 Ford coupe collected the Goodguys 2013 Classic Instruments Street Rod of the Year title. For Cizek, it's the second ma...[Read more...]
Toyota Leads The Future Of Mobility Conversation At 2013 Aspen Ideas Festival
◾Toyota joins Aspen Ideas Festival as presenting underwriter for first time ◾Advanced technology vehicles on display ◾Experts to discuss the role of automated technologies in reducing global traffic fatalities TORRANCE, Calif. (June 28, 2013) – Toyota will help advance the national conversation around the future of mobility and advanced technologies such as hydrogen fuel cell vehicles and autonomous cars with its first-time presence at the Aspen Ideas Festival from June 26 to July 2...[Read more...]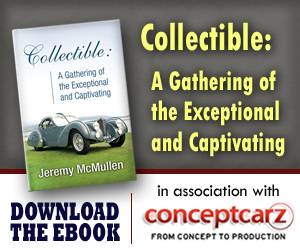 © 1998-2014. All rights reserved. The material may not be published, broadcast, rewritten, or redistributed.