1951 Allard J2-X LeMans news, pictures, specifications, and information

Tweet
After World War II, a war torn Europe was recovering and rebuilding. Buildings had been bombed, attacked, and devastated. Materials were in short supply. A decree was put forth for H.M.'s government which allocated scarce materials to enterprises that produced revenue. In response, Sydney Allard adapted a V8 engine to his racer, dubbed it the J2, and began looking for US buyers. The earliest examples had a Ford flathead engine. As time passed, J2s were given engines from Oldsmobile, Cadillac and Chrysler.

The inboard drum brakes from the Allard J2 were from the Jaguar XK 120. The front suspension had coil springs and split beam swinging arms while in the rear was a de Dion setup with a live axle. The lightweight and minimalist body was mounted on a ladder frame. In an effort to keep weight down, the cockpit was given only necessary items and non-essential items were eliminated. The Brookland aeroscreens was the only protection for the passengers from the elements.

In 1950, Tom Cole and Sydney Allard drove a J2 with a Cadillac engine to a third-place overall finish in the 1950 24 Hours of LeMans. Following this success, Blakes, the main Ford distributor in Liverpool, England, placed an order for a J2 which he intended to enter in the 24 Hours of LeMans for 1951. The #1 car was driven by Sydney Allard and the second was given #2 and fielded by Blakes. Both cars failed to finish, however, car number two was officially ranked as 31st of 60. It was later sent to South America where it continued to be raced for a number of years.

The green example shown wearing number 40 was offered for sale at the 2006 RM Auction in Monterey, CA. This is the #2 car that was raced at the 1951 LeMans race and driven by Hitchins and Reece. It was found still outfitted with the original Cadillac OHV V8. A full restoration was undertaken and safety features were added such as the roll bar and seatbelts.

There were only 90 examples of the J2 produced with only a small amount of those being used as competition vehicles. The competition cars were often give large, 55-gallon fuel cells, and aluminum bodies. This vehicle had those options. This vehicle has been a participant in the Pebble Beach Concours d'Elegance in 1994. At auction it was expected to sell between $275,000-$375,000. At the conclusion of the auction, the vehicle had been sold, netting $313,500.
By Daniel Vaughan | Dec 2006
In 1929 Sydney Herbert Allard began working in the Adlards Motors garage, an official Ford dealer, preparing racers for international motor racing. His Allard Specials quickly proved their potential and Allards reputation began to build. After racing motorcycles and three-wheeled Morgan's, he began racing four-wheeled vehicles. During World War II, the Allard Motor Company repaired military vehicles. Though their duties kept them very busy, Allard still found time to design and build sports cars.

In 1936 the first Allard Special, commonly referred to as the CLK5 because of its registration number, had been created using Ford products. It sat atop a Ford 40 chassis, outfitted with a Ford flat-head V8 engine, and given a Bugatti Type 51 body. The cockpit was pushed back as far as possible with much of the weight resting on the rear wheels. The lightweight construction and ample ground clearance made the Allard Special a formidable opponent on the racing circuit. This success translated to increased interest in a production version of the Special. Prior to World War II, a few Specials were created that were powered by the Ford V8 or a Lincoln V12. The flat-head engine and its manifold design was its Achilles heal, which often overheated at high speeds. Nevertheless, the Specials continued to be highly competitive, though produced in limited numbers.

After World War II, Allard introduced the J1. Under the hood was a 3.6 liter Ford V8 engine matted to a three-speed manual gearbox. The engine continued to suffer from overheating problems and was criticized as being underpowered. The front suspension was a split axle with a live axle in the rear. Transverse leaf springs were also used in the front and rear. The J1 carried a full body with removable wings which could be replaced with cycle fenders, leaving the J1 prepared for road and track. In total there were twelve examples of the J1 produced.

The J1 was quickly followed by the K1, a two-seater sports car. Produced in larger quantities, the K1 was profitable and provided means in which to continue their race car creations.

The next iteration of the Allard race cars was the J2, introduced in 1950 and designed similar to its J1 sibling. The transverse leaf springs of the J1 were replaced with coils and the live axle was changed in favor of a De Dion setup. The engine was moved even further back putting extra weight on the rear tires, a design Allard continued to favor. The Ford side-valve V8 was the engine of choice however a variety of engines were used including Cadillac's pushrod V8 and Chrysler's HEMI.

A year later the J2X was introduced which was nearly identical to the J2 but had its engine moved forward providing more cockpit room. The J2X Le Mans and JR were enclosed bodies and the final iteration of the J2 racer.

Sydney Allards greatest appearance at a sporting event came in 1950 when he and Tom Cole drove a J2, powered by a Cadillac engine, to a first in class victory and third overall finish at the prestigious 24 hours of Le Mans race. This was truly an impressive accomplishment and a testament to the abilities of the automobile. The Allard J1, J2, and J2X racers have dominated racing on many continents and continue to provide stiff competition in modern Historic sporting events.

In 1959 Allard was forced to cease production due to financial difficult and rising competition from other marques. A total of 1908 Allards had been constructed.
By Daniel Vaughan | Jul 2006
For more information and related vehicles, click
here
GM FUEL CELL FLEET TOPS 3 MILLION MILES
• Chevrolet Equinox fuel cell vehicles driven in real world reach milestone
DETROIT – General Motors' fleet of fuel cell vehicles recently passed 3 million miles of hydrogen-powered, real-world driving. Some individual vehicles have accumulated more than 120,000 miles. By GM's estimate, using hydrogen to power these vehicles, the fleet has avoided 157,894 gallons of gasoline consumption. This specially equipped fleet of Chevrolet Equinox Fuel Cell vehicles are part of GM's 11...[Read more...]
POLAR VORTEX NO MATCH FOR TOYOTA FUEL CELL
Jan. 30, 2014 – Record low temperatures have stranded many East Coast drivers, but not those driving a Toyota fuel cell hybrid vehicle. Connecticut-based Proton Onsite, which operates a fleet of ten Toyota FCHV-adv fuel cell vehicles, says that even in single digit temperatures, the FCHV-adv shows no signs of frostbite. 'We had another snow storm Tuesday night and this morning the temperature was 3 degrees,' says Mark Schiller, Proton vice president of business development. 'I went ...[Read more...]
GM AND U.S. ARMY TO EXPAND FUEL CELL TESTING
WARREN, Mich. – General Motors and the U.S. Army Tank Automotive Research, Development & Engineering Center are expanding their collaboration in the development of hydrogen fuel cell technology. Through a new Cooperative Research and Development Agreement, GM and TARDEC will jointly test new hydrogen fuel cell-related materials and designs to evaluate their performance and durability before assembling them into full scale fuel cell propulsion systems. This collaborative effort wil...[Read more...]
Texas-Sized Charlie Thomas Collection Brings $7.4 Million At Dallas Auction
• RM Auctions' sale of the Charlie Thomas Collection generates $7.4 million, with 100 percent of lots sold • Top sellers include a 1946 Chrysler Town & Country Roadster for $143,000 and a 1954 Packard Caribbean Convertible for $132,000 • Sale captures attention of global collector car community with bidders representing eight countries around the world and 31 states across the U.S. • RM wraps up its 2012 calendar with its annual London, England sale, October 31, followed by the John Staluppi ...[Read more...]
Citaro FuelCELL Hybrid wins EBUS Award
• Award for the advanced hybrid technology from Mercedes-Benz • Citaro FuelCELL Hybrid impresses with synergies from the passenger car segment • Judges praise the 'seriousness' of development efforts In the fuel cell bus category, the Citaro FuelCELL Hybrid won the EBUS Award, the environmental award for public local transport. Roman Biondi, brand spokesman for Mercedes-Benz buses and EvoBus, and Ulrich Piotrowski, the Market Launch Manager for Mercedes-Benz hybrid and electric buses, a...[Read more...]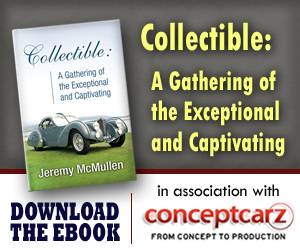 © 1998-2014. All rights reserved. The material may not be published, broadcast, rewritten, or redistributed.