Image credits: © Suzuki.
1996 Suzuki Escudo Pikes Peak Version news, pictures, specifications, and information

Tweet
The Suzuki Escudo Pikes Peak Version was designed for competition, specifically for hill climb events. It was given a bodyshell to resemble the Escudo, built atop a spaceframe, fitted with four-wheel drive, and powered by an engine tuned to produce an astonishing 987 horsepower. The car had large aerodynamic aids to help it stay stable at speed.

Along with its fabulous racing career, it has also stared in the popular video game, Gran Turismo, where it was listed as the Pikes Peak Edition. Suzuki never referred to it using that name.

The Pikes Peak International Hill Climb takes place in Colorado. The course is 12.35 miles long, begins at an elevation of 9,200 feet and finishes at 14,100 feet. There are 156 corners throughout the course.
By Daniel Vaughan | Dec 2007
The Suzuki Sidekick, as it was known in North America, was produced under various names from 1989 through 2003. The Sidekick was known by many names; in Europe it was the Vitara as well as North America after 1999, and the Suzuki Escudo, which was produced from 1989 through 2004. The project was a joint venture between General Motors and Suzuki. GM's version were known as the Geo Tracker, after 1998 they were the Chevrolet Tracker. In Canada they were the Pontiac Sunrunner, in Spain it was the Santana 300 and 350. It even carried a Mazda badge in the Japanese market.

For the North American market, the Suzuki Sidekick was first introduced in 1989. It was offered in two bodystyles including a two-door convertible or hardtop. The JA version was fitted with a 1.3-liter engine. The JX and JLX trim levels had a 1.6-liter engine rated at 80 horsepower and given a four-wheel drive system. The JLX version was removed from the line-up in 1990. A four-door version of the Sidekick was introduced in 1991, sitting on a larger wheelbase, and greatly enhancing the versatility and appeal of the vehicle. A Sport version appeared in 1996, featuring a 1.8-liter engine that was good for 120 horsepower. The package included 16-inch alloy wheels, a two-tone paint scheme, and dual airbags for safety.

1996 was the same year Suzuki introduced their X-90, which was basically a Sidekick with two doors, seating for two, a trunk, removable T-bar roof, and a much rounder body. Mechanically, they were identical. The X-90 never sold well as the public did not agree with the design. Production lasted for a short time, ending in 1998.

In 1999, the Sidekick/Escudo/Vitara was redesigned. For North America, the name 'Sidekick' was dropped in favor of Vitara. The four-seater vehicle could be purchased with a 1.3L, 1.6L, or 1.8L four-cylinder engine with carburetion or electronic fuel injection. Diesel engines were made available in Europe. A four-speed manual was standard, with a five-speed manual and automatic being offered as optional equipment. The Vitara came in two- or four-door models or soft-top 2-door models.

The Vitara remained in production in North America until 2003. Its twin, the Chevrolet Tracker, follwed the same fortune the following year.
By Daniel Vaughan | Dec 2007
For more information and related vehicles, click
here
MAJOR EVENT SPONSOR ANNOUNCED FOR THE BROADMOOR PIKES PEAK INTERNATIONAL HILL CLIMB
COLORADO SPRINGS, COLO. - When drivers and riders take the green flag for 93rd Running of The Broadmoor Pikes Peak International Hill Climb on June 28, 2015 they will be doing so with a new and exciting Platinum Sponsor of the event in Gran Turismo. The long-term partnership will see the event officially retitled as The Broadmoor Pikes Peak International Hill Climb Brought to you by Gran Turismo. Gran Turismo has become the first Platinum Sponsor in the Race to the Clouds' history a...[Read more...]
120 years of motor sport at Mercedes-Benz take centre stage at the Goodwood Festival of Speed 2014
'Addicted to Winning': at this year's Goodwood Festival of Speed, Mercedes-Benz looks back on some fascinating racing victories of the last 120 years •The unique motor sport heritage of the Mercedes-Benz brand is being celebrated with an exclusive installation by sculptor Gerry Judah •Mercedes-Benz and Gran Turismo®6 jointly celebrate '120 years of motor sport' Stuttgart. – The thrilling victories of the Mercedes-Benz Silver Arrows mark the peaks of the history of motor sport for...[Read more...]
French Indycar Racing Star Simon Pagenaud Will Race At Pikes Peak International Hill Climb
Colorado Springs, June 5----------Honda-powered IndyCar racer Simon Pagenaud of France, winner of Sunday's IZOD IndyCar Series race at the Detroit Grand Prix, and eighth at the Indianapolis 500 two weeks ago, will make his Pikes Peak International Hill Climb debut on June 30 at the 91st edition of the storied race, driving a highly-modified Honda Odyssey in the Exhibition Automobile division as part of Honda's record-setting 11-vehicle, nine-class effort in America's second-oldest motor s...[Read more...]
Tanner Foust Favored For X Games Medal Rookies Victorious After First-Corner Crash Claims Veterans
FOZ DO IGUAÇU, Brazil (April 23, 2013) - Rockstar Energy Drink driver Tanner Foust had a target on his back this weekend in Brazil, where the opening round of the Global Rallycross Championship took place on a challenging X Games course at Foz do Iguaçu. Fans lined up 10-deep before the race to get a glimpse of their favorite rallycross stars and the grandstands were packed for the Sunday race. 'The fans in Brazil are amazing,' said Foust. 'They were totally pumped to watch the rac...[Read more...]
NISMO Heritage: A History of Maverick Engineering in Motorsports and Attainable Performance
CHICAGO - NISMO. Five letters taken from the words NISsan MOtorsports. Known around the world racing fraternity for nearly 50 years. Passionately embraced by grassroots Datsun and Nissan club racers and electronic race gamers alike. With the addition of the new 2013 Nissan JUKE NISMO model in the United States – joining the potent second-generation 370Z NISMO, the NISMO name is about to become much wider known among the general populace. The launch of JUKE NISMO, and a stable of future...[Read more...]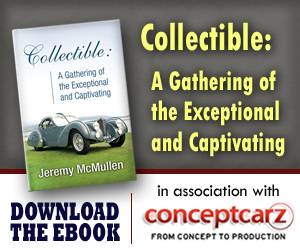 © 1998-2014. All rights reserved. The material may not be published, broadcast, rewritten, or redistributed.