1935 Rolls-Royce Phantom II news, pictures, specifications, and information

Tweet
| | | | |
| --- | --- | --- | --- |
| | | | All Weather Drophead Coupe |
The Phantom II replaced the New Phantom in Rolls-Royce's offerings in 1929. The Rolls-Royce Phantom II was the last of the great six-cylinder cars whose development from first draft to completion had entirely been supervised by Mr. F. Henry Royce himself. Incorporating radical design changes from its predecessor, the Phantom I, the new car took the company into the new decade. The engine was unitary with a four-speed manual transmission. Synchromesh was added on gears 3 and 4 in 1932 and on gear 2 in 1935.

When launched in 1929 it impressed by surpassing every facet of design excellence and manufacturing technique, even those embodied in the Silver Ghost. The engine and gearbox were of unit construction. The rear springs were now underslung, replacing the previous cantilever suspension - thus enhancing the mounting of the most elegant bodies to a lower overall appearance. The front axle was designed to provide ultimate stability in braking at speed. As a more sporty version to be fitted with particularly light coachwork, the Phantom II Continental distinguished itself from the basic model.

Semi-elliptical suspended the front and, in a change from its predecessor, the rear. Four-wheel servo-assisted brakes were also specified. Only 281 Continental Phantom II's were produced, including 125 left-hand drive versions. In all, 1,281 Phantom II chassis left the factory.
There is competition even amongst the most luxurious automotive manufacturers. In some ways, there is perhaps even more competition than there is in mass produced automobiles. At the time Rolls-Royce introduced its Phantom II, the Phantom I had only been introduced some four years earlier.

Competition in the luxury coachbuilt automotive market was tightening. Rolls-Royce had a lot of competition, and was facing even more from Buick and Sunbeam in the United States. On top of it all, the Rolls-Royce chassis upon which the Phantom I had been introduced hadn't undergone a change since 1912. It was now going into 1929.

The all-new car would be the first in seven years for Rolls-Royce. It would abandon the torque-tube drive and would feature the engine and gearbox constructed together. The model would have a higher horsepower rating. It would have a new water-heated induction system. Innovations in the car's ride and handling would come from the semi-elliptic springs instead of the cantilever springs. To prevent twisting of the chassis, and therefore, to increase rigidity, the chassis would come via the bodywork resting on a separate sub-frame.

As usual, only the chassis and mechanical aspects of the Rolls-Royce Phantom II would be actually made by Rolls-Royce. The building of the body would be left to one of a number of coachbuilders that worked with Rolls-Royce to put the icing on the cake.

Building on the foundation of the Phantom I, the Phantom II would become quite popular. Some of the more popular models of the Phantom IIs would be the Continentals. The 20MS and the 2SK would be the only two Continental Roadster ever built and would be considered the most important Phantom II chassis. However, there would be another model of the Phantom II Continental that would also be quite rare and very valuable. And one of those models would be up for sale at RM Auctions event in Monterey, California.

Allweather Motor Bodies, which was located in Kilburn, London would build only a select number of bodies for Rolls-Royce during its history. Jack Barclay would order chassis number 107TA and would have it sent to Allweather Motor Bodies with the instructions to build a Drophead Coupe body. What would result would be a Rolls-Royce Phantom II Continental Drophead Coupe that would have a body style reproduced one other time, but by H.J. Mulliner. Out of the 1,392 Phantom II chassis, only two would end up being TA series Drophead Coupes. But since this model is the only TA series Drophead Coupe designed and built by Allweather Motor Bodies, it actually deserves the 'one-off' title.

A mixture of exquisite engineering and design, this Drophead Coupe design practically stands alone in the ever-growing interest in Phantom II Continentals. The car would be featured in a seven-page article in Classic Car Club of America in which it would be declared, 'From any angle this is a beautiful masterpiece in metal.'

The low appearance was at the request of Barclay. In addition, Barclay would also request a longer wheelbase (150 inch), which would give the car a long and low appearance that was certainly very attractive and elegant. In its present state, the car actually represents the way in which the car had been delivered. Therefore, its black finish and chrome brightwork are very much authentic to its original configuration. The red leather interior and finely-finished wood appointments give some sense of the quality and comfort of the ride in a Phantom II Continental.

This precious Phantom II had formerly been part of the Robert Pass Collection. However, the car is now part of a private collection and had undergone restoration at great expense. This breathtaking Allweather Motor Bodies Drophead Coupe would head to auction with expectations being that it would earn $800,000 to $1,000,000. Certainly this Phantom II Continental is a very rare jewel for any collection. At auction, bidding reached $625,000 but was not enough to satisfy the reserve. It would leave the auction unsold.

Sources:
'Featured Lots: Lot No. 216: 1935 Rolls-Royce Phantom II Continental Drophead Coupe by Allweather Motor Bodies', (http://www.rmauctions.com/featurecars.cfm?SaleCode=MO11&CarID=r265&fc=0). RM Auctions. http://www.rmauctions.com/featurecars.cfm?SaleCode=MO11&CarID=r265&fc=0. Retrieved 18 August 2011.

'1933 Rolls-Royce Phantom II Continental news, pictures and information', (http://www.conceptcarz.com/vehicle/z9153/Rolls-Royce-Phantom-II-Continental.aspx). Conceptcarz.com: From Concept to Production. http://www.conceptcarz.com/vehicle/z9153/Rolls-Royce-Phantom-II-Continental.aspx. Retrieved 18 August 2011.

Wikipedia contributors, 'Rolls-Royce Phantom II', Wikipedia, The Free Encyclopedia, 11 August 2011, 18:45 UTC, http://en.wikipedia.org/w/index.php?title=Rolls-Royce_Phantom_II&oldid=444308501 accessed 18 August 2011
By Jeremy McMullen
This Rolls-Royce Phantom II Fixed Head Coupe wears coachwork by Hooper & Co. Chassis 70 TA was originally dispatched to Hooper on January 10th of 1935 and was expected to be completed in early March. It was finished in black with a brown mid-section. Inside, brown Vaumol leather and Burr Walnut trimmed the interior compartment. There was seating for two with large space behind the seats with room enough to accommodate suitcases, and golf clubs.

Later in the car's life, it was given a restoration and finished in grey and black. There are disc wheels, a tinted sun visor, Marchal lamps, a complete picnic set and a custom-made hood ornament in the style of Lalique.

In 2011, the car was offered for sale at the Gooding & Company auction in Scottsdale, Az. It was estimated to sell for $400,000 - $500,000. Bidding reached $350,000 but was not enough to satisfy the car's reserve. It would leave the auction unsold.
By Daniel Vaughan | Feb 2011
All Weather Drophead Coupe
Coachwork: Binder
Chassis Num: 187 TA

This is the last Phantom II drophead built and was shipped February 22, 1935. It is fitted with Binder, 3-position convertible coachwork. It is the last chassis in the TA series, therefore, incorporates all of the improvement to the series.

The previous owner had the vehicle for the past four decades and provided copious documentation on this Phantom II, along with the numerous awards it has received in the 1980s.

The car was restored in 2008.
Chassis number 58UK is a late example and the 13th away from the final car built on the long chassis. It was built with Sedanca de Ville coachwork by Barker & Co for Rt. Hon. Lady Astor. It has a number of stylistic flourishes typical of this late series car, along with many mechanical improvements made over the life of the model. The car made its way across the Atlantic in the 1950s and was recorded with Warren G. Epstein in Saratoga, California in 1957 followed by a Mr. Sanders of California in the 1978 RROC Ownership Roster. The most recent owner is from Colorado and acquired the Phantom II in 1984 from Roger T. Mitchell Jr.

The car was a regular participant at Concours events in the Denver area until 1995, winning numerous awards. It has an older restoration finished in a color combination of garnet on silver with matching leather and cloth upholstery.

In 2013, the car was offered for sale at Bonhams Auction in Scottsdale, Arizona. As bidding came to a close, the car had been sold for the sum of $181,000 including buyer's premium.
By Daniel Vaughan | Feb 2013
The Phantom II was the first completely new car since the 20HP seven years earlier. The Phantom II was still rated 40/50 HP but was lower and the springing half-elliptic all around.
The car, although to Royce's design and specification, was mainly the work of his West Wittering design team and included many innovations and a redesigned engine that, wîth the gearbox, was now one unit.

The introduction of the Phantom II, only four years after the Phantom I, was prompted again by increased competition from other manufacturers, particularly Buick and Sunbeam. Ironically, the head of Buick had bought a Phantom I and, which so impressed everyone at Buick that they stripped it and copied much of what they learned.

Royce himself knew they were lagging behind: 'I have long considered our present chassis out of date. The back axle, gearbox, frame, springs have not been seriously altered since 1912. Now we all know it is easier to go the old way, but I so fear disaster by being out of date, and I have a lot of stock left, and by the sales falling off by secrets leaking out, that I must refuse all responsibility for a fatal position unless these improvements in our chassis are arranged to be shown next autumn, and to do this they must be in production soon after midsummer 1929.'


Royce was influenced by the lines of the current Riley Nine, and the manner in which the rear passenger's feet were tucked comfortably under the front seats in 'boxes', enabling 'close-coupled' coachwork to be fitted. Royce decided to build a special version of the car for his personal use.

Superb coachwork wîth modern styling was now available and Royce decided on a lightweight sporting body, which Ivan Evenden designed and Bakers built. This car became the forerunner of the legendary Phantom II Continentals.

The chassis is the standard Phantom II short model wîth a few modifications. These consist of a low §teering column and specially selected springs. There never was a defined speciation of a Continental Phantom II. The series to series engineering improvements were applied to all chassis.
Source - Rolls-Royce Motor Cars Limited
The Rolls-Royce Phantom II was very similar to the Phantom I in many ways, but brought improvements such as a higher horsepower rating and the removal of the traditional torque-tube drive. Instead, the engine and gearbox were constructed in unit with each other rather than being separate. The Autovac was now using an engine-driven pump. A new water-heated induction system was used. The Battery and magneto ignition was the same as in the Phantom I. Built-in centralized lubrication was now a standard feature and the Catilever rear springs were shed in favor of semi-elliptic units. The bodies of the car sat atop of a separate sub-frame which helped eliminate distortion.

After the construction of the first Phantom II, named the 18 EX, it was put through its paces on a 10,000-mile test drive to identify the vehicles short-comings and to ensure the vehicle was constructed to Rolls-Royce standards. The car was driven on many types of terrain and at various speeds. It was reported that the car drove best at 70-mph.

Most of the left-hand drive coachwork, those vehicles intended for the United States market, was handed by Brewster and Co. The European versions were bodied by names such as Hooper, Arthur Mulliner, Park Ward, Barker, and Thrupp & Maberly.

Construction of the Phantom II lasted from 1929 through 1935, at which point it was succeeded by the Phantom III and its large twelve-cylinder engine.
By Daniel Vaughan | Feb 2007
For more information and related vehicles, click
here
Gooding & Company Adds Two Legendary Ferraris to Scottsdale Offerings Including a 1959 250 GT LWB California Spider
The two-day event will also drop the hammer on a 1962 Ferrari 400 Superamerica SWB Coupe Aerodinamico along with over a dozen other models from the Italian marque SANTA MONICA, Calif. (December 12, 2014) – Gooding & Company, the record-setting auction house acclaimed for selling the world's most significant and valuable collector cars, announced today the addition of two superlative Ferraris to its Scottsdale roster. New consignments include a 1959 Ferrari 250 GT LWB California...[Read more...]
Postwar Ferrari Named Best of Show at 2014 Pebble Beach Concours d'Elegance
1954 Ferrari 375 MM Scaglietti Coupe Named 'Best of Show' PEBBLE BEACH, Calif. (August 17, 2014) -- Excited cheers echoed across the 18th fairway of Pebble Beach Golf Links Sunday when a 1954 Ferrari 375 MM Scaglietti Coupe was named Best of Show at the 64th annual Pebble Beach Concours d'Elegance. The car, owned by Jon Shirley of Medina, Washington, was the first postwar car to take the top award at the prestigious event in nearly five decades. It was also the first Ferrari to win. ...[Read more...]
Barrett-Jackson Flavors Its January Scottsdale Auction With NASCAR Treats
• RACING HERITAGE, HIGH PERFORMANCE ARE RECIPES FOR CAR-COLLECTING FEAST
• SPEED™ SET FOR 39 HOURS of LIVE COVERAGE STARTING JAN. 15
The great Henry Ford once said, 'Auto racing began five minutes after the second car was built.' And for more than 60 years, there are few entities that better represent auto racing in America than NASCAR. From the hallowed grounds of Daytona International Speedway, to Sonoma, California's intricate and picturesque road course, the sp...[Read more...]
TOPLINE COLLECTORS PLACE SPOTLIGHT on SPEED'S BARRETT-JACKSON BROADCAST FROM SCOTTSDALE
• TOPLINE COLLECTORS PLACE SPOTLIGHT on SPEED'S BARRETT-JACKSON BROADCAST FROM SCOTTSDALE
• 'LOST' SHELBY DUAL PROTOTYPE, HAGERTY GIVEAWAY & SALON COLLECTION HIGHLIGHT 39 HOURS OF LIVE COVERAGE
The 42nd annual Barrett-Jackson Scottsdale (Ariz.) Collector Car Event, the first of four set for live coverage in 2013, kicks off the auction season in grand style as some of the world's most sought-after machines cross the block starting Tuesday, Jan. 15 at 7 p.m. ET/4 p.m. PT. SP...[Read more...]
Cherished Classics From The Pettit Collection Will Be Offered Without Reserve
• The 1929 Duesenberg 'Blue J' and 11 collector cars from the William A. C. Pettit, III Collection will be sold at Gooding & Company's Pebble Beach Auctions
• Estate Proceeds will benefit the Shriners Hospital for Children®-Tampa
Gooding & Company, the acclaimed auction house celebrated for selling the world's most significant and valuable collector cars, is honored to present the finest automobiles of the William A.C. Pettit, III Collection at its Pebble Beach Auctions on Aug...[Read more...]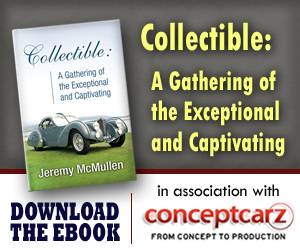 Rolls-Royce
Monthly Sales Figures
Volume
December 2014
75
November 2014
75
October 2014
75
September 2014
75
August 2014
75
July 2014
75
June 2014
75
May 2014
75
April 2014
75
March 2014
75
January 2014
86
(More Details)
© 1998-2014. All rights reserved. The material may not be published, broadcast, rewritten, or redistributed.