1959 Buick Electra news, pictures, specifications, and information

Tweet
Buick had high hopes for the newly restyled 1959 model lineup, and was looking to reverse a two-year sales slump. The style was low and sleek with the traditional Buick 'portholes' removed. The Buick model names were new with the LeSabre being their entry level vehicle, the Invicta as the middle line, and the Electra 225 at the top.

This particular Electra 225 Convertible is painted white and has a red leather interior. This is the same color combination as the Official Pace Car of the 1959 Indianapolis 500. This car was ordered from the factory with a full complement of extras, including the rare first-year bucket seat option, air conditioning and a Wonderbar foot-operated radio. The car has air-ride rear suspension and Triple Turbine automatic transmission - this was the final year for these complex and sometimes troublesome features.

Buick had high hopes for its brand new 1959 car, but a lack of demand sent U.S. production down again, to 285,089 for the model year. Of these, only 5,493 were Electra 225 Convertibles.
By Daniel Vaughan | Aug 2009
This Buick Electra 225 was given a restoration in the early 2000s. The exterior is finished in two-tone paint scheme of Wedgewood Blue and Artic White with an interior that is finished in medium blue with white piping.

In 2010, this Buick Electra 225 Convertible was offered for sale at the Gooding & Company Auction held in Amelia Island, Florida. The car was expected to sell for $90,000 - $120,000 and offered without reserve. As bidding came to a close, the car had been sold for the sum of $74,800, inclusive of buyer's premium.
By Daniel Vaughan | Apr 2010
The '225' was derived from the 225-inch overall length, the longest of all GM cars during that period. Powering these large vehicles were a 401 cubic-inch Nailhead V8 engine offering 325 bhp. They had four-wheel hydraulic drum brakes and an automatic transmission. The dramatically restyled 1959 models were replaced by an all-new model for 1960, with the flagship Electra riding atop a Buick-only 'K-member' frame. The 1959 cars had canted headlights while the 1960 versions were laid flat and parallel to the bumper, complementing the wider, longer and lower overall styling theme of the early 1960s.

This car was once part of the O'Quinn Collection and given a nut-and-bolt restoration in 2006. It is finished in Sable black with a red leather interior with red carpeting and a black top. It is a well equipped example with a host of desirable features including a power bench seat and power windows, top, steering and brakes. There is an AM radio and air conditioning as well.

In 2010, this Buick Electra 225 Convertible was offered for sale at RM Auctions 'Automobiles of Amelia Island' sale in Amelia Island, Florida. The car was estimated to sell for $60,000-$90,000 and offered without reserve. As bidding came to a close, the car has been sold for the sum of $88,000, inclusive of buyer's premium.
By Daniel Vaughan | Apr 2010
In the late 1950's, due to the combination of economic recession that made small vehicles popular, unpopular styling, and product problems, Buick went into a sinking decline. Sales plunged from a high of nearly three-quarters of a million vehicles in 1955, to barely a quarter of a million units in 1959.

Discarding Special, Century, Limited and Roadmaster, Buick began to pull itself out of the tailspin in 1959. They now favored the LeSabre, Invicta and Electra. Through the efforts of Edward D. Rollert, a quality-commited new general manager, the Special name returned on a compact vehicle with an aluminum V-8 in 1961. One year later, the first production V-6 in the Special was offered and was named Motor Trend Magazine's 'Car of the Year'. Sales begin to clumb, and production in the uppder-series vehicles reached to more than 450,000.

Continuing to rise through the 1960's, a record of 821,165 was reached in the 1973 model year. Unfortunately due to the oil embargo late in 1973 year, sales plummeted to fewer than 500,00 in both 1974 and 1975.

Near the end of 1958, some of the most incredibly vehicle to ever be assembled were rolling off the production line and onto the roadways of America. The year that the USA added Hawaii to the union, Fidel Castro took over Havava, Buddy Holly died, and Ben Hur earned the Best Picture Oscar, Buick was in the process of unveiling their brand new models in 1959.

In a bold and daring move, the traditional styling cues that had been long been Buick's trademark quickly disappeared overnight, along with the names that had been apart of Buick's stable for so long. No longer were the portholes, and the sweepspears that had been traditional for so long. Now, new names, new engines, new brakes, new chassis, and new transmissions were unveiled as Buick dangerously tried something new.

The LeSabre was considered to be thriftiest Buick, while the Invicta was the most spirited Buick, and the Electra was highlighted as the most luxurious Buick. The Electra was built for speed and comfort, and was considered to shine among its rivals. These brand new models were receiving glowing praise from the motor press, and were reported to be selling like hotcakes. Though the steel strike of that year didn't do much to aid sales, the growing popularity of the times was drawn toward compact vehicles as the motoring public was growing tired of full-size cars.

With a very deserved street name 'deuce and a quarter', both the Buick Electra 225 and Buick Electra were full-size premium automobiles built by General Motors Buick division. Produced in variety of nomenclatures, the Electra name was used by Buick between 1959 to 1990.

Before the Electra and Electra 225 came to the scene, the Buick Super, Roadmaster and Limited constitued the upper class of Buick's superb lineup. Following their introduction in 1959, the Electra took the place of the Super while all of Buick's models were renamed. The Electra 225 took the place dominated previously by the Roadmaster and Limited models.
Sharing its 6-window hardtop roofline with the Cadillac Fleetwood, the top-line model of the Buick range was the Electra 225 Riveria. From the 1949 model year on, the 'Riveria' name had been used by Buick to signify a premium trimmed hardtop body style. In 1963, Buick dropped the Riveria name as a body style designation and instead utilized it as Buick's new personal luxury coupe. The Electra nameplate was also discontinued in 1963, leaving only the Electra 225.
The Electras were powered by Buick's 401 in³ (6.6 L) V8 from 1959 until 1966. An available 425 in³ version of the same engine was available from 1964 to 1966. The following year, the 1967 model offered a new Buick 430 in³ (7.0 L) V8, and a 455 in³ (7.5 L) version of the same engine replaced it in 1970. The 1959 through 1963 models had Twin Turbine DynaFlow, and the Triple Turbine was offered as an option in 1959. Automatic transmissions were always a standard option, and beginning in 1964, the Electra models were equipped with the Super Turbine 400/THM 400 transmissions.

In 1965, a major restyling was done on all GM passenger vehicles. To place more emphasis on the luxurious 4-door hardtop bodies, the 6-window bodystyle was dropped in favor of the 4-door frame. The coupe models of 1965 were dominated by smooth and sinuous 'Coke bottle' lines and fastback roof profiles. The marketing strategy was changed by Buick in 65, and the Electra 225 was offered in two trim levels, base and Custom. The Electra 225 Custom 4-door hardtop was offered in a new 'Limited' option package, and eventually became available on the two-door hardtop models as well.
In 1968, to emphasize the Electra 225's length, the stylists at GM did this through the use of 'blade' rear quarter panels. They also used the 'sweepspear' character line that ran the length of the body. The Ventiports also followed the curve of the sweepspear just forward enough to the front door in the Electra 225. Hidden in 1969, the windshield wiper blades were discreet, and the following year the vent windows on the front doors were eliminated.
For a decade, between 1967 and 1976, it was easy to see the similar forms and design hallmarks that dominated the Electra 225's design style.
From 1971 through 1973, the previous 4-door pillared sedan variant and convertible were eliminated, and all Electra 225 models were hardtops. The GM's pillared coupe body was adopted in 1974, and fitted with 'Landau' option in the Electa Limited Coupe. Though considered unpopular due to their extensive cost, optional driver and passenger airbags were available in 1974. Max Trac, a crude and limited version of traction control was available in 1974. All 225 coupes came with fixed rear side windows and center posts in 1975. And until the 1977 model, all 4-door models continued as hardtops. Though it came without any Electra 225 badges, a Limited model was available in 1974. In 1975, a new Park Avenue option package was available on the 'Limited' 4-door hardtop.
The longest 4-door hardtop GM car ever built was the 1975 Buick Eletra 225 Limited. A return of the six-window configuration that had been available by Buick from 1959 through 1964, the model at 233.4 inches long, was even longer than the 1975 Cadillac Deville.
Between 1971 and 1976, all Electra models were powered by Buick's 455 in³ (7.5 L) engine. The 1971 model achieved a satisfactory 315 hp, but by the 1976 model year, it was reduced to a pitiful 190 hp due to the ever-increasing government mandated emission controls. In favor of smaller, and more efficient powerplants, the impressive 455 engine was dropped after the 1976 model year.
In 1977, GM downsized their full-sized vehicles, and the third generation of Eletra's went close to it's once original size and length at 22 inches (5,715 mm). The 1980 model was once again downsized, and lost the '225' distinctive part of its name. A first-ever diesel engine was utilized in 1978, as the 1977 through 1979 Buick Electras were powered with engines from various GM divisions. A modified grille was given to the 1981 model, along with a new powertrain as the Buick 350 V8 disappeared in favor of a standard Buick that produced 4.1 L V6. Unfortunately known to be troublesome, 350 in³ Oldsmobile produced diesel was also introduced and available for purchase. In 1981, Electra was featured for the first time since 1959 without 4 Ventiports. In 1985, the once top-line Electra Park Avenue model disappeared completely after continueing to show 4 small depressions with stickers in the chrome mouldings on its front fenders.

Debuting on the GM C platform, a totally redesigned front-wheel drive Electra that included a performance-oriented T-Type version was showcased in 1985. Impressive, this was the only C Platform vehicle that utilized a forward opening hood. Though it had appeared unofficially as early as 1975, in1985, Park Avenue became an official trim designation within the Electra series. Replacing the quad headlight setup from the 1985 and 1986 models, the first use of integrated aerodynamic headlights was featured in 1987 models.
A new Park Avenue Ultra model featuring a standard leather trim interior along with a padded vinyl top, joined the Electra Limited, T/Type and Park Avenue models in 1989 and 1990. Basically combining the characteristics of the sportier T/Type and luxurious Ultra, the designation 'Ultra' was used on the next generation Park Avenue. An entirely diverse vehicle that was based upon the 1977 full-size GM station wagon body, the Electra Estate station wagon model was introduced briefly. To make way for the smaller Park Avenue and the larger Roadmaster, the last of the Electra production was seen in 1990.
By Jessica Donaldson
For more information and related vehicles, click
here
ACURA TLX GT RACE CAR TO DEBUT AT DETROIT GRAND PRIX
◾Racing application for new 2015 Acura TLX ◾Will run in highly competitive GT category ◾Single-car entry for RealTime Racing and driver Peter Cunningham Acura Motorsports today announced that the new 2015 Acura TLX GT will make its Pirelli World Challenge competition debut at the May 30-June 1 Detroit Belle Isle Grand Prix double-header race weekend. To be campaigned by long time Acura Motorsports partner RealTime Racing, the new TLX GT will move Acura into the top category of the Pirell...[Read more...]
AUTOTRADER.COM JOINS TEAM PENSKE AS SPONSOR OF NO. 22 FORD TEAM
MOORESVILLE, N.C., Feb. 13, 2014 -- AutoTrader.com® will join Team Penske in 2014 with sponsorship of the No. 22 Ford Fusion and driver Joey Logano in the NASCAR Sprint Cup Series, the two companies jointly announced today. Under the terms of the multi-year agreement, AutoTrader.com will become a season-long associate sponsor on the No. 22 team and will also serve as the car's primary sponsor for the July 13 race at New Hampshire Motor Speedway (NHMS) with a special AutoTrader.com livery...[Read more...]
1989 Indianapolis 500: Sideways to Victory
The tension in the final moments would be so great it would take everything within Shelley Unser to keep from breaking into a shaking fit. Two laps from the end of the race, traffic would dramatically slow Al Unser Jr.'s pace allowing Emerson Fittipaldi to close right up behind his rear wing. The two would pull side-by-side as they powered their way toward turn three. Still side-by-side heading into the turn, there would be less than 3.75 miles to go to victory, a first for either driver. But th...[Read more...]
DRAGON RACING JOINS FIA FORMULA E CHAMPIONSHIP
• Leading IndyCar squad appointed fourth team for new global electric series
LOS ANGELES, USA (25th September, 2013): Leading IndyCar outfit Dragon Racing has today signed an agreement with series promoters Formula E Holdings to become the fourth team to enter the FIA Formula E Championship – the new fully-electric race series beginning in September 2014. Dragon Racing is owned by media and publishing entrepreneur Jay Penske, with its headquarters based in Los Angeles – a cit...[Read more...]
BMW TEAM RLL'S SEASON SPEEDS UP BEGINNING AT CTMP; HAND RETURNS TO CO-DRIVE WITH MÜLLER
Woodcliff Lake, N.J. – July 16, 2013 . . . The opening four rounds of the 2013 American Le Mans Series have seen the new BMW Z4 GTE race to the GT class victory at both Long Beach and Lime Rock Park. Round Five will be held at the Canadian Tire Motorsport Park, in Bowmanville, Ontario, Canada, on July 21with BMW Team RLL focusing on increasing Dirk Müller's lead in Driver points and moving to the top of the Manufacturer and Team points. BMW stands three points behind Chevrolet in Manuf...[Read more...]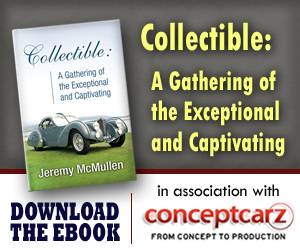 Similarly Priced Vehicles from 1959
Buick Invicta ($3,355-$3,840)
Alfa Romeo Giulietta ($3,520-$4,340)
Lotus Elite S1 ($4,100-$4,100)
Porsche 356A ($3,580-$5,900)
Ford Thunderbird ($3,695-$3,980)
Dodge Custom Royal ($3,150-$4,000)
Mercedes-Benz 220S ($4,280-$7,640)
Oldsmobile Ninety-Eight ($3,895-$4,370)
Mercury Country Cruiser ($3,030-$3,930)
Mercury Park Lane ($3,955-$4,200)

Average Auction Sale: $65,313
Buick
Monthly Sales Figures
Volume
December 2014
20,357
November 2014
19,143
October 2014
18,699
September 2014
17,466
August 2014
22,143
July 2014
17,683
June 2014
21,403
May 2014
19,957
April 2014
19,214
March 2014
20,428
February 2014
19,192
January 2014
13,278
(More Details)
© 1998-2014. All rights reserved. The material may not be published, broadcast, rewritten, or redistributed.