1970 Porsche 914/6 news, pictures, specifications, and information

Tweet
| | | |
| --- | --- | --- |
| | | Targa |
The Lufthansa-sponsored 914-6 GT ran at the 1970 Nurburgring where it set fastest lap in class and came in second in class. It continued to be campaigned in the early 1970s throughout Europe in ADAC races, including the 1971 3-hour LeMans race.

Imported to the USA in 1986, it spent 15 years sitting in a chicken barn in central Massachusetts. The present owner purchased the car in 2001 and a complete restoration was begun to bring it back to its 1970 configuration. The restoration was completed and the car raced in April 2004 at Daytona International Speedway at the Rennsport Reunion II.
The factory's skunkworks prototype GT for Max Moritz and then one of Ralph Meaney's Daytona 24 hours race cars, 2nd in GTU.

This was the first of approximately 12 original FIA Group 4 Porsche 914-6 GTs built at Zuffenhausen in 1970. It was equipped with Type 901/36 twin plug 6-cylinder engine #640 0295, steel wheel flares and painted light ivory. Delivered to Autohaus Max Mortiz GmbH where it was modified per factory instructions for racing with 908 front brakes and engine modifications increasing its horsepower to 220 DIN, painted Conda Green.

First race in the 1000 km Rennen Nurburgring on May 31, 1970, driven by Gerhard Quist and Dietrich Krumm The Porsche 914-6GT went on to win 9 of its next 12 ADAC series races, setting lap records at Hockenhein, Germany and Zolder, Belgium, and was described as 'Europe's Fastest GT' by the German Press.

The 914 043 0691 earned Porsche the 1970 international GT Trophy. That Trophy was later presented to Auto Haus Max Moritz, thus ending its European History.

Late in 1970 #914 043 0691 was sold to Ralph Meany Inc, in Mass. USA. This car was entered as #19 in the '24 Hours of Daytona' January 31, 1971. Driven by Steve Behr, John Buffum and Erwin Kremer finishing 2nd in GTU Class and 8th Overall. (Padro Rodriguez and Jackie Oliver won the race in a Porsche 917 K).

Ralph Meany entered another Porsche 914-6, #18 also painted Conda Green, which he drove with Bill Bean and Gary Wright. They finished 21st overall.

Both cars were entered at the '12 Hours of Sebring' race on March 20, 1971. #19, now raced as #29, was driven by Steve Behr, John Buffum, and Astronaut Charles (Pete) Courad Jr. they finished 29th overall. #18, entered as #28, was heavily damaged and was later run as the 1st windshield-less GTU car in IMSA.

During 1971, #19 raced at the 'Six Hours of Watkins Glen' July 24 and ran the inaugural IMSA event at Virginia International Raceway finishing 2nd in GTU, 3rd overall. After several SCCA races in the northeast it won the B/P Championship. (The Porsche 914-6 GT was later banned by the SCCA because of its prowess.)

Its last professional appearance was on September 19, 1971 at the 'Newly Created' Summit Point Raceway.

914 043 0691 is one of the few cars (let alone Porsches) that has both significant European and USA race history.
Famous for its terrific run to victory in GTU at the 1971 24 Hours of Daytona, driven by Canadian Jacques Duval.
This car, The Kremer Porsche serial #914-043-0653 is one of 38 factory-built documented 914/6/GT competition cars. In 1971, the Kremer team campaigned the car in FIA Group 4 with Willi Kauhsen and Friedhelm Theissen scoring several wins. over the next 30 years, this car resided in California in the possession of Harold Van Keszycki and Llew Kinst. The last few years, the car has appeared in the Monterey Historic Races and other HMSA events. The current owner acquired the car in 2004 after a 33-year search for a real documented factory-built 914/6/GT competition car.
This is an original example of the 914-6, with very few remaining unaltered. There were 3,333 manufactured between 1969 and 1972, approximately 2,100 exported to the United States.

The car was purchased by the present owner in 1997, mileage at that time was 65,000 miles. It has been driven across the US on two occasions, to participate in Porsche Club events and was driven at speed at the Circuit Mont Tremlant and Road America.

The engine is 1991 cc's, producing 110 horsepower at 5800 RPM's. It has twin Weber Down-Draft carburetors and a Porsche 901 5-speed gearbox. Top speed is approximately 125 MPH.
This 60,000 mile original 914/6, from the first year of 914 production, features 14-inch Fuchs alloy wheels, a 2.0-liter flat six engine, and a 5-speed transmission. The 914/6 appeared at the same time as the four-cylinder version of the car but was a poor seller in comparison, with slightly more than 3000 sold; overall roughly 118,000 914 were sold worldwide. Entanglements with VW caused the car to be priced too close to the base 911 model to present a sufficient value to buyers. This example has fog lamps, the radio delete option, and its owner/mechanic has retained all of its books and records.
A factory-ordered car, this 914/6 competition coupe was raced in the early 1970s. The 194/6 was created as a privateer race car that was homologated based on a combination of a high-output six-cylinder engine installed in the midship engine bays of the lightweight 914. A variety of equipment selections were available for the car, but all should have large fender flares and fiberglass hoods, trunks, and doors, Plexiglass side and rear windows, and interiors stripped of items such as door handles and other trim pieces. This 914/6 is equipped with a 2.5-liter engine that was used for racing in the IMSA series.
The Porsche 914 was introduced in September of 1969 as a collaborative effort between Porsche and Volkswagen to produce a sporty car. The car they came up with was a mid-engined vehicle with seating for two and featured a targa top. A 4-cylinder boxer engine provided the power. Volkswagen need a vehicle to replace the aging Karmann-Ghia while Porsche was looking for another option to add to their line up. The VW bodied vehicles were known as 914/4S while the Porsche variants were known as 914/6s. However, all 914S's sold in North America were considered Porsches.

The car sits very low and the suspension is stiff making it a great competition car rather than a touring car. The headlights hide in the hood and pop-up when needed. The targa top can be stored in the trunk.

The horizontally opposed flat-four engine is mid-mounted and came in three differnent sizes, 1.7, 1.8 or 2 liter. The 1.7 liter engine produced 80 horsepower, the 1.8 produced 79, and the 2.0 liter engine produced 95. A five-speed manual gearbox was standard equipment on all models.

The 914/6 was short lived with only 3360 examples produced between 1970 and 1972. All featured the 2.0 liter flat-six engine. It was raced using different engine configurations. This included the 'T' specification, which was basically a stock 911 engine. Another popular configuration was to use a converted Carrera 6 engine.

In 1970 Porsche entered a 914/6 GT in the grueling 24-hours of Le Mans race. It finished 6th overall and won its class. A remarkable accomplishment. This was only one chapter in the vehicles extensive racing career which continues even to this day.
By Daniel Vaughan | Jan 2007
Just happening to be the cheapest modern Porsche one could buy, the Porsche 914 debuted with a low price point to attract buyers. When first introduced at the Frankfurt Automobile Show in September of 1969, the Porsche 914 was a return to Porsche's roots. The 914 was a much more affordable Volkswagen-based sports vehicle that was conceived to bring the pride and pleasure of owning a Porsche to a wider audience than
before.

Near the end of the 1960's, both Porsche and Volkswagen were searching for new models. Porsche needed a new model to replace their entry-level 912 and Volkswagen was seeking a new range-topping sports coupe that could replace the aging Karmann Ghia. To fulfill their contract, Volkswagen needed to contract out one final project and the mid-engined 914 Porsche was this project. The head of this project was Ferdinand Piëch, a designer in charge of research and development at Porsche. The 914 with seating for two, featured a targa top, and was sold collaboratively by Porsche and Volkswagen from 1969 through 1976.

The 914 was originally intended to be sold with a flat four-cylinder engine as a Volkswagen, and carrying the flat six-cylinder engine as a Porsche, Porsche was able to convince Volkswagen to sell both versions as Porsches in North America. The Porsche 914 sat very low and had a stiff suspension which made it a great competition vehicle instead of a touring car. The targa top can be stored in the trunk, and the headlights hide in the hood and could be popped-up when needed.

The first 914 Prototype was introduced on March 1st 1968. Unfortunately, the death of Heinz Hordhoff, the chairman of Volkswagen complicated the development as his successor Kurt Lotz chose not to be tied within the verbal agreement between Porsche and Volkswagen. Lotz believed that Porsche had no claim at all to the model, and Volkswagen claimed all, especially when Porsche would not share in tooling expenses.

All of this resulted in the price of the chassis rising considerably and the 914/6 costing only slightly less than the 911T, Porsche's next lowest priced vehicle. Sales were dramatically affected, and the 914/6 did not sell well. The less expensive 914-4 became Porsche's top seller during its run, and managed to outsell the 911 very easily, with a total of 118,000 vehicles sold worldwide.

Taking the idea from the 1969 911T, the 914/6 variant featured a carbureted 110 hp 2.0 L flat-6 engine, while Volkswagen versions originally came with an 80 hp fuel-injected 1.7 L flat-4 engine that was based on the Volkswagen's air-cooled engine. The 914's engine was place in the middle, in front of a version of the 1969 911's '901' gearbox, so it was set up for mid-engine operation. The rolling chassis was manufactured by Karmann at his own plant, and then either sent them to Porsche for fitment of the Porsche suspension and flat-six engine, or they were kept in house for Volkswagen hardware. The brakes and suspension used in 914/6 models were very similar to the Porsche 911.

A joint venture between Volkswagen and Porsche in the beginning, export to the U.S. was taken care of by Volkswagen of America, where both versions were sold and badged as Porsches. The four-cylinder vehicles were sold as Volkswagen- Porsches in Europe, at Volkswagen dealerships.

From 1970 through 1972 the 914 model featured both front and rear bumpers that were flat across and were available in either painted metal or chrome. For 1973 the vehicle received new bumpers stops, and for the following year, bumper stops were also added to the rear of the vehicle. The bumpers were heavy and rubber covered from 1975 through 1976.

Unfortunately, the 914/6 variants was discontinued in 1972 due to rising costs and very slow sales. A total of 3,360 units were produced during its cycle. In 1973 a brand new 95 hp 2.0L, fuel-injected version of the Volkswagen's Type 4 engine replaced the 914/6. The following year, the 1.7 L engine was replaced by a 76 hp 1.8 L. To aid with emissions control, the new Bosch L-Jetronic fuel injection system was added to American units. Production for the 914 ended in 1976 and the 2.0 L flat-4 engine continued to be used in the 912E, which was the entry-level model until the 924 was introduced.

For 1970, the Porsche 914 was named Motor Trend's Import Car of the Year. Finishing sixth overall at the '70 24 Hours of Le Mans, a 914/6 GT piloted by Claude Ballot-Lena and Guy Chasseuil won the GTS class.

Several special edition models of the Porsche 914 were created over the years. Nearly 500 models of the Creamsicle 914 were created; a light ivory-based color scheme concept, basically a carryover from the '73 911 Carrera RS series car design precedent. 500 Bumblebee models were produced. The Bumblebee featured a black exterior with yellow decals, bumpers, skirts, and wheels.
By Jessica Donaldson
For more information and related vehicles, click
here
LIAM DWYER ENLISTS WITH MAZDA MOTORSPORTS
• Dwyer shifting from active duty with the U.S. Marines to full-time racer
Mazda announced the addition of Liam Dwyer as a full-time racer in the 2015 Continental Tire SportsCar Challenge. Dwyer stunned the racing world in 2014 when he teamed up with Tom Long to co-drive their Freedom Autosport Mazda MX-5 to the win in the Lime Rock Park Continental Tire ST race on Memorial Day weekend. The win was a made-for-Hollywood storyline as Dwyer was competing in only his second professional ...[Read more...]
RESTORED 1970 BMW ALPINA 2002TI RETURNS TO THE TRACK AT 2014 ROLEX MONTEREY MOTORSPORT REUNION
On the heels of the launch of the BMW ALPINA 2015 B6 xDrive Gran Coupe to the US market, one of ALPINA's early cars will compete in the Rolex Monterey Motorsport Reunion. Woodcliff Lake, N.J. – August 5, 2014 …Today BMW announced that it will run its newly restored 1970 BMW ALPINA 2002ti in the annual Rolex Monterey Motorsport Reunion at Mazda Raceway Laguna Seca next week. The car will be raced by Road & Track Executive Editor and vintage racer Sam Smith. This racing 2002ti ...[Read more...]
DORAN RACING, CA SPORT BRING NISSANS TO PIRELLI WORLD CHALLENGE AT MID-OHIO
• IMSA teams add to Nissan presence to Series Regulars SFR Racing and DWW Motorsports for mid-season sprints
FRANKLIN, Tenn. – Cincinnati's Doran Racing and Salt Lake City-based CA Sport will add two Nissan 370Z NISMOs to a strong Pirelli World Challenge field at the Honda Indy 200 this weekend at Mid-Ohio. This weekend will mark the first time either team has competed in the World Challenge GTS category, and it gives Nissan four cars in the two races on August 2-3. The Nissa...[Read more...]
LAWRENCE LOSHAK PRESENTED WITH 43rd RRDC MARK DONOHUE AWARD TROPHY
DAYTONA BEACH, Fla. (Jan. 25, 2014) - Lawrence Loshak, who was named the 43rd recipient of the RRDC Mark Donohue Award at the SCCA National Championship Runoffs last September, was presented the unique trophy at the annual Road Racing Drivers Club dinner in Daytona Beach. A record number of RRDC members and their guests attended the dinner, held prior to the Rolex 24 At Daytona, the season opener for the 2014 TUDOR United SportsCar Championship. RRDC president Bobby Rahal and RRDC memb...[Read more...]
Vintage Racing Ushers In The 2012 Season At Road America
It has been 62 years since racers tore through the streets of this tiny village about 60 miles north of Milwaukee. Still, every spring you would swear that the town speed limit doesn't exist when the sounds of historic racecars from days gone by seem to echo throughout the hillside. May 18-20 the Spring Vintage Weekend returns to Road America and kicks-off the start of a summer full of racing, from vintage and historic cars to motorcycles and even NASCAR. Racing came to Elkhart Lake in 1950...[Read more...]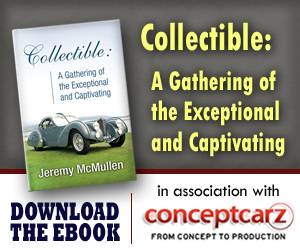 Porsche
Monthly Sales Figures
Volume
December 2014
3,275
December 2014
3,275
November 2014
4,699
October 2014
3,667
September 2014
3,607
August 2014
4,540
July 2014
4,300
June 2014
4,102
May 2014
4,609
April 2014
4,072
March 2014
3,808
February 2014
3,232
(More Details)
© 1998-2014. All rights reserved. The material may not be published, broadcast, rewritten, or redistributed.