1952 Ferrari 212 Inter news, pictures, specifications, and information

Tweet
Mistaken identity is rarely a problem for any Ferrari with the classic black prancing horse emblazoned against a yellow background. However, not all examples to leave the factory in Maranello have left without a aura of mystery surrounding them.

Such mystery would surround chassis 0255 EU. While carrying the 0255 EU chassis number it also has 0227 EL stamped on the chassis. The reason for this was something of a mystery that would take years to solve.

One aspect that would be easily recognizable would be the fact 0255 EU would be one of just four cabriolet models built by Vignale for the 212 Europa chassis. The 212 Europa would be rare in its own right since the company was making plans to introduce the 250 GT. Therefore, 0255 EU certainly belongs in rarified air within Ferrari lore.

Chassis 0255 EU would be completed and delivered brand new in May of 1953. Its first owner would be Umberto Nuvoli of Rome. Before it would leave to be delivered to its owner 0255 EU would be photographed. The photograph would be taken on the 1st of June in 1953 and would later appear in Jonathan Thompson's book Ferrari Cabriolets & Spyders.

One year later, the 212 Europa would be at Renato Nocentini's Garage La Rotunda near Florence. It would then be sold and shipped to the United States where it would become the property of William Anthony, who lived in Los Angeles. The Europa Cabriolet wouldn't stay with Anthony, or any other owner, for very long. Then, in May of 1968, the car would be purchased by Dean and Joy Macari of Pleasanton, California.

With the Macari's, 0255 EU would find a stable ownership remaining with the family for a quarter of a century. During this period the car would be presented at a few events. The most famous of these would end up being the Ferrari Owner's Club Concours in Carmel Valley in 1984. It would be here that the car would be photographed and become a part of Marcel Massini's book Ferrari by Vignale.

In 1992, 0255 EU would be sold again. This time the owner would be Peter Hosmer who lived in New Hampshire. After a few years with Hosmer the car would leave the country as it would be purchased by Diego Ribadeneira. Ribadeneira lived in Ecuador but would end up driving the car in the 1997 Historic Tour Auto held in France. Later sold in 2000, the car would return to the United States as the property of San Diego resident John R. Queen.

Coming into Queen's possession, 0255 EU was intended for restoration. Suddenly, the mystery of the double stampings would present itself and a challenge awaited. The search for the answer was on, and this was no easy quest given the somewhat loose documentation known by Italian automotive firms of the period.

Experts Gerald Roush, Keith Bluemel and Antoine Prunet would all be consulted in the case, right along with the Ferrari factory itself. Roush had in his possession important build sheets that indicated changes. Then Prunet would suggest something that would end up making all the difference.

Chassis 0255 EU would actually be completed after chassis 0227 EL. Chassis 0255 EU would be initially for John McFadden. McFadden was English. It made sense then to make a car with right-hand drive. However, the Englishman resided in Paris and planned on driving the car throughout the European mainland.

McFadden would note the problem to the factory, but to change the car in the midst of production would have been costly, both in time and money. The solution then was to swap the car being produced with the next one coming down the line that was left-hand drive, this was 0255 EU. Therefore, 0255 EU would then be stamped with 0227 EL. The right-hand drive chassis would be stamped with 0255 EU.

The mystery solved, the restoration process would carry on. Despite the fact the car's restoration had not been completed, 0255 EU would make an appearance at the 2002 Pebble Beach Concours d'Elegance. To be able to be judged, Queen would have the restoration completed. This work would be done over the course of years but the car would continue to take part in events like the California Mille and the Tour Auto. Queen would even enter the Mille Miglia Storica in 2005.

Following an engine rebuild in 2006 by Patrick Ottis the Europa Cabriolet would make an appearance at the 2007 Quail Motorsports Gathering and would end up a Platinum Award winner at the Cavallino Classic and the FCA Concours in Monterey that same year.

Finally earning its Ferrari Classiche certification in 2009, 0255 EU's authenticity and uniqueness is well documented and certified. Featuring matching numbers and highly original throughout, the 1952 Ferrari 212 Europa Cabriolet would be presented at the 2013 Gooding & Company Pebble Beach Auction. Initially drawing estimates ranging from $1,350,000 to $1,650,000, the Europa Cabriolet would end up selling for a price of $1,540,000.

Sources:
'Lot No. 31: 1952 Ferrari 212 Europa Cabriolet', (http://www.goodingco.com/vehicle/1952-ferrari-212-europa-cabriolet/). Gooding & Company. http://www.goodingco.com/vehicle/1952-ferrari-212-europa-cabriolet/. Retrieved 2 September 2013.
By Jeremy McMullen
The legend of Ferrari dates back to 1940. That year marks the birth of the Type 815 for use in the substitute Mille Miglia event. Ferrari went on to manufacture tools during the war, returning to vehicle production in 1946. Initial production was for racing; street cars came later.

The Ferrari 212 was built in two versions: the Inter and the short wheelbase Export. Production was approximately 90 cars. The power unit of the 212 was the classic Ferrari V12 designed by Giocchino Colombo in 1945. Among the 212's customers were Italian film star Anna Magnini and the neorealist film director Roberto Rosselini. Racing driver Mike Hawthorn used a 212 Fastback Coupe bodied by Touring as his personal road car. The 212's V12 produced 170 horsepower from its 2.56 liter displacement, and with a five-speed transmission, propelled the car to a top speed of 118 mph. The chassis was of tubular construction, and suspension was independent in front via transverse leaf springs and wishbone. Rear suspension is by semi-elliptic leaf springs, and brakes are four-wheel drums. The nominal weight is 2,420 pounds. This example has been owned by its current owner for over 50 years, and is the only three-window coupe ever built on a Ferrari chassis by Ghia.
This 1953 Ferrari 212 Inter Pinin Farina Coupe with serial number 0263 EU was a Turin and Geneva show car in 1953. It is also the first Ferrari to score 100 points at the Pebble Beach Concours, which it did in August of 1993. It has been a class winner at the prestigious Cavallino Classic and the Ferrari Club National Meet.
By Daniel Vaughan | Feb 2007
Ferrari 212 Inter with chassis number 0197EL is a right-hand drive vehicle in coupe configuration and bodied by Vignale. It is finished in a brilliant two-tone yellow with black fenders and stripe that extends the length of the vehicle just under the side windows.

It was sold to its first owner in June of 1952. From then it passed to Luigi Chinetti, the major US importer of Ferrari automobiles. From then it passed through several owners, mostly from the North East part of the United States before returning to Europe in the mid-1970's and into the possession of a UK owner.

Since new it has been fitted with a 250 GT engine from chassis number 1901GT.

It has been campaigned in several historic events such as the Norwich Union RAC Classis run to Silverstone in 1988 and the Christies International Historic Festival at Silverstone in 1992.

In 2009, the car was offered for sale by Bonhams at the Exceptional Motorcars and Automobilia at the Quail Lodge Restort in Carmel, CA. The car was sold for $804,500 inclusive of Buyer's Premium.
By Daniel Vaughan | Nov 2009
This car began life as a 212-Inter Vignale on October 11, 1952, when Efraim Ruiz Echevarria, a well-known Mexican football star, purchased it to race in the 1952 Carrera Panamericana. Unfortunately, he crashed during the second stage, while running ninth, being pursued by Phil Hill in his 212. This was no disgrace, as the only people ahead of him were Villoresi, Fitch, Kling, Bracco, Lang, Chinetti, McAffee, and Maglioli. After the race, Echvarria decided he would try the 1953 Carrera with the newly developed 250MM. He arranged for the 212-Inter to be returned to the factory and ordered a new 250MM, but as Mexican customs duty had already been paid on the 212, the factory agreed to number his 250MM with the same serial number as the 212. They shipped his new car in time for the 1953 race. His old car was repaired, and was then re-numbered 0292MM, making it very unique. It was sold in June of 1953 to Jan DeVeroon of Holland (a longtime associate of Luigi Chinetti), who took delivery from Modena with the intention of personal use as part of his growing collection.
Zero-to-sixty miles per hour took only nine seconds in the 212 Inter Coupe with zero-to-100 miles per hour achieved at 22.5 seconds. Several examples were used successfully in international competition, such as in 1953 when Ferrari won the Tour of Sicily, the Coppa Inter Europa at Monza, the Tourist Trophy, the Tour de France and the Carrera PanAmericana in Mexico.

In 1953, a new design on the 212 Inter chassis was introduced by Carrozzeria Vignale, and would be known as the 'Geneva Coupe.' The design was surprisingly similar to the famous PanAmericana 340 Mexico Coupes.

This Ferrari 212 Inter is the last Ferrari 212 Inter bodied by Carrozzeria Vignale. It is one of the few all-alloy construction and left hand drive. The car is fitted with three factory carburetors which helped boost horsepower to 165. There are 12-inch hydraulically-operated aluminum drum brakes with steel liners.

The car was sold new to Alfred Momo in New York where it would remain until 2002 when it was sold to an enthusiast in Japan. It has had only a few owners such as Richard Merritt and Steve Barney (who ran it in the Mille Miglia Storica in 1986 with co-pilot Gerald Roush). In 1991 it was shown on the lawn at Pebble Beach along with a group of historic racing cars and ran regularly at the Monterey Historic races in subsequent years. It has participated in touring events such as the Colorado Grand and the Wine Country Classic.

The Japanese owner treated the car to a comprehensive restoration and then ran it in the Mille Miglia four times, each successfully with no mechanical problems. In the front, a new grille was fabricated to accommodate two flush-mounted, auxiliary driving lights. The front seats were replaced during the restoration. The car is currently painted in Rosso Rubino with tan interior.

In 2008, this vehicle was offered for sale at the 'Sports & Classics of Monterey' presented by RM Auctions. It had an estimated value of $650,000 - $750,000. This alloy-bodied example and the last of six 'Geneva Coupes' built was certainly one of the highlights of the auction. It was sold for $742,500 including buyer's premium.

The car returned to the 'Sports & Classics of Monterey' auction in 2010, where this time it had an estimated value of $650,000-$750,000. As bidding came to a close, the car had been sold for the sum of $654,500 inclusive of buyer's premium.
By Daniel Vaughan | Dec 2010
The Ferrari 212 was introduced at the 1951 Brussels Motor Show. It was an evolution of the original 166 chassis and the replacement for the updated 195. Most of the components and designs of its chassis and suspension were sourced from its forbearers, but under the bonnet was a 2.6-liter variation of Ferrari's free-revving V12. The displacement had been increased and along with it, the horsepower had also risen to 150 bhp in standard road trim, with as much as 170 bhp available when fitted with three Weber carburetors.

Ferrari would produce 82 examples of the road-going 212 Inter prior to the introduction of the 250 series.

In 1953 Ferrari introduced a new design built atop the 212 Inter chassis and bodied by the Turinese coachbuilder, Carrozzeria Vignale. These became known as the 'Geneva Coupe'. It featured jet-age styling elements such as the elegant fins and rakish roof line. The quarter bumpers sat unconventionally high at all four corners adding much to the dramatic appeal of the vehicles. They had forward-thrusting front fenders, an eggcrate grille, low-set headlamps, swept-back roofline, and small ornamental tail fins. Inside, they were given many luxurious appointments and handcrafted details.

Carrozzeria Vignale of Torino would create coachwork for approximately 150 Ferraris, from the most exclusive road-going models to their competition cars. The cars they produced would win on racetracks and at leading European concours, which is a testament to the collaboration that existed between company founder Alfredo Vignale and designer Giovanni Michelotti.

This Ferrari 212 Inter 'Geneva' Coupe is the earliest chassis of the six created in this style. In keeping with Vignale tradition, each of the six examples were unique with individual livery, detailing, and chassis specifications. The basic design shared many similarities with the Vignale-bodied 340 Mexico Berlinettas.

0257 EU was finished in black with a green top and matching accented fins on the hood and rear fenders. Inside, the car was given a black dashboard with green leather upholstery and light green carpets.

It was brought to the San Remo, Italy Concours d'Elegance in 1954 and later shipped to the United States and delivered by Chinetti Motors to its first owner, a Milwaukee, WI resident. The owner was Mr. Robert C. Wilke, the founder of the Leader Card Indianapolis racing team and owner of many coachbuilt Ferraris. While in Mr. Wilke's care, the engine block developed a crack. It was later replaced by Chinetti with a new block stamped 1499.

The car remained with Mr. Wilke's until January 22nd of 1963, when it was sold to Pierre-Paul Jalbert, a French-Canadian actor and film editor living in Beverly Hills, California. The car was acquired through Mr. Jalbert's friend, Pino Lella, an Italian Olympic skier who moved to Hollywood after World War II. Mr. Lella had learned to supplement his earnings by brokering the sale of exotic cars through his connections with Alberto Ascari and Milanese Ferrari dealer Gastone Crepaldi.

In January of 1969, the car was sold to Ed Jurist, proprietor of the Vintage Car Store in Nyack, New York. John E Plantinga of Westport, Connecticut purchased the car in September of 1970 for just $4,500. At the time, the car had just 27,000 miles on the odometer.

Mr. Plantinga would keep the car for eight years before selling it to Chinetti Motors in Greenwich, Connecticut. The car was then put on display at the 7th Greater New York Automobile Show held from January 27th of 1979 through February 4th of 1979. It was later sold to Tom Parker of Louisiana, and in October 1979, Ennio Gianaroli of Flemalle, Belgium, purchased it at a Christie's auction in New York.

It was sent to Europe and repainted in a variation of its original two-tone color scheme. The lower sections of the car were finished in dark green with black accents above.

Stan Makres of Grosse Pointe, Michigan purchased the car in May of 2006 and returned it to the US. It was purchased from a Dutch dealer who had it on display at Techno Classica in Essen, Germany. The following year, ownership passed to Lee Alexander of Potomac, Maryland. In October of 2009, the current owner acquired the 212 Inter. After purchasing the car, a search began for the original, matching-numbers engine. After securing the engine, a restoration began. The work was completed in January 2013, just in time to take part in the annual Cavallino Classic in Palm Beach, Florida. It achieved a near-perfect 99-point score and was given the Ferrari Club of America Platinum Award. Later that year, it was shown at the Pebble Beach Concours d'Elegance, where it completed the Tour d'Elegance.
By Daniel Vaughan | Feb 2014
The Ferrari 212 Inter was built to accept more accommodating and comfortable bodies than its sporting predecessors. This 212 Inter wears the first-ever Pinin Farina coachwork on a Ferrari; it marks the moments that the two companies began their long and prestigious relationship. Ferrari replaced the 212 Inter with the 250 Europa in 1953 but Pininfarina has remained Ferrari's carrozzeria of choice to this day. This unique sports car was purchased by the present owner in the 1980s. It was restored by Pininfarina on the orders of Sergio Pininfarina himself.
This is one of two Ferrari 212 Inter Cabriolets designed by Pinin Farina in 1952 for Ferrari to exhibit at European auto shows. This example, chassis 0235EU, appeared at shows in Paris and Brussels. In the 1953 1000 Kilometers of Nurburgring, this graceful, leather-upholstered cabriolet was driven by Autosport journalist Maurice Gatsonides. After many years with various owners, including Alex Ullman, the car has been restored to its 1952 Paris show condition.
The V12 engine used in the 212 was bored out to 68mm and achieved a 2562cc displacement. Only one Weber carburetor was used but was good enough to produce about 130 horsepower and a top speed of 120 mph. The Export version received three Weber carburetors and produced about 150 hp and saw a top speed of about 140 mph. In 1952 modified cylinder heads were incorporated which produced another 5 hp. A little over 12 Export versions were produced while production numbers for the Inter (road) version was around 80.

Ferrari 212 Inter with chassis number 0255EU is a right-hand drive vehicle, bodied by Vignale in Cabriolet configuration. It is referred to as a 212 Europa. The car has spent most of its life in the United States, mostly in California. In most of its life it was finished in red with a black top. Only in recent years has it been given a black exterior, but still retains the red interior with blue carpet.

It was shown in 1984 at the International Ferrar Concours. It participated in the Tour de France Auto in 1997. It was sold to its present owner sometime during the late 1990s and early 2000's. Since that time it has participated in the Tour Auto in 2003 and 2005. It was a participate in the Mille Miglia in 2005 and shown at the Cavallino Classic in 2007.
By Daniel Vaughan | Feb 2010
Like all the early Ferraris each 212 was unique, especially with regard to bides. Many companies bodied the 212 but the Vignale-built 212 Inter Coupe accounts for the most - 26 - of the total 79 cars built. Owned by Ferrari enthusiast and Ferrari Club of America co-founder Larry Nicklin for over three decades, this car was shown at the 35th Turin Motor Show in 1953. Fitted with air intakes below the headlamps, it is a particularly striking design. Considered to be one of the most complete and original early Ferraris, it has just finished a complete restoration and the 2014 Pebble Beach Concours d'Elegance was the first time it had been seen in many years.
The 212 Inter was descended directly from the first Ferrari of just four years previous. Introduced in 1951, the 212 was the replacement for Ferrari's very successful 166 and 195 Inter GT vehicles. This was the eventual evolution of the 166, a sports car that would win international races, as well as being a road-worthy warrior. Sharing a similar chassis to the 125, the 212 had double wishbones in front and live axles in the rear. The final model of the Ferrari's firs series, the versatile V-12 was updated and enlarged to 2,562 cc.

Becoming the youngest winner of the Italian Grand Prix in 1950, Giannino Marzotto, age 22, and heir to a large textile factory wasn't afraid to inform Ferrari about the heaviness and lack of aerodynamics in his available vehicles. Ferrari Responding that his cars were the most efficient in the world, Marzotto set a challenge to improve upon the previous year's Ferrari.

Incorporating a whole new design that was based on the Ferrari 166 with a 212 engine, the low slung body with a rounded shape was built similar to an egg or 'Uovo'. Builders at this time based their designs on 'optical intuition' rather than wind tunnels eventually used in auto racing. Marzotto called on the aid of coachbuilders Paolo Fontana and Sergio Reggiani of Padua to assist in his design.

Construction of the body of the Ferrari 212 began by utilizing braced box tubes that were covered with Puralumana.; which was a type of Duralumin that assisted in a weight savings of nearly 200lbs. Offering relief from window reflections that can be annoying, a steeply raked front windshield was designed. Unfortunately, during rainstorms and when speed was involved, the wipers lost contact with the windscreen rendering it useless. A result of the original radiator not being delivered in time, the tall radiator was put in place instead, and pushed the bonnet of the 212 to be 15cm higher than originally planned.

Following road-testing in nearby mountains, the Marzollo brothers next took their Uovo to Ferrari in Maranello. This meeting did not go as expected as Ferrari took offence at what he perceived as a challenge from a family of amateurs. Ferrari told the Marzotto brothers that would enter a car in Sicily driven by Taruffi to 'defend the colors of the Cavallino', which only served to stiffen the resolve of the brothers.

During the 1951 Mille Miglia, Giannino brought his Uovo newly fitted with triple carburetors to boost the engine to 186 hp. This now improved aerodynamics and lightened the weight, making it able to match the overall speed of the larger cars. The main advantage that the Uovo had over other vehicles was its maneuverability.

Following the first 600 of 1600 kilometers at the Giro di Sicilia, Giannino opened a 10-minute lead over the entire field. Unfortunately, Marzotto had to withdraw from the race due to a loud drumming noise coming from the rear of the car. Fearing a frozen differential that might toss his vehicle into the Italian countryside, and himself into immortality, Marzotti withdrew from the race that was eventually won by Villoresi in of the of the 4.1s.

The Uovo reached victory at the following race, the Giro di Toscana. A return to the Mille Miglia was made in 1953 by Giannino Marzotto, as well as a victory driving one of the Ferrari 4.1s.

The Coachbuilders for the Ferrari 212 included such elite designers as Pinin Farina, Ghia, Vignale and Carrozzeria Touring. Similar to the 195, the 212 produced additional displacement over the 166 with a larger bore, this time to 68 mm.

The Ferrari 212 V12 continued in production until as late as 1953 and continued for a longer period than a 195. Compared to about 80 of the 212 Inter versions, around two dozen Export models were produced. A total of 15 Ferrari 212 Vignale Coupes were ever produced.
By Jessica Donaldson
166, 195, and 212
The 166 Inter was powered by a 2-liter V12 engine and produced 115 horsepower. These were road cars and were given odd chassis numbers. The even chassis numbers were reserved for the vehicles that were intended for racing. The bodies of the Inter vehicles were mostly Berlinetta and Coupes. At first, Touring handled most of the road going body construction but it was not long before Vignale, Ghia, Pinin Farina and others were creating custom coachwork. The 166 Inter was mechanically similar to the racing versions; it was 25 horsepower shy of its racing sibling. The suspension was wishbones in the front and a live rear axle. The chassis was a simple steel tubular frame. A replacement was created in 1950 after around 40 examples of the 166 Inter were produced. The displacement of the engine was enlarged to just over 2.3 liters which resulted in a unitary displacement of 195cc. Thus, the 195 Inter came into existence. A year later, the engine was enlarged even further resulting in the 212 Inter. After a year of production and with only 142 examples being created, the production of the 212 Inter ceased.

The 212 Inter was intended for road use while the 212 Export was primarily constructed for competition. Ferrari produced the rolling chassis and a Carrozzeria, meaning coachbuilder, was given the task of constructing the body. Each body was hand built and often to customers specifications. Because of this, the dimensions, bodystyles, and features of the car vary from one to another. Many of the 212 Inter vehicles sat atop a 2600mm wheelbase chassis; some were on a shorter, 2500mm wheelbase. The 212 Exports were also built atop of a 2250 wheelbase.

Cars produced between 1952 and 1953 were given the 'EU' designation on their chassis. The ones that proceeded these were given chassis numbers ending in S, E, and EL. The 'E' represented Export while the 'L' represented Lungo. One special chassis carried the 'T' designation on its chassis plate.

Under the hood of the long and graceful bonnet was a Colombo designed V12 engine mounted at 60-degrees. The engine came in a variety of flavors and left up to the customers to chose. Standard was the single Weber 36 DCF carburetor which was capable of producing 150 horsepower. Triple Weber 32 DCF carburetors could be purchased which increased horsepower to an impressive 170. All versions came with the standard Ferrari five-speed non-synchromesh gearbox and hydraulic drum brakes.

In total there were 82 versions of the 212 Inter constructed. Vignale was given the task of creating 37 of these. Fifteen of his creations were coupes, seven were convertibles, and thirteen were in Berlinetta configuration. Ghia was tasked with constructing 15 coupes and one convertible. Touring clothed one coupe and six Berlinetta's. The English coachbuilder, Abbot, created a four-seat cabriolet which was not that pleasing to the eye. Pinin Farina created two convertibles and eleven coupes. Styling varied among each of these coachbuilders with some being heavily dictated by the customer's wishes. Most of the cars were elegant, with few flamboyant cues, and well-proportioned body lines. They were minimalistic with little chrome and rounded, smooth bodies.

The 212 was replaced by the 250 Europa in 1953 and Pinin Farina had become Enzo Ferrari's carrozzeria of choice.
By Daniel Vaughan | Feb 2007
For more information and related vehicles, click
here
Automobiles with Exceptional Provenance Highlight Gooding & Company's Pebble Beach Auctions
SANTA MONICA, Calif. (July 10, 2014) – Gooding & Company, celebrated for its world-class automotive auctions and record-breaking results, will begin its second decade as the official auction house of the Pebble Beach Concours d'Elegance® on August 17 and 18. Gooding & Company is pleased to share a hand selected group of consignments from our Pebble Beach Auctions with exceptional provenance. Exciting entries include an extremely rare 1939 Alfa Romeo Tipo 256 Cabriolet with spectacular one...[Read more...]
REVERED FERRARI 250 LM LEADS SUPERLATIVE ROSTER OF ITALIAN SPORTS CARS AT RM'S FLAGSHIP MONTEREY SALE
· RM Auctions announces a legendary 1964 Ferrari 250 LM by Scaglietti as the latest multi-million-dollar highlight for its flagship Monterey sale, August 15–16 in California · 250 LM leads a superb roster of no less than 26 Ferraris at RM's two-day sale; additional new entries include a 1953 250 Europa and a 1963 400 SA LWB Coupe Aerodinamico Series II · RM joins in Maserati's 100th anniversary celebrations, presenting no less than four examples from the luxury Italian ma...[Read more...]
63rd Pebble Beach Concours d'Elegance Names 1934 Packard 'Best of Show'
The competition showcased 248 cars, including 48 from abroad PEBBLE BEACH, Calif. (August 18, 2013) -- A 1934 Packard 1108 Twelve Dietrich Convertible Victoria owned by Joseph and Margie Cassini III of West Orange, New Jersey, was named Best of Show at the 63rd Pebble Beach Concours d'Elegance, held Sunday on the 18th fairway of Pebble Beach Golf Links at Pebble Beach Resorts. The event showcased 248 cars from 36 states and 12 countries and raised $1,277,007 for charity. 'This Pack...[Read more...]
1954 Carrera Panamericana: Courage to Go On
Suddenly the Ferrari 340 Mexico would break loose on Hill. Careening down over the ledge, the car would be battered and bruised, coming to a rest finally with its occupants none the worse for wear. It would be a scary moment and the mangled bodywork would suggest it would be wise never to take part in the event ever again. Richie Ginther's own racing career had only just got underway when he was approached by a well known friend. Richie had met Phil Hill a couple of years before and would dev...[Read more...]
Italian thoroughbreds to feature prominently at Bonhams Quail Lodge auction
Numerous iconic and desirable models from Ferrari, Lancia, Lamborghini and more contribute to growing anticipation for this approaching sale San Francisco – Bonhams is delighted to announce its impressive assembly of Italian sports cars for its fast approaching 16th annual Carmel motorcar auction on August 16th. After announcing earlier this spring the consignment of some truly exceptional and noteworthy Italian cars – most notably the one-off 1954 New York Auto Show, 1953 Fe...[Read more...]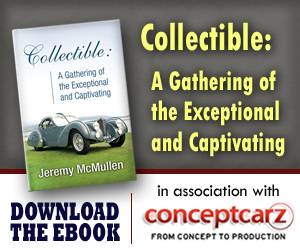 © 1998-2014. All rights reserved. The material may not be published, broadcast, rewritten, or redistributed.