1960 Imperial Crown news, pictures, specifications, and information

Tweet
'America's Most Carefully Built Car'
In an effort to establish itself as a legitimate contender in the Cadillac class, Imperial became a stand-alone division of the Chrysler Corporation in 1955. An Imperial-exclusive assembly line was the inspiration for the 1960 ad theme, 'America's Most Carefully Built Car.'

The 1960 Imperial continued to play off the successful 'Forward Look' styling themes introduced in 1957, but rooflines and below-the-beltline body panels were all reshaped. In this carry-over year for Cadillac and Lincoln, the 1960 Imperial was promoted as 'America's Only All-New Luxury Car.' But while the rest of the Chrysler line shifted entirely to 'Unibody' construction, the Imperial retained its 1957-vintage body-on-frame platform.

Powered by a 413 cubic-inch, 350 horsepower, 'Golden Lion' Hemi V8, pushbutton Torque-Flite transmission, and torsion-bar suspension, the mighty Imperial was highly regarded as the 'road car' in the luxury class. A 'jet-age' feature that remains fascinating today is the 'Panelscent' (electroluminescent) instrument lighting. 'Auto-Pilot' cruise control was also introduced in 1960.

Only one Imperial open model was offered in 1960; the Crown Convertible. This Alaskan White example, number 48 of 618 built, rolled off the assembly line on October 7, 1959.
Early Imperial designs - the creation of Virgil Exner - reflected Chrysler's focus on engineering and passenger comfort more than appearance. In 1954 Imperial earned its own marque when it became a separate division of the Chrysler Corp.

The 1950 Imperial's new body was of the body-on-frame style - unlike Chrysler's new uni-bodies. The Imperial Crown featured overhanging front fenders, slightly recessed quad headlights, a swooping front bumper, tall rear fins and a giant chrome eagle at the front. Passenger comfort was emphasized with swivel power seats, vanity mirror, electric clock, dual exhausts, windshield washers, luxurious upholstery and for the first time, curved side window glass.

The engineering of the 1960 Imperial is highlighted by its impressive, 350 horsepower, 413 cubic-inch V8 power plant. This Imperial Crown convertible is one of only 618 such models produced in 1960.
The Imperial automobiles of the 1960s were truly remarkable vehicles, with strong performance from their powerful 413 cubic-inch engine to their excellent handling provided by the torsion-bar suspension. The Imperial line shared only its power-train with other Chrysler products, and ever since 1955 were considered their own separate marque.

For 1960, there were a mere 618 Imperial Crown convertibles produced. This particular example was owned by the Academy Award-winning Hollywood actor Jack Palance. It was in his care from the early 1980s until his death in 2006. It was then purchased by the present owner and given a no-expense-spared, frame-off restoration, which was completed in August of 2007. It is a California car that shows no signs of rust.

In 2009, this Chrysler Imperial Crown Convertible was offered for sale at the Automobiles of Amelia Island auction presented by RM Auctions. It was expected to sell for $90,000 - $120,000. It sold for a high bid of $77,000, including buyer's premium.
By Daniel Vaughan | Apr 2009
This car is an original 'black plate' California car that was sold new by Leach Motor Company of Fresno. It has been given an award-winning restoration with no expense spared that was performed by Hibernia Auto Restoration. It is finished in the correct Alaskan White with a blue convertible top. The six-way power-swivel seat is in respectable and functional condition. There is a white and blue interior with white leather upholstery, dual outside rear-view mirrors, power brakes, power steering, tinted glass and a power-operated convertible top.

It has been awarded an AACA First Junior and Senior award.

In 2010, the car was offered for sale at the 'Automobiles of Amelia Island' event presented by RM Auctions at Amelia Island, Florida. The car was estimated to sell for $175,000 - $250,000. The car would leave the auction unsold, as the $140,000 high bid was not enough to satisfy the reserve.
By Daniel Vaughan | May 2010
This 1960 Chrysler Crown Imperial was purchased as total wreckage by the current owner and underwent a six-year body-off, nut-and-bolt restoration to completely correct condition. It is one of only 1,594 Imperial Crown Sedans built in 1960 and as optioned as this example, sold for $8,451.

The Imperial was Chrysler's only non-unibody car. Power was from a 413 cubic-inch wedge-head V8 engine fitted with a 4-barrel carburetor and offering 350 horsepower. The car rode on a 149.5 inch wheelbase and featured a front torsion-bar suspension.
By Daniel Vaughan | Apr 2011
The 1960 Imperial was touted as being 'America's Most Carefully built car' and 'America's Only All-New Luxury Car.' While the rest of the Chrysler line shifted entirely to unibody construction, the Imperial retained its 1957 vintage body-on-frame platform.

Powered by a 413 cubic-inch, 350 horsepower, Golden Lion Hemi V8 coupled to a pushbutton Torque-Flite transmission with torsion-bar suspension. The mighty Imperial was highly regarded as the road car in the luxury class. A jet-age feature that remains fascinating today is the Panelscent (electroluminescent) instrument lighting. Auto-Pilot cruise control was introduced in 1960.

A total of only 618 Imperial Crown Convertibles were produced in 1960.
In 1955, Imperial became a stand-alone division of the Chrysler Corporation when a separate Imperial-exclusive assembly line was established. Imperial was chasing Cadillac, the top United States luxury brand. The Imperial advertising tagline was 'America's Most Carefully Built Car.'

While Cadillac and Lincoln were carrying over their styling themes in 1960, Imperial substantially restyled the entire car continuing the 'Forward Look' styling theme which begun in 1957. Also, 1960 was the year that the rest of the Chrysler lineup went to a unibody structure while Imperial retained the traditional body-on-frame design.

Under the hood is a 350 horsepower, 413 cubic-inch 'Wedge Head' V8 engine mated to a Torque-Flite, push-button actuated transmission. Ahead of its time as well is the 'Panelescent' electroluminescent instrument lighting. This was also the beginning of 'Auto-Pilot' cruise control. Only 618 Crown Convertibles were built for the 1960 model year.

This Imperial Crown Convertible was built and shipped on December 23rd of 1959 to Community Motors of East Milton, Massachusetts. The current owner purchased the car in August of 2002 after it had been disassembled and relegated to a storage container for 10 years. Owner restored, it took 8 years and about 3,200 hours to bring it back to this condition. It has won numerous AACA awards including the Bomgardner Award for the most outstanding restoration in the Southeast Division.
'America's most carefully built car.' 'Are you too conservative for this?' teased a 1960 Imperial Crown Convertible ad. 'Of course you're not. Even though it's young and possibly a little rakish, you've noticed how beautifully the Crown Convertible seasons its dash with dignity.' Imperial was the ultimate expression of Virgil Exner's 'Forward Look,' featuring upswept fins with 'gunsight' taillights at the top and a stylized 'Flite Sweep' deck lid that recalled the classic-era 'Continental kit' spare tire.

The 350 horsepower, 413 cubic-inch wedge-headed V8 offered 'greater effective torque than any other passenger car engine in the world,' boasted an Imperial ad. Inside, the Crown Convertible displayed a lavish leather interior and novel 'Panelescent' instrument-panel illumination.

This Crown Convertible, in a fashionable shade of Dawn Mauve, is one of only 618 produced. Original list price was $5,474. Options include air conditioning, power windows, automatic headlamp dimmer and 'AutoPilot' cruise control.
1960 saw the Imperial continue with the body-on-frame construction that Chrysler was beginning to move away from. They had deeply vee-d front bumpers, even taller tailfins, and an excessive amount of chrome trim on the front, back and all around. Power was from a 413 cubic-inch Wedge V8 engine offering 350 horsepower and 470 foot-pounds of torque. They had a smooth-shifting Torqueflite automatic transmission, padded leather seating, power steering, power brakes, a power antenna, and a power folding top. In total, there were 618 examples produced and sold for $5,774.

This example has been given a 3,200 hour nut-and-bolt restoration. It has the optional swiveling power front seats and rare black-face gauges, which have been refinished in Regal Red enamel.

Since the restoration work was completed, it has driven just 230 miles and has been shown at close to 20 events across the Midwest. It won Best in Show or Best in Class honors at all but one of these events. It is an AACA Senior Grand National winner, as well as a recipient of the AACA Bomgardner Award.
By Daniel Vaughan | Feb 2014
The Imperial was designed by Virgil Exner and hailed by Chrysler as 'The Finest Car America Has Yet Produced.' A very bold statement considering some of the masterpieces produced from Packard, Cadillac, and countless others. This was Chryslers first vehicle to have a wraparound windshield. Produced in limited numbers, only 11,430 examples were created in 1955. This was Chryslers interpretation of a true luxury automobile.

The Imperial was a highly priced vehicle for its time, costing $4,483 for the four door sedan, over $500 more than the Cadillac Series 62. Even though it was pricy, it offered items as standard equipment that were optional on other vehicles. For example, power brakes and power steering were both included with the sticker-price of the vehicle, while other manufacturers charged extra for these luxury items. The Imperial Newport hartop coupe sold for roughly $4,720.

A two speed automatic transmission with a 250 horsepower Hemi engine was offered for the base models.

The 1957 Chrysler Imperial is probably the most famous and popular Imperial in history. Styling was once again handled by Virgil Exner. Tailfins could be found in the rear of the vehicle. The curved door glass were not only creative, they were the first in the industry. The long, stylish front hood hid a giant 392 cubic inch V8 capable of producing 325 horsepower. The Hemi V8 version produced 350 horsepower.

In 1956, Chrysler had introduced a TorqueFlite, three-speed automatic transmission. In 1957, it found a home in the Imperial. This transmission, coupled with the V8 powerplant could propel this large, luxury vehicle from zero to sixty miles per hour in 9.8 seconds easily beating the nearest competitor. Its top speed of 125 miles per hour was also unmatched.

Three body styles were offered, they were the two door hardtop, convertible, pillared sedan, and four door hardtop.

In 1957, 35,734 Imperials were produced, the best year Chrysler would have with this vehicle. Production continued until the 1970's with both mechanical and styling changes occuring throughout the years.

In 1958, the Imperial was fitted with cruise control and electric door locks. In 1959, a new 413.2 cubic inch V8 engine was introduced, producing 350 horsepower at 4600 rpm. In 1961, large tail fins were fitted to the rear of the vehicle. This was not the first time tail fins were used on the vehicle. The tail fins first appeared on the vehicle in 1956 but they were subtle, unlike the 1961 fins that were large and commanding. Was it styling, was it more competition Was it a market that was headed towards more economically friend vehicles, or Was it simply some other reason? During the 1961 model year, Chrysler only produced 12,249 Imperials. Whatever it was, the Imperial carried a bold statement, an unbeatable powerplant, superb luxury elements, and handling that could tame and control the vehicle even at high speeds.

In 1966, the horsepower was increased again with the introduction of a 440 cubic inch V8. Better power-to-weight ratio improved the performance and handling. With 350 horsepower at 4400 rpm and 480 ft-lbs at 2800 rpm, the Imperial 440 was the most powerful luxury American automobile ever.

In 1967, 17,620 Impericals were produced.
By Daniel Vaughan | Mar 2008
For more information and related vehicles, click
here
Concours d'Elegance of America at St. John's : Class Previews
Here is a little preview of two of our special classes for St. John's upcoming show. Featured Designer: Virgil Exner The 2014 Concours d'Elegance of America will honor the work of famed chief designer Virgil Exner with an unprecedented display of Chrysler Corporation's 1955-1961 'Forward Look,' a daring two-pronged styling revolution that changed the look of the American car. First up were the 'jet-age'1955 Plymouths, Dodges, DeSotos, Chryslers and Imperials. Then came the 1957 m...[Read more...]
THE COUNTDOWN TO AUCTIONS AMERICA'S FORT LAUDERDALE SALE NOW UNDERWAY
• Auctions America kicks off its 2014 collector car calendar March 14-16 in Fort Lauderdale • Regarded as South Florida's premier collector car auction, the multi-day sale features nearly 500 cars spanning all segments of the collector car market • Joining the list of previously announced feature consignments are a 1970 Plymouth Hemi Superbird, a 1959 Cadillac Eldorado Biarritz and a 1934 Packard Twelve Convertible Sedan • Digital catalog now available for download at auctionsamerica.com [I...[Read more...]
RARE REUNION: CHRYSLER CONCEPT CARS GATHER AT AMELIA, 2014
Nine rare and important Chrysler Concept Cars from the forties, fifties and sixties will be presented together for the first time at the 19th annual Amelia Island Concours d'Elegance on March 9, 2014. From the two-seat Chrysler Thunderbolt roadster and the dual-cowl Chrysler Newport of 1941 through the radical 1963 Chrysler Turbine car, Amelia's Chrysler Concept Car Class shows the genesis of the styling and engineering philosophy that summoned Chrysler's industry-changing 'Forward Look...[Read more...]
RARE CHRYSLER LA COMTESSE CONCEPT APPEARS AT AMELIA 2014
After decades in obscurity Chrysler's La Comtesse Concept Car will re-debut at the 19th annual Amelia Island Concours d'Elegance on March 9, 2014. The Fifties introduced new automotive chemical and paint technologies that helped summon a sea change in the way cars were purchased. It was a subtle component of Detroit's marketing equation, but color had risen near the top of the car buyer's priority list. The important fact was that women invariably chose the color of the new family car....[Read more...]
Joe Bortz to Host Historic Dream Car Discussion Panel
Dream car collector and historian Joe Bortz has prepared a special treat for participants at the 40th Annual Pontiac-Oakland Club International Convention in St. Charles Illinois, this coming July 17-21. In addition to bringing his four historic Pontiac Dream Cars, he has also assembled a panel, conisisting of two noted designers, a retired engineer and two veteran authors to examine the topic of Pontiac's early concept vehicles. The panel discussion will be held on Friday, July 20th at 1...[Read more...]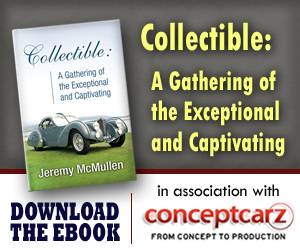 Similarly Priced Vehicles from 1960
Chrysler 300F ($5,410-$5,840)
AC Ace ($4,800-$6,600)
Cadillac DeVille ($5,250-$5,500)
Cadillac Series 6200 ($4,890-$5,450)
Lancia Flaminia ($5,600-$6,480)
AC Aceca ($5,700-$6,600)

Average Auction Sale: $42,632
© 1998-2014. All rights reserved. The material may not be published, broadcast, rewritten, or redistributed.