Image credits: © Packard.
1912 Packard Model 30 news, pictures, specifications, and information

Tweet
This 1912 Packard Model 30 Runabout was in the care of noted Packard collector Roderic Blood of West Newton, Massachusetts. Blood serves as president of the Veteran Motor Car Club of America from 1942 through 1944. After Blood's death the car was put up for auction. The winning bid went to William Harrah. It was also the highest sale at the auction. Subsequent owners include Bill Winslow and Fred Weber. It has been in its current owners possession since 1991.

This car is the only 1912 Model 30 Runabout known to be in authentic condition. 1912 was the final year for the T-head four.

This car was offered for sale at the Vintage Motor Cars sale at Hershey, PA presented by RM Auctions. It was estimated to sell for $550,000 - $650,000. This was one of the few cars of the auction not to find new ownership. Bidding reached $500,000 but was not enough to clear the vehicles reserve.
By Daniel Vaughan | Dec 2007
In 1903, Packard built its first race car, the 'Gray Wolf.' They continued to build race cars on and off for 30 years. Carl Fisher, a Packard Dealer in Indianapolis, was one of the four founders of the Indy Speedway, resulting in several cars participating in the Indy 500 over the years.

This car was found in Argentina in the 1950s still in racing configuration. It was shipped back to the United States where it sat in a shed for over 50 years in southern California while the owner searched for parts to restore it as a touring car. It is now restored as it raced and is thought to be the oldest surviving Packard race car in existence.
In 1907 Packard introduced their Model 30, which would remain in production until around 1912. Very few Model 30s are known to exist, and this is believed to be the only remaining example with seven-passenger coachwork. Its second owner was Phil Hill who, while still racing sports cars all over the world, indulged his passion for car restoration. He and Bob Mosier restored this car between 1969 and 1972. Phil showed it for the first time at Pebble Beach in 1976, and it won its class - and it won its class again at Pebble Beach in 1999. It is still owned and enjoyed by the Hill family.

Phil Hill was a legendary race car driver, but lesser known was his passion for collecting and restoring vehicles. He had enthusiasm, knowledge, and love for the early American car which led to Best in Class and Best of Show wins at the Pebble Beach Concours d'Elegance.

In 1966, Mr. Hill purchased this 1912 Packard Model 30 Seven-Passenger Touring at auction, from the Rod Blood collection. It was an original and complete vehicle making it the perfect candidate for restoration. Working from his garage in Santa Monica, Phil completed the car with Ken Vaughn and Bob Moser as his apprentice.

Initially completed as a rolling chassis, the Model 30 was displayed at a Packard Club event. Afterward, the car was finished and the Seven-Passenger Touring was then shown at numerous concours events, including the 1973 and 1999 Pebble Beach Concours d'Elegance, where it won Best in Class. In 2013, the Phil Hill family was invited to return to Pebble Beach with the Model 30. After participating in the Tour d'Elegance, the 1912 Packard went on to win its class for the third time.

The engine is a 431.9 cubic-inch T-head four-cylinder unit that offers 30 horsepower and is mated to a three-speed manual transaxle. There are 2-wheel mechanical brakes with an I-Beam straight axle in the front and a live tubular axle.
The slogan 'Ask The Man Who Owns One' is one of the most famous in American History. It was the response given to most individuals when asked about a Packard. They were reliable, elegant, powerful, and quality automobiles. Their attention to detail and ingenuity were some of the key factors in making the company successful.

The Packard legend begins in 1898 when James Ward Packard, a mechanical engineer, purchased a Winton. The Winton automobiles were good automobiles but the one that Packard had purchased had many flaws and broke down on its first road trip. Packard returned the vehicle to Winton and voiced his displeasure. Winton challenged Packard to build a better product. James and his brother William Dowd Packard began immediately on building a vehicle. A year later their first car, a one-cylinder, was introduced. They built four more cars that year, and the following year, in 1900, they produced 47 of a Model B under the name New York and Ohio Company, a subsidiary of the brothers' Packard Electric Company, manufacturers of transformers and electric lighting equipment. The cars were simple yet durable. They featured a single-cylinder engine mounted under the seat and attached to a two-speed planetary transmission and chain drive.

On September 10th of 1900 the Ohio Automobile Company, based in Warren, Ohio, was formed. In 1903 the name was changed to the Packard Motor Car Company when it moved from Warren, Ohio to Detroit, Michigan. The move was the result of a majority stock purchase made by investors in the Detroit area.

In 1907 Packard introduced their Model 30 which would remain in production until the early 1910s. It was called the Model 30 because of its 30 horsepower engine. By T-head four-cylinder unit displaced 431.9 cubic-inches and powered the rear wheels via a three-speed manual transmission mounted in the rear.

The Model 30 was a very important car for Packard and was a top seller for many years, even after it was joined by a smaller Model 18 in 1909.

In 1908 Packard extended and enlarged the wheelbase and fitted them with 36-inch wheels. The results of this revised Model 30 was designated UA. There were additional body styles such as a close-coupled tourer and a victoria, and windshields were optional equipment. Packard made another bold claim in 1909 by touting this Model 30 UB as 'The Masterpiece of the Largest Exclusive Motor Car Factory in the World.' The claims were justified as Packard was the largest exclusive motor car factory in the world with its floor-space that extended 14 acres and their payroll had 3,200 employees.

In 1909 founder James Ward Packard's presidency was passed on the Henry Joy.

In 1910 the Model 30 UC was introduced. The list of new bodystyles included a phaeton, and a four-passenger tourer. Mechanical improvements included a dry ply clutch which replaced the expansion ring unit.

In 1911 the succession continued with the Model 30-UD. A coupe and a brougham were new body styles, replacing the landaulet and demi-limousine. The six-cylinder cars was the big news for the year with production models designated as 1912.

The final year of the Model 30 saw significant changes. The wheelbase was lengthened providing even more luxurious accommodations for its passengers. Side curtains were now standard. The ride and handling was enhanced with improved shock absorbers. In the front were 37 x 5 tires and 36x4.5 in the rear. A spare tire of each size could be found on the right running board.
By Daniel Vaughan | Dec 2007
The Packard Motor Company displayed their first motor carriage in 1900, at first New York City auto show. Three years later, the Packard's had improved significantly and their reliability was greatly increased. A 1902 Model F fitted with a Packard single-cylinder 12 horsepower engine and automatic ignition advance made the transcontinental trip from San Francisco to New York in 53 days.

In 1907, Packard introduced their first model to have its name indicate its engine power. It was the Model 30. The Packard Model 30 was powered by a newly-designed T-head four-cylinder engine that was capable of producing 40 horsepower under the ALAM system. The engine had a 5-inch bore and a long 5.5-inch stroke. It displaced 432 cubic-inches and was advertised as making 30 brake horsepower.

The new engine was designed to carry the long, large, and heavy coach-bodys which were become more popular with the wealthy. The engine, itself, required a longer wheelbase chassis to accommodate its size. The drive was through an unusual expanding band clutch with a three-speed transmission to a live rear axle. This setup was in favor of the prior configuration of transverse leaf springs which had been abandoned the previous year with the Model S. Now, the front and rear was given semi-elliptical leaf springs. Redundant braking on the rear wheels was provided by both expanding shoe and contracting band brakes.

During its introductory year, over 1,300 examples were sold. It was an immediate success for the Packard Company. It was a very versatile vehicle, offered in two-wheelbase sizes and several body styles to accommodate a diverse clientele. The Touring, Limousine, and Landaulette coachwork rode on a 122-inch wheelbase while the Sporting Runabout and Gentleman's Roadster rode atop a shorter 108-inch wheelbase.
By Daniel Vaughan | Dec 2008
For more information and related vehicles, click
here
Automobiles with Exceptional Provenance Highlight Gooding & Company's Pebble Beach Auctions
SANTA MONICA, Calif. (July 10, 2014) – Gooding & Company, celebrated for its world-class automotive auctions and record-breaking results, will begin its second decade as the official auction house of the Pebble Beach Concours d'Elegance® on August 17 and 18. Gooding & Company is pleased to share a hand selected group of consignments from our Pebble Beach Auctions with exceptional provenance. Exciting entries include an extremely rare 1939 Alfa Romeo Tipo 256 Cabriolet with spectacular one...[Read more...]
Looks, Rarity, Performance: The Ultimate Connoisseur's Ferrari at RM Monterey...
LOOKS, RARITY, PERFORMANCE: THE ULTIMATE CONNOISSEUR'S FERRARI, 275 GTB/C SPECIALE HEADLINES RM AUCTIONS' FLAGSHIP MONTEREY SALE • RM Auctions offers the first of only three 1964 Ferrari 275 GTB/C Speciales, chassis 06701, at its flagship Monterey, California sale, August 15-16 • With its two sibling cars unlikely to ever become available, 06701's offering is a historic and unrepeatable opportunity to acquire one of the world's most important automobiles • Exceptional 275 GTB/C Speci...[Read more...]
PETER SACHS RECEIVES RRDC'S 2013 BOB AKIN AWARD
DAYTONA BEACH, Fla. (Jan. 24, 2014) - Peter Sachs, a retired successful SCCA, IMSA, USRRC and vintage racer, received the 2013 Bob Akin Award from the Road Racing Drivers Club at a dinner prior to the running of the Rolex 24 At Daytona, the season opener of the 2014 TUDOR SportsCar Championship. Each recipient of this honor, considered the top award in motorsports for amateur, vintage/historic or semi-professional drivers, is selected by Akin's son Bobby, RRDC members Brian Redman and ...[Read more...]
HURLEY HAYWOOD HONORED WITH RRDC'S 2014 PHIL HILL AWARD
DAYTONA BEACH, Fla. (Jan. 24, 2014) - Hurley Haywood, winner of more endurance classics than any other driver in racing history, was honored by the Road Racing Drivers Club with the 2014 Phil Hill Award. RRDC president Bobby Rahal presented Haywood with the award at a dinner prior to the running of the Rolex 24 At Daytona, the season opener of the 2014 TUDOR United SportsCar Championship. The Phil Hill Award has been presented annually since 1993 to the person who the RRDC feels has re...[Read more...]
Firestone Returns As Presenting Sponsor of RRDC Evening With Brian Redman in Long Beach
The Firestone brand will return as presenting sponsor of the Road Racing Drivers Club's fifth annual West Coast banquet honoring auto racing's most influential leaders. This year, on Thursday, April 18, prior to the running of the Toyota Grand Prix of Long Beach, the 'RRDC Evening with Brian Redman presented by Firestone' will highlight the career of one of the sport's most popular, talented and successful race-car drivers. This is the Firestone brand's fourth straight year as a supporter of the...[Read more...]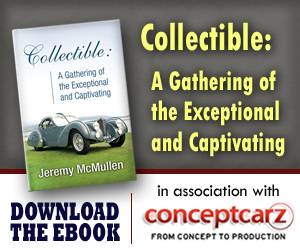 Similarly Priced Vehicles from 1912
Packard Model 18 ($3,250-$4,650)
Simplex 38 HP ($4,850-$5,800)
Pierce Arrow Model 36 ($4,039-$4,944)
Oldsmobile Limited Touring ($4,995-$4,995)
Garford Six-Fifty G-14 ($4,500-$5,740)
Columbia Cavalier ($3,300-$4,800)
Premier Model 4-40 ($3,000-$4,700)
Locomobile 6-48 Model M ($4,800-$6,250)
Pierce Arrow Model 48 ($4,850-$6,450)

Average Auction Sale: $330,000
© 1998-2014. All rights reserved. The material may not be published, broadcast, rewritten, or redistributed.