1911 Ford Model T news, pictures, specifications, and information

Tweet
| | |
| --- | --- |
| | Runabout |
By 1911, Ford was building all Model T's at the Highland Park plant in Detroit, Michigan. Many of these cars, however, were shipped in knocked down form to assembly plants all over America and in several foreign countries.

Ford continued to improve the quality and dependability of the Model T and in 1911 changed to a stronger rear end assembly and used tapered axles to secure the wheels. The engine now had enclosed valves and an access pan to adjust the connecting rod bearings. The standard factory color was dark blue and all Model Ts were now supplied with tops, windshields, and headlamps as standard equipment. Ford believed there was nothing else needed on his cars and early sales agreements stated that 'the warrantee would be voided if any accessories were added.'

Approximately 40,000 Model T Fords were built and assembled during the 1911 model year. This was more than double than were produced in 1910. The bulk of the Model T's produced were touring cars which contributed to over 60 percent of all models sold.

This rare 1911 Model T Commercial Runabout is one of only 7,845 produced in 1911. It sold new for $680 fob Detroit.
The body of this car is not original equipment for the Ford car in 1911. H. C. Faber of Utica, NY, manufactured this body to convert an ordinary Model T into a classy roadster. When combined with a number of performance and appearance accessories, this standard, bare bones Ford became a sporty, delux speedster. Numerous additions enhance the appearance and performance. Those include but are not limited to: Aluminum head and aluminum high compression pistons, a finned sump allowing 3 additional quarts of oil, a distributor, water pump, external oiling system for the main bearings, and a primer system to facilitate starting. A manual double pump system mounted on the outside of the passenger seat furnishes pressure to add oil to the crankcase from a reservoir and pressurize the fuel system to ensure an adequate supply of gas for high performance driving. The standard set of 1911 lamps is augmented by a spotlight mounted on the cowl and Prestolite gas system replaces the original carbide generator. The small round windshield is called a monocle and most high performance cars had one. The speedometer is mounted outside the cowl and is driven off a gear on the inside of the passenger side front wheel. Behind the seats is an oval gas tank, tool box, accessory oil cans and a pair of spare tires on demountable rims.

This body, which transformed an ordinary Model T into a lightweight, classy roadster, was not original equipment for the Ford Motor Company. It was, instead, a product of the ten-primitive automotive aftermarket. Combined with performance and appearance accessories, a bare-bones Ford became a deluxe speedster. Features on this car include a 5-inch lowered chassis; a high-performance engine (30 hp vs. 20 hp); seat-mounted pressure pumps for oil and gasoline; a monocle windshield; a cowl-mounted spotlight and a Prestolite lighting system replacing the original carbide generator. note the radiator cap - its Henry Ford!
| | |
| --- | --- |
| | Runabout |
In April 1911 the Model T was completely restyled - new radiator, new fenders, new bodies, new front and rear axles and, eventually, a new engine.

Two new bodies were offered from 1911: the torpedo runabout and the open runabout (as seen here). The open runabouts had a longer hood, longer steering columns, longer fenders and a lower seating arrangement - all of these contributing to a more racy appearance.

The runabouts were similar; the open runabout did not have doors. Both had a gasoline tank mounted on the rear deck. Price of the open runabout was $680.

In 1911, Ford replaced the all-wooden construction with steel-paneled bodies. Powering the Model T was a four-cylinder, 4-cycle engine with a 3.75-inch bore and a 4-inch stroke that was rated at 20 horsepower. The front seat is as flat and upright as a church pew, while the driving position is high above the road and conspicuously exposed. Open the hand throttle - the short lever under the right side of the steering wheel - while gently squeezing the clutch pedal down to engage first gear. From an idle that's surprisingly quiet, the T moves off with a happy chugga-chugga and the smoothness of a more expensive car.

There are two sets of brakes. A service band brake operates on the transmission and is controlled by a foot pedal. There is also an emergency brake is controlled by hand lever at side of car acting on the drums of rear wheels. There are three foot pedals. By pressing the first pedal 'C' the slow speed is applied; by releasing, it is in the high speed. The center pedal 'R' is for reversing the car. The third pedal 'B' is the brake.

The Model T can be entirely manipulated either by use of the pedals or by the controlling lever at the side of the car. The carburetor lever and throttle just under the steering wheel will regulate the speed of the car from a walk to 40 miles an hour, without shifting a lever or applying the foot pedals.

The Touring Car, Torpedo Runabout, Open Runabout and Roadster include at the fully equipped price: a top, automatic brass windshield, speedometer, two gas lamps and generator, three oil lamps, tubular horn and a kit of tools. The Town Car and Coupe equipment include three oil lamps, tubular horn and tools only.
The Ford Model T, introduced in October of 1908, would remain in production for 19 years. During that time, only minor updates were made. Total production reached 15 million examples. In January of 1911, Ford restyled the Model T, giving it new fenders, wheels, body and a slightly updated brass radiator. A few months later, Ford added a new engine and new front and rear axle. The rear axle was now cast-iron while the front incorporated spindles with separate steering arms. The lighting was now all brass lamps, including the gas headlamps with kerosene oil side and tail lamps.

The Ford bodies had a wooden framework with steel panels. Beginning in 1911, Ford added two new bodystyles to the lineup, a Torpedo Runabout and Open Runabout. These two models were different from the existing bodystyles by their curved fenders, longer hood and lower seating positions and steering column. The Torpedo had two doors while the Open Runabout did not. The gas tank could be found mounted on the rear deck behind the driver and passenger.

This 1911 Ford Model T Torpedo Runabout is painted in red and black. This car was used by one of the prior owners in many tours. To make it more accommodating, it is well equipped with various modern amenities making it more suitable for modern highway driving. The current owner, upon acquisition, embarked on a full frame-off restoration while was completed in 2008. It retains all the modern equipment including the rare OHV Rajo BB cylinder head, dual original Winfield carburetors, 'A' crankshaft, mild cam, Jahns pistons, rings and custom headers. Other features not original to this car include GM clutch discs, a stainless water pump, a 12-volt alternator with gauge, an electric starter with key starting, and dual cover eight-wire distributor ignition system. It has a 3:1 Ruckstell axle, Buffalo wheels with locks and new tires, Airmore exhaust whistle and Rocky Mountain outside brakes.

Brass work includes the running board-mounted gas lamp generator, radiator, horn, lamps, windshield frames and engine compartment.

In 2009, this Torpedo Runabout was offered for sale at the Automobiles of Amelia Island Auction presented by RM Auctions. It was estimated to sell for $35,000 - $55,000, and offered without reserve. It was sold for a high bid of $$33,000, including buyer's premium.
By Daniel Vaughan | Mar 2009
The Ford Model T was introduced in October of 1908 and would remain in production for nearly 19 full years, with some 15 million examples built. It was recognized as the Car of the Century in 1999, above 700 other candidates for the award.

Ford introduced a completely restyled Model T for January, 1911, featuring a new body, fenders, wheels and a slightly revised brass radiator. Later that year, a new engine as well as new front and rear axles were incorporated. The rear axle was now cast-iron, with the front axle design incorporating spindles and separate steering arms. The bodies were now made with steel panels over a wooden framework, and two new styles were added - a Torpedo Runabout and an Open Runabout. These new models had curved fenders and longer hood, and a lowered seating position and steering columns. The fuel tank was located on the rear deck, and the Torpedo, unlike the Open Runabout, had just two doors.

This Torpedo Runabout was once owned by Mr. John McMullen, prior to joining another private collection in 2007. This car is fitted with a 'Rojo' overhead-valve cylinder head and a Ruckstel two-speed rear axle. It has a nice older restoration with a shiny finish and good upholstery. The engine is a four-cylinder unit that displaced 176.7 cubic-inches and produces 20 horsepower. There is a two-speed planetary manual transmission with reverse and hand-operated internal expanding brakes at the rear wheels. There is also a contracting band transmission brake.

In 2010, this Model T was offered for sale at the Vintage Motor Cars of Meadow Brook event presented by RM Auctions. The car was estimated to sell for $30,000 - $40,000. As bidding came to a close, the car had been sold for the sum of $33,000, including buyer's premium.
By Daniel Vaughan | Aug 2010
| | | |
| --- | --- | --- |
| | | Runabout |
This car represents the third model year for Henry Ford's famous Model T. This car has a 'mother-in-law' seat on the rear deck. This arrangement was common on cars of this era. The mother-in-law seat on some cars was nothing more than a simple flimsy portable seat which folded out over the side of the cars running board from a storage compartment. These seats were quite uncomfortable to ride, and offered no protection from the elements. On the Model T the mother-in-law seat could be removed and replaced wîth a commercial pickup truck box. 7,845 runabouts were produced between 1910 and 1911.
Source - Canton Classic Car Museum
The Torpedo Runabout body-style was a new offering for Ford in 1911. It featured curved fenders, longer hood, and a long steering column. The fuel tank could retain sixteen galloons of fuel, six more gallons than the touring cars.
By Daniel Vaughan | Feb 2011
For 1911, Ford produced a total of 34,858 Model Ts with around 75-percent comprised of the four-door Touring model. The remaining 25-percent was shared among six other versions of the car. The Runabout was a new bodystyle for 1911 and is believed to have been built in limited numbers. This example is a 16-gallon gas tank and is finished in blue. It is a later-production 1911 Model T that has been given a restoration since new.

In 2011, the car was offered for sale at the Gooding & Company auction in Scottsdale, Arizona. It was estimated to sell for $70,000 - $90,000. As bidding came to a close, the car had been sold for the sum of $93,500, inclusive of buyer's premium.
By Daniel Vaughan | Feb 2011
Torpedo Runabout
Chassis Num: 45435

The Ford Model T was restyled for 1911 with a new radiator, fenders, and wheels. The bodies now had steel panels over a wood framework, as opposed to earlier all-wood construction. For 1911, dark blue was selected as a standard color - prior years were offered in red, gray or green. Some body styles, like the coupe, were phased out, but two new ones became available - the Torpedo Runabout and the Open Runabout. The two new models differed from the others in having curved fenders, a longer hood, lower seating and a round 16-gallon fuel tank on the rear deck.

The Torpedo Runabout had doors while the Open Runabout did not.

Other changes to the Model T for 1911 included a new rear axle with cast iron center housing, and the front axle received new spindles. Part way through the model year, changes were made to the engine. Replacing the earlier exposed valves were new valve chambers cast into the block, with steel doors to enable adjustments when needed.

This Model T Runabout is a Torpedo with doors. It has had only two owners in the last 60 years. The current owner purchased the car in the late 1990s. It is painted in bright red with gold pin-striping and the top and upholstery seem to have been replaced. The engine is one of the last 'open valve' models.

In 2011, this vehicle was offered for sale at the Hershey Auction presented by RM Auctions. It was estimated to sell for $40,000 - $60,000 and offered without reserve. As bidding came to a close, the vehicle had been sold for the sum of $38,500 including buyer's premium.
By Daniel Vaughan | Dec 2011
Ford phased out a few bodystyles like the coupe for 1911, along with giving the popular Model T new styling, a new radiator, fenders and wheels. The body now used steel panels over a wood framework, replaced the earlier all-wood construction. Another significant change for 1911 was the body color, which had been offered in red, grey, or green, was now offered in dark blue as a standard color. The Torpedo Runabout and the Open Runabout were new body styles. These new body styles had curved fenders, a longer hood, lower seating, and a round 16-gallon fuel tank on the rear deck. The open runabout did not have doors while the Torpedo Runabout did.

For 1911, the Model T was given a new rear axle with cast-iron center housing, and the front axle received new spindles. Mid-way through the year, the engine received mechanical changes; the earlier exposed valves were replaced with new valve chambers cast into the block with steel doors, to enable adjustments when needed.

This Ford Model T has a Torpedo Runabout bodystyle, built with doors. The car was restored by collector Clyde Ensor Sr. in the 1970s and was purchased as a rolling chassis. He acquired the necessary authentic parts to compete the restoration from respected Model T sources. After the work was completed in 1987 it received an AACA National First Prize.

The car is finished in standard deep blue with a light grey pinstripe. It has the correct gas headlights with a running-board-mounted generator. The side lamps and taillight are kerosene-fueled Neverout units, with the latter mounted on a correct Neverout bracket, which carries the license plate. Inside, it is finished in black buttoned leather upholstery, with black pyramid-pattern rubber mats on the floor. Instrumentation in the car consists solely of a brass Stewart speedometer.
By Daniel Vaughan | Sep 2014
The 1911 Model T was restyled by Ford and given a new radiator, fenders, and wheels. The body panels were now constructed of steel over a wood framework, as opposed to earlier all-wood construction. Previous years had offered the Model T in red, grey or green. For 1911, dark blue was selected as a standard color. This particular example dates back to February of 1911 and is one of the last with the open-valve engine.

The Ford Model T, marketed as 'The Universal Car', were sold throughout the world and assembled in many countries. A few made their way to the Soviet Russia, but this was a rare occurrence as Ford didn't officially establish a presence in the USSR until 1929. This particular example made an official visit to that country in 1976.

In the nation's bicentennial year, the United States Information Agency (USIA) was charged with mounting an exhibition in Moscow to showcase U.S. technological innovations. The USIA, founded during the Eisenhower administration, was the government department devoted to 'public diplomacy.' Other examples of technology included a cash register, a camera, and airplanes. The agency specifically requested the Ford Model T, as it was considered the most significant factor in putting America on wheels.

The USIA contacted the Model T Ford Club of America, whose president recommended Clyde Ensor Sr., renowned Kentucky collector and restorer of Model Ts. Mr. Ensor offered this 1911 Touring model, which was then sent by ship to Helsinki and on to Moscow by rail. The car was on display for a month and seen by nearly 300,000 visitors.

Mr. Ensor had acquired this car in 1970, from H.D. Green, of Rising Sun, Indiana. He immediately commenced a full restoration, which was completed in 1973, and the car was rewarded with an AACA National First Prize at its show debut. Since that time, it has resided in the Ensor family, where it has been well maintained more than 40 years later.
The Ford Model T has an extensive history in the automotive market lasting for nearly 20 years. It is often called the 'Tin Lizzie' and the 'Flivver' and is credited with 'putting America on wheels.' During the early 1900's, the automobile was very new and the market place was adjusting to having these horseless carriages carry its passengers rather than bicycles or horses. Steam, electricity, and gasoline were the three means of powering the vehicles. Up until about 1915, no one really knew which would be the favorable power-source. Steam provided many benefits such as being quiet, clean, and cheap. Gasoline or kerosene fuel was used to heat water in a boiler; the steam produced was channeled to the cylinders, where the pressure drives the pistons up and down. The shortcomings were that it took a while to start, having to wait for the steam to prepare. It was dangerous, often exploding and causing injury. It had a limited range, lasting about 20-40 miles before requiring a refueling. Electricity was popular but it too had a limited range. It was easy to start and was very popular with the ladies for driving around town. Then there was gasoline, which was dirty and hard to start. It required fueling stations which were sometimes difficult to find in this new and evolving marketplace. The main benefit of the gasoline engine was that it had the most potential and an ever increasing amount of power. It was said that how a vehicle finished on the race track often determined the success of sales. With gasoline engines winning most of the races, the other sources of power were eventually doomed.

There were over 200 automobile manufacturers during the early 1900's. The average production figures for a factory were a couple hundred vehicles a year. This of course varied greatly due to the complexity and prestige of the vehicle being produced. Henry Ford, founder of the Ford Motor Company, produced a vehicle that was affordable, but more importantly, mass produced. By using an assembly line to construct parts, rather than the traditional hand assembly, the process was streamlined. Using an assembly line process was not new, it had been done before in the meat packing industry. William C. Klan had visited a slaughterhouse in Chicago. Upon returning from his visit, he proposed the idea to Peter Martin. A team was assembled and perfected through trial and error. The assembly line did not begin operation on the Model T until 1914. The assembly line process streamlined the production greatly, now averaging just over 90 minutes to assemble a car. During 1914, there were more Ford's produced than all other manufacturers combined. At that point 'you get it in any color you wanted so long as it was black'. Henry Ford favored the black color because it dried the fastest. During the years 1917 through 1923, Ford did not do any advertising, with 9 out of 10 cars being Fords, none was necessary.

He paid his workers a wage proportionate to the cost of the automobile, so they would be able to buy what they produced. By introducing these innovations, his factories were able to out produce and outsell the rest of the industry and mobilize the country. When production of the Model T began, the cost was around $850, around $1200 less than most cars. By the early 1920's, the price of the Model T cost about $300. Ford had found many ways to cut costs and offer the least-expensive product. He instructed his suppliers how to assemble the wood crates that were used to ship him parts. The crates were then dismantled and used within the bodies of the car. The scrapes were made into charcoal and sold under the name 'Kingsford'.

The first Model T was produced on September 27th, 1908 at the Piquette Plant in Detoit, Michigan. There are two classes of the Model T, those that were produced before 1919 and after 1919. The pre-1919 Model T's are known as veteran cars while the later models are called vintage cars. Even though the name Model T was used for almost twenty years, it was much improved both visually and mechanically over the years. At all times, the vehicle could be had in a wide variety of bodystyles. The open touring cars and roadsters were cheaper to produced and thus, produced in greater numbers. The Volkswagen 'Beetle' is the only car model to outsell the Model T Ford.

The Model T was designed by Henry Ford, Childe Harold Wills, Joseph A. Galamb and Eugene Farkas. A 177 cubic-inch four-cylinder motor was placed in the front and powered the rear wheels. The 20 horsepower engine was capable of carrying the vehicle to a top speed of around 45 mph. There were three main bearings and side valves. A ten gallon fuel tank could be found beneath the front seat, mounted to the frame. The engine started by a hand crank located at the front of the vehicle. The crank was very difficult to operate and has been the cause of many broken arms.

The smaller engines were favored by Henry Ford. His Model K had used a six-cylinder engine, but when production ceased around 1908, a six-cylinder engine would not be used again by Ford until 1941. The Model K had not been a sales success. While Ford had wanted to produce small and inexpensive vehicles, his board of directors had persuaded him to produce a larger, luxurious, and expensive model. In 1906, Henry Ford purchased the majority of stock leaving him in control and in charge of the direction of the company. After World War I he purchased the remaining Ford stock so he could dispense with the board of directors entirely. From 1906 through 1908, Ford created the Model N, R and S which eventually evolving into the Model T.

A 'three speed' planetary gear type transmission was used. This had been used in the Model K but was not suited to such a large vehicle. As a result it suffered from frequent breakdowns, but worked fine in the Model T. The 3-speed unit was actually two-speeds forward plus one reverse. With no clutch pedal, shifting was handled by floor pedals that did not require a clutch. Also located on the floor was a third pedal which operated the reverse gear. The throttle was controlled by a lever on the steering column. Neutral was located by the parking brake lever. The other foot pedal applied a band around a drum in the transmission. The parking brake lever operated the band brakes on the outside of the rear brake drums. When the hand lever was pulled back, the brake was engaged and the drive gears were disengaged.

Wooden 'artillery wheels' were standard until 1926 when they were replaced with steel wire wheels. The suspension was a transversely mounted semi-elliptical spring for both the front and rear axle. Brass was used throughout the earlier vehicles for items such as horns, radiators, and headlights. Headlights were acetylene lamps but later switched to electric lights.

Sales peaked in 1924 with over 2 million automobiles leaving the assembly line. By this time, many of Ford's competitors had switched to the same principles that had made the Model T success: a cheap and reliable vehicle built on an assembly line produced in mass quantities. Other manufactures started attracting new buyers by offering amenities, extras, or larger engines. Popular options included windshield wipers, anti-theft locks, and light dimmers. Chevrolet vehicles had three forward gears while the Model T still used only two. Also, since the Model T's were so durable, they were still in functioning order. Meaning that many owners did not need a car or when they did, they usually bought a more luxurious vehicle. The used Model T's were then sold for next-to-nothing. Sales began to dip in 1925 and dramatically in 1926. Production ceased in 1927 for nearly six months while preparations were made for the production of the Model A.

The Model T mobilized a nation, not only the United States, but many other countries. With dealerships and factories setup throughout the world, the Model T was mass produced and easily available to many buyers. Often, the factories were established in other countries to get around an import tax, thus keeping the cost low. The innovative Model T served its purpose. It was inexpensive and reliable, many lasting even to this day.
By Daniel Vaughan | Mar 2006
For more information and related vehicles, click
here
NEW VOLKSWAGEN GOLF R MAKES ITS U.S. DEBUT AT THE 2014 NORTH AMERICAN INTERNATIONAL AUTO SHOW
◾Most powerful production Golf ever for the North American market ◾New car has an estimated 290 horsepower, but is more fuel efficient than previous Golf R ◾EA888 TSI® 2.0-liter engine propels DSG® equipped Golf R from 0 to 62 mph in 4.9 seconds ◾Car features new 4MOTION® all-wheel-drive system ◾Golf R will go on sale in the U.S. in the first quarter of 2015 Herndon, January 8th, 2014 —The North American International Auto Show will see the U.S. debut of the latest Golf R, the most...[Read more...]
Golf R Celebrates Its World Premiere At The Frankfurt Auto Show
Wolfsburg, 2 September 2013 –The most powerful Golf in the range excites with 296 horsepower and a 0 to 62 mph sprint time of just 4.9 seconds. The vehicle's distinctive styling also highlights its sporty character. The new Golf R was developed by Volkswagen R GmbH to provide dynamic performance. The sportiest Golf is powered by a newly configured 296 horsepower TSI engine, which is not only 30 horsepower more powerful, but also 18 per cent more fuel-efficient than the previous engine....[Read more...]
'OPENING THE HIGHWAYS' ARTWORK RESTORED AS FORD BUILDS ON CENTURY-PLUS LEGACY OF MOBILITY LEADERSHIP
◾'Opening the Highways' Ford advertisement first printed in 1925 still used to summarize company's vision for automotive leadership ◾Ford and The Henry Ford work together to restore historic painting used in the ad ◾Restored painting and ad unveiled in Henry Ford Museum's 'Driving America' exhibit DEARBORN, Mich., June 24, 2013 – A nearly 90-year-old advertisement that propelled Ford Motor Company's vision for putting the world on wheels and recently helped transform the company from...[Read more...]
Barrett-Jackson Flavors Its January Scottsdale Auction With NASCAR Treats
• RACING HERITAGE, HIGH PERFORMANCE ARE RECIPES FOR CAR-COLLECTING FEAST
• SPEED™ SET FOR 39 HOURS of LIVE COVERAGE STARTING JAN. 15
The great Henry Ford once said, 'Auto racing began five minutes after the second car was built.' And for more than 60 years, there are few entities that better represent auto racing in America than NASCAR. From the hallowed grounds of Daytona International Speedway, to Sonoma, California's intricate and picturesque road course, the sp...[Read more...]
Unique Ford Shelby GT500 To Be Auctioned Saturday
On Saturday, Sept. 22, Ford Motor Company and Henry Ford Health System will auction a fabulous, one-of-a-kind 2013 Ford Shelby GT500. As part of its 2012 'Get Your Heart Racing' event and charity auction, Henry Ford Health System has once again called on the creative talents of Ford designer Melvin Betancourt. To thank the dedicated team at Henry Ford Health System that Betancourt credits with saving his life when he was treated for a serious heart condition, the designer has focused all of h...[Read more...]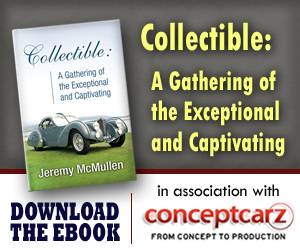 Similarly Priced Vehicles from 1911
REO Model H Power Wagon ($750-$750)
Penn Model 30 ($975-$1,075)
Stanley Steamer ($1,000-$1,500)
Maxwell I ($1,100-$1,100)
Ann Arbor Convertible Touring ($975-$975)
Baker Electric ($1,000-$3,500)
Marion Bobcat Roadster ($1,000-$1,000)
Hupmobile Model 20 ($750-$1,100)
EMF Model 30 ($1,000-$1,400)
Mitchell Model R ($1,100-$1,100)
International Harvester Model A ($750-$750)

Average Auction Sale: $42,901
Ford
Monthly Sales Figures
Volume
December 2014
209,679
November 2014
178,221
October 2014
179,014
September 2014
172,261
August 2014
214,028
July 2014
204,373
June 2014
214,793
May 2014
244,501
April 2014
203,552
March 2014
235,198
February 2014
177,286
January 2014
148,671
(More Details)
© 1998-2014. All rights reserved. The material may not be published, broadcast, rewritten, or redistributed.