1954 Jaguar XK-120 news, pictures, specifications, and information

Tweet
| | | |
| --- | --- | --- |
| | | Drophead Coupe |
The XK 120 debut in the fall of 1948 was nothing less than a sensation. It was sleek, beautiful and strikingly modern. The XK motor was engineered by Harry Westlake. It was the world's first high-volume twin-cam engine and would prove remarkably reliable and long-lived. These sports cars came in three body styles, of which this example is the drop head coupe (DHC), or a convertible to most Americans.
| | |
| --- | --- |
| | Drophead Coupe |
When the sedan designed around Jaguar's new XK engine wasn't finished in time, the British automaker showcased the powerplant in a prototype roadster for the 1948 Earls Court Motor Show, in London. The company anticipated producing perhaps 120 of the car but ended up selling 12,000 over the course of several years.

This blue, 1954 XK120 open two seater (OTS) has been maintained in original condition with only 21,000 miles on the odometer. It carries its original bill of sale, owners manual, tool kit, spare tire and jack, even specially fitted Jaguar luggage. The interior is done in a rare two-tone leather.
The XK engine would become the mainstay of all future Jaguar products over the next six decades. It would carry Jaguar to five Le Mans 24 Hour victories between 1951 and 1957.

This particular car is an XK 120 SE model, fitted with C-Type cylinder heads. It has had an extensive ground-up, nut-and-bolt professional restoration and the engine has been upgraded beyond original specifications, now producing an estimated 300 horsepower. It is a matching numbers example, finished in Signal Red with a beige leather interior, rides on wire wheels, has wide whitewall tires, and there are dual exhausts.

In 2009, this XK 120SE Roadster was offered for sale at the Automobiles of Arizona auction presented by RM Auctions in Scottsdale, Arizona. The lot was estimated to sell for $80,000-$100,000 and offered without reserve. As bidding came to a close, the lot had been sold for the sum of $84,700, including buyer's premium.
By Daniel Vaughan | Apr 2009
Most of the 240 alloy-bodied XK120s were exported, providing the funds needed for Jaguar to forge ahead with production of over 7,500 steel-bodied XK 120s. This late production XK120M (or SE for Special Equipment) was purchased new by the current owner's father. Still in all-original condition, it has run just 8,200 miles.
This car is powered by a 3.5 liter, 168 horsepower, inline six-cylinder engine. The XK series were produced until 1970, when Jaguar introduced a much larger engine.

The Drop-Head Coupe was produced from the spring of 1953 thru the fall of 1954, with a total of 1600 units produced, of those, 1200 headed to the US.

This car is equipped with an experimental cold air induction system, delivering cold air to the carburetor for added HP.
HardTop Coupe
Chassis Num: S669195
Engine Num: F3215-8S

Sold for $151,132 (€100,500) at 2008 Bonhams.

This completely restored XK 120 was the last fixed head coupe off the production line back in July of 1954. Trimmed in the rare Suede Green inside and out, there is no finer example of a FHC. Powered by the revolutionary double over head cam 3.4 liter engine, this car comes with the special equipment engine package which includes new pistons and raised compression.
HardTop Coupe
Chassis Num: 681463
Engine Num: F2875-8

Dispatched by Jaguar works to New York dealer/distributor Max Hoffman on April 27, 1954, this car has covered only 55,000 miles in its half-century of existence. The subject of a bolt-by-bolt restoration that was finished around 2003 by Jaguar marque specialists Black horse Motors in Texas, it has covered only 500 miles since that time.

A Jaguar Daimler Heritage Trust certificate, confirms the car's originality, right down to its body number. Its original tool roll, jack and spare tire may be seen in the trunk, and the only change effected from original during the entire meticulous restoration was the conversion of battery equipment from two 6-volts in series to a single, modern 12-volt unit.

It is finished in an authentic shade of pale-green metallic, the leather seats having been restored in a complementary hue. The walnut veneer dashboard and door capping have been refinished to factory-new appearance, and the green carpeting matches the seats. All chrome plating has been redone to a very high standard, door fit is superb, and the car's engine and engine compartment are presentable to concours-level excellent.


In the eyes of some Jaguar collectors and enthusiasts, the XK120 Fixed Head Coupe is the most elegant of all the 120-, 140- and 150-series cars, as zfthe permanent roof lends a perfectly executed accent to the 120's already stunning design.
Source - Gooding & Company
This 1954 Jaguar XK 120SE Roadster was offered for sale at the 2007 RM Auctions held in Amelia Island, Florida where it was estimated to sell between $80,000 - $100,000. The car is powered by a 3442 cc twin overhead camshaft inline six-cylinder engine capable of producing 180 horsepower. There is a four-speed manual gearbox and four-wheel drum brakes.

The 'SE' in XK 120SE represented 'Special Equipment' which included wire wheels, dual exhaust and a C-Type cylinder head. The Jaguar C-Type had been Jaguars racing vehicle which had accounted for seven overall victories, including LeMans. With these improvements, the XK 120SE saw an increase in horsepower by 20, to 180.

This 1954 Jaguar XK 120SE was purchased new by Charles E. Gifford of Burbank, California in January of 1954. Its next owner was Jon Canepa Jr. of Saratoga, California, who had a restoration performed on the vehicle, which lasted from 1969 through 1971. It was then shown at the 1972 Pebble Beach Concours d'Elegance where it was awarded an impressive Second in Class.

In 1975, Walter hill purchased the car for his collection. It was shown at the AACA South Florida Regional meet in 1974 where it was awarded Best in Show. The car was then stored in a climate-controlled environment before being sold in 2005 to its next owner. The vehicles owner then had the car properly checked and serviced, which included a rebuild of the instruments, engine, brakes, and cooling system. The new engine has less than 20 miles when it rolled across RM's auction block. The car proved to be popular, as the selling price escalated quickly. The lot was sold for $90,720.
By Daniel Vaughan | Apr 2007
| | | |
| --- | --- | --- |
| | | Drophead Coupe |
This 1954 Jaguar is equipped with the factory SE performance package which includes increased power and dual exhaust allowing it to reach 140 MPH and stiffer suspension and chrome wire wheels. It was originally sold in New Mexico and has less than 20,000 miles. It has been repainted and the interior redone.
This 1954 Jaguar XK120SE Roadster has traveled 24,700 miles since new, and has been in the care of one owner its entire life. In 2007 it was brought to the Bonhams Auction, An Important Sale of Collectors' Motorcars and Automobilia, held at the Quail Lodge Resort & Golf Club in Carmel, California. The lot was sold for $75,000 plus premiums and taxes.
By Daniel Vaughan | Apr 2008
In 1954 Jaguar XK120 SE Roadster was brought to the Monterey Sports & Classic Car Auction presented by RM Auctions, where it had an estimated value of $90,000 - $110,000. Bidding would soon surpass those estimates, before settling at $121,000 including buyer's premium. This lot was offered without reserve.

This vehicle is an 'SE' model, meaning Special Equipment, which came equipped with chrome wire wheels, an upgraded suspension, dual exhaust pipes, and a high performance engine and carburetor. It has been treated to a nut & blot restoration to period correct specifications. It is finished in factory correct Jaguar Red and the interior is black leather.

Other options outfitted by the factory are ignition keys, tool roll, spare jack, spare tire, and manuals.

This car has been properly stored, maintained, and cared for during its life. This was evident by the bidding and the desire for such an attractive automobile.
By Daniel Vaughan | Dec 2007
| | | |
| --- | --- | --- |
| | | HardTop Coupe |
Jaguar has long enjoyed a storied history of dashing styling, high performance and memorable racing victories. The venerable British brand was founded by Sir William Lyons and William Walmsley, two-wheel enthusiasts actually, as the Swallow Sidecar Company in 1922. In 1935 they began building SS Jaguar cars. Fame and fortune came calling after World War II with a series of sexy sports cars and luxurious saloons.

The XK120 roadster was shown at the 1948 London Motor Show as a concept to showcase the new XK engine. It was named for its reported top speed of 120 miles per hour, making it the fastest production car in the world, and it was a sensation. The DOHC 3.4L six-cylinder engine with twin side-draft carburetors made 160 horsepower. It had independent torsion bar front suspension, semi-elliptic rear leaf springs, and a telescopically adjustable steering column.

The Fixed Head Coupe debuted in 1951 at the Geneva Motor Show. When production ended in 1954, 2,678 coupes had been built. The elegant burled walnut, Wilton carpeting and Connelly leather is patterned after Jaguar's larger sedans. To prove its performance and durability credibility, a FHC was once driven for seven continuous days at 100 miles per hour on the Montlhery Circuit near Paris. It covered almost 17,000 miles without incident.

The first owner bought this car for $3,029 plus a now-quaint $5.30 license fee. The current owner bought it in 2004 and spent seven years faithfully restoring it with the help from friends and professional shops alike.
The Jaguar XK120 was designed to be a prestigious vehicle and produced in low numbers. The designation '120' represented the vehicles top speed of 120 miles-per-hour. At the time, it was the fastest production car in the world.
The British automotive industry was greatly influenced by World War II. Many manufacturers went out of business due to the lack of funds, fuel and supply shortages, or their factories had been destroyed during the war. In order to stay in business, a solid production line was required that could compete with its class of vehicles. William Lyons, owner of Jaguar, did so by creating a new class - one that was faster, more reliable, stylish, and cheaper than any other vehicle on the market.

To gain industry recognition, Lyons knew that he needed a show car that was revolutionary and bold. Lyons handled the styling while his chief engineer, William Heynes, was tasked with designing the mechanical components. When the vehicle was displayed at Earls Court, the reaction was overwhelming. Originally, Lyons planned to make between 100 and 200 examples. After the public reaction to the car and to keep up with demand, he decided to change the body from hand-formed aluminum to all-steel construction.

The body of the car was reminiscent to the 'French Curves' produced by manufacturers such as Bugatti and Delahaye of the early 1930's and 1940's. They were created in three different body styles, roadster, fixed head, and drop head (convertible).

The vehicle was powered by a 160 horsepower, 3.4 liter, inline-six cylinder engine. Peak horsepower was achieved at 5000 RPM. The 120-mph was the promised speed, the top speed of the vehicle was around 126-132 mph depending on the trim of the vehicle.

The vehicle was designed as a touring car. However, many of the vehicles were raced. Their main weaknesses were their drum brakes which wore quickly, and their steering which was heavy and less responsive when compared to other purpose-built racing vehicles.

In 1951, Jaguar entered the grueling 24-hour of Le Mans endurance race. Three XK120C, the 'C' representing 'competition', were entered. One of the three entrants won the event.

In 1952, an XK120 was driven continuously for seven days and nights around a track located in Montlhery, France. After more than 16,000 miles in one week, the vehicle once again proved its endurance capabilities.

In 1954 production ceased. Over 12,000 examples were produced.
By Daniel Vaughan | May 2008
For more information and related vehicles, click
here
Dream Car Saturday Ready to Launch at Russo and Steele's 15th Anniversary Scottsdale Auction Event!
Scottsdale, Arizona (January 17, 2015) – Following 2 great days of record attendance, stratospheric sell through and a world class seminar moderated by SEMA Hall of Fame member Wade Kawasaki and featuring an all-star panel of guest experts which included such noted personalities as Wayne Carini from TV's Chasing Classic Cars, McKeel Hagerty of Hagerty Insurance, Jim Menneto from Hemmings Motor News, and Oscar Pereda from Michelin North America, we prepare to enter our exclusive gladiator...[Read more...]
Russo and Steele Collector Automobile Auctions Kicks Off 15th Anniversary with Eight Initial Offerings to Watch
Scottsdale, Arizona (December 1st, 2014) – For Enthusiasts – By Enthusiasts. ™ This is far more than a tagline at Russo and Steele Collector Automobile Auctions. It's a lifestyle, and we are gearing up to deliver that singular passion to the High Desert of sunny Scottsdale, Arizona for our annual flagship event during the world renowned collector car week. Additionally, Scottsdale marks the kick-off of the year-long celebration of our 15th anniversary. Held over five thrilling a...[Read more...]
Russo and Steele Collector Car Auctions Kicks off 2014 in a Big Way with Outstanding Results and New World Records at Scottsdale
Phoenix, Arizona (January 22, 2014) – At Russo and Steele Collector Car Auctions, we are thrilled to announce the achievement of outstanding results and world-record sales at our January 15-19 Scottsdale, Arizona Sports and Muscle auction event. Throughout the event's five action-packed days, beautiful weather helped draw record attendance numbers, estimated at 35% higher than 2013 levels. At the time of writing, preliminary sale results exceeding $21 million were generated with a very st...[Read more...]
Barrett-Jackson Flavors Its January Scottsdale Auction With NASCAR Treats
• RACING HERITAGE, HIGH PERFORMANCE ARE RECIPES FOR CAR-COLLECTING FEAST
• SPEED™ SET FOR 39 HOURS of LIVE COVERAGE STARTING JAN. 15
The great Henry Ford once said, 'Auto racing began five minutes after the second car was built.' And for more than 60 years, there are few entities that better represent auto racing in America than NASCAR. From the hallowed grounds of Daytona International Speedway, to Sonoma, California's intricate and picturesque road course, the sp...[Read more...]
TOPLINE COLLECTORS PLACE SPOTLIGHT on SPEED'S BARRETT-JACKSON BROADCAST FROM SCOTTSDALE
• TOPLINE COLLECTORS PLACE SPOTLIGHT on SPEED'S BARRETT-JACKSON BROADCAST FROM SCOTTSDALE
• 'LOST' SHELBY DUAL PROTOTYPE, HAGERTY GIVEAWAY & SALON COLLECTION HIGHLIGHT 39 HOURS OF LIVE COVERAGE
The 42nd annual Barrett-Jackson Scottsdale (Ariz.) Collector Car Event, the first of four set for live coverage in 2013, kicks off the auction season in grand style as some of the world's most sought-after machines cross the block starting Tuesday, Jan. 15 at 7 p.m. ET/4 p.m. PT. SP...[Read more...]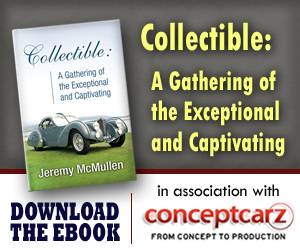 Similarly Priced Vehicles from 1954
Porsche 356 ($2,995-$4,580)
Kaiser Darrin ($3,653-$3,653)
DeSoto FireDome ($2,650-$3,557)
Cadillac Series 62 ($3,836-$5,735)
Lincoln Capri ($3,705-$4,030)
Jaguar XK140 ($3,450-$3,450)
Arnolt Bolide ($3,990-$3,990)
Mercedes-Benz 180 ($3,355-$3,580)
Chrysler New Yorker ($3,200-$4,365)
Packard Cavalier Series 5402 ($3,345-$3,345)
Packard Patrician Series 5426 ($3,895-$7,255)

Average Auction Sale: $82,898
Jaguar
Monthly Sales Figures
Volume
December 2014
1,683
November 2014
1,253
October 2014
1,007
September 2014
1,142
August 2014
1,184
July 2014
1,187
June 2014
1,263
May 2014
1,304
April 2014
1,035
March 2014
1,816
February 2014
1,552
January 2014
1,347
(More Details)
© 1998-2014. All rights reserved. The material may not be published, broadcast, rewritten, or redistributed.