1938 Lincoln Model K news, pictures, specifications, and information

Tweet
Cabriolet Limousine
Coachwork: Brunn

Henry Martin Leland is inextricably linked as the brilliant engineer who not only founded Cadillac, but was also responsible for many innovations during his tenure. He was 74 years old when he quit General Motors after a quarrel with Billy Durant. Following his departure, Leland set up a company to produce Liberty aircraft engines receiving a $10 million advance contract. As the war ended, Leland was beset with a huge factory, 6,000 employees, and mounting debt. Building an automobile was what he knew best, and that's what he did. Within three hours of announcing his new automobile, Leland had raised $6.5 million in stock. The automobile was named Lincoln, in honor of the first president for whom Leland had voted. After 17 months, just 3,400 had been sold and Leland's board of directors acted quickly to stem the red ink. On February 4th of 1922, Ford Motor Company bought the Lincoln Motor Company for $8 million. Leland departed just four months later.

By 1938, the luxury automobile market was disappearing. Lincoln was one of the last companies building these cars and in 1938 with total sales of only 416 cars, the company offered 19 different body styles, including 13 different custom bodies - more than any other American luxury car builder.

Lincoln had recognized the decline of the luxury car market by introduced its medium-priced Lincoln-Zephyr in 1936. An immediate hit, nearly 20,000 were sold in 1938.

Thanks to Edsel Ford's personal interest in the marque, Lincoln was a rare survivor of the Great Depression. This long wheelbase Model K Seven Passenger chassis carries a 3-window semi-collapsible cabriolet body custom built for Elizabeth Cates of Ohio. Mrs. Cates ordered the Brunn body with an enclosed roof for the chauffeur and extra headroom to accommodate her husband's tall silk hat. It was given numerous special touches dictated by Mrs. Charles H. Cates of Youngstown, Ohio. The list includes the extra-tall town car body to accommodate Mr. Cates' top hat, along with a solid roof over the chauffer's compartment so that Leonard Prather, her chauffer of 30 years, was protected. She requested black medallions on the wheel covers in lieu of the normal blue cloisonne, and key locks in the hood to prevent intrusion into the engine compartment. The car remains in nearly original condition with just 30,000 miles on the odometer.
Victoria Convertible
Coachwork: Brunn

This beautiful pre-war Lincoln is one of only two in existence from a total production of eight cars. It features a custom aluminum body by Brunn Coachworks of Buffalo, New York. After discovering the car stored in a barn, the last private owner spent thirteen years collecting parts before undertaking a complete restoration. It is the winner of numerous AACA awards and a prestigious 'Most Elegant Pre-1940 Open Automobile' at the 1996 Concours D' Elegance of the Eastern Únited States.
Source - AACA Museum
Convertible Sedan
Coachwork: LeBaron

By 1938 sales of 'big' Lincolns had slowed significantly; only 416 (or 414) cars were sold that year - spread among 20 (or 21) body styles from the factory as well as 17 custom bodied cars - more than any U.S. Company.

This is one of only 15 LeBaron convertible sedans sold by Lincoln in 1938. Most significantly, this car is unrestored, with just over 39,000 original miles showing!

Most of the LeBaron convertible sedans were built on Lincoln's long, 145-inch wheelbase chassis, with a division window. Price new was $6,000.

Power was supplied by Lincoln's venerable 414 cubic-inch V-12 that developed 150 horsepower.
In 1898, Hermann A. Brunn was apprenticing in his uncle's carriage work shop. Later, he spent a few years working at the New Haven Carriage Company and at H.H. Babcock at Watertown, New York. He established Bunn & Co. in his hometown of Buffalo, New York in 1908. The company specialized in automobile bodies.

The Lincoln range of automobiles was introduced in 1920. They were immediately praised for their high quality and engineering. Their appearance, however, did not receive the same rave reviews. Brunn was later tasked as a design consultant for the Lincoln automobiles. A deal was later arranged for twelve new bodystyles.

When Ford took-over Lincoln, Brunn and Edsel Ford hit it off, and the designs from the Buffalo-based company continued. The small orders were built at Brunn's workshops, while the larger quantities were shopped out to Detroit-area companies.

At Brunn's peak, 150 craftsman were employed and the company averaged 20 bodies per month, with most going to Lincoln. Herman A. Brunn son, Herman C. Brunn, was sent to Paris to apprentice with Kellner. The young Brunn would return a year later and join his father's business.

This 1938 Lincoln Model K Convertible Victoria with coachwork by Brunn is a concours-winning example with its original coachwork. This was the third example built for the 1938 model year. It was shipped by boat to Buffalo on October 11 of 1937. It was delivered to the workshop a month later. It has been in the collection of several prominent east coast collections until the late 1970s, when it was acquired by Ernest Stern of Pittsburgh. While in his care, the car was treated to a complete restoration. It would remain in his care until his death in 1996. It was then sold to Don Williams of the Blackhawk Collection, who would later sell it to Chicago Collector Joe Hayes in 1998. The current owner, an individual from Colorado, purchased the car in 2000.

The car is finished in Cambridge Blue and has been well maintained over the years. It was shown at Pebble Beach in 2003 and earned a First in Class at the 2007 Rocky Mountain Concours d'Elegance at the Broadmoor in Colorado Springs.

In 2008, this Convertible Victoria was offered for sale at the 'Sports & Classics of Monterey' presented by RM Auctions. It was estimated to sell for $350,000 - $450,000 and carried a reserve. A high bid of 192,500 including buyer's premium was enough to satisfy the vehicles reserve. The lot was sold.
By Daniel Vaughan | Jan 2009
Brunn & Company of Buffalo, NY was probably Edsel Ford's favorite custom coachbuilder. The company began designing and building bodies for the Lincoln Motor Company in 1922. Ford Motor Company acquired Lincoln that same year.

This Lincoln brougham was used by Edsel and Eleanor Ford for formal outings both in Detroit as well as other cities. It was not uncommon for Mr. Ford to have his cars shipped or, in some cases, kept in another city, available when he visited.

The Brunn type 411 brougham body style was one of the most expensive models in the 1938 Lincoln catalogue, selling for $7,000, enough to buy a very nice house in most American cities.
Convertible Sedan
Coachwork: LeBaron

The original owner of this Lincoln LeBaron felt he wanted something special in his convertible sedan. He enlisted Holden Koto, Alex Tremulius and Ralph Roberts (all automotive design industry greats) to blend features of their own to make this a truly one-of-a-kind, forward-looking design.

The car is powered by a 4.38 liter, water-cooled, side valve, V-12 engine developing 110 horsepower, coupled to a three-speed sliding gear transmission. It has a top speed of 90 mph.

Built in the back seat is a luscious wooden divider/bar and service cabinet, with insulated storage for wine bottles.
Tourer Cabriolet
Coachwork: Brunn

A strong friendship between Edsel Ford and Hermann A. Brunn led to a relationship between Lincoln and Brunn & Co. that spanned two decades. This Touring Cabriolet on a Lincoln K chassis features one of the later efforts from the coachbuilder - one in which the younger Hermann C. Brunn was involved.
Edsel Ford preferred that his coachbuilders and suppliers specialize in certain types of bodies. Judkins was tasked with creating berlines and coupes. Willoughby created the limousines and LeBaron created convertible sedans. Brunn & Co. of Buffalo, New York specialized in town cars and convertibles, such as soft-top broughams, cabriolets, victorias and dual-cowl phaetons.

From 1933, Brunn built Convertible Victorias with blind rear quarters on the Lincoln chassis. This style had been a staple of Waterhouse, the Webster, Massachusetts coachbuilder, but when Waterhouse foundered in 1932, Edsel Ford worked aggressively to keep the body style alive. The result was the acquisition of Waterhouse design rights by Brunn and the continuation of the style through 1937.

This Convertible Victoria was built by Brunn in late 1937. It was ordered by Walter E. Weiss of the Pittsburgh-based Sterling Drug chain. It was to rest on the 145-inch chassis and featured a vee windshield and retractable rear quarter glass. For 1937, there was no other automaker - except Hudson - who offered convertible coupes with rear quarter windows.

Lincoln built just eight convertible Victoria's built. It is painted Washington Blue and upholstered in dark saddle leather and has a tan Haartz canvas top. It was built without side-mounts, with the spare being kept in the enclosed trunk. Current mileage stands at about 54,000.

In 2011, this vehicle was offered for sale at the Hershey Auction presented by RM Auctions. It was estimated to sell for $160,000 - $200,000. As bidding came to a close, the vehicle had been sold for the sum of $203,500 including buyer's premium.
By Daniel Vaughan | Dec 2011
Victoria Convertible
Coachwork: Brunn

Edsel Ford preferred that his coachbuilders specialize in certain body types. Judkins created berlines and coupes. Willoughby crafted limousines and LeBaron created convertible sedans. Brunn & Co. of Buffalo, specialized in soft-top broughams, town cars, convertibles, cabriolets, Victorias and dual-cowl phaetons.

From 1933, Brunn built convertible Victorias with blind rear quarters on the Lincoln chassis. This style was a staple of Waterhouse, but when they floundered in 1932, Edsel Ford worked aggressively to keep the body style alive. Brunn acquired the Waterhouse design rights and continued the style through 1937.

This car is powered by a side-valve, 414 cubic-inch, V12 engine, developing 150 horsepower, coupled to a three-speed manual transmission. The 5,801 pound car is capable of an estimated 87 miles-per-hour.
This one-off design by Judkins Coachbuilders was inspired by the 1938 Delage displayed in the French pavilion at the World's Fair. The novel window treatment was inspired by the Delage D8 120 Aerodynamic Coupe built by Letourneur et Marchand in Paris. As with all Judkins designs, the full-size backseat area was lavishly appointed adn upholstered in Bedford cord despite the fact that the car has just two doors.

This was the personal car of Mr. J.B. Judkins. Its 136-inch wheelbase allowed increased leg room and massive, rear hinged doors that give access to both the front and rear seats. The swept back pillarless windows give an unobstructed view from the rear seat.

The chassis arrived in Merrimac, Mass. on April 14th of 1938. It was termed 'Touring Coupe' because it was open like a touring car but with a fixed roof and only two doors. It is believed to be the first 'hard top convertible.' It is powered by a V-type 12-cylinder engine of 414 cubic-inches providing 150 horsepower. The original sale price was $7,000.
Becoming a vehicle that was known for luxury, the Lincoln underwent a total transformation in 1931. Re-powered, re-styled, and becoming lower-priced, this entire transformation was done under the censorship of Edsel Ford. The Lincoln Model K replaced the Model L, and only a total of forty five models were ever produced.

With an increased horsepower from 90 to 120, the newly added Stromberg carburetor increased the engine with 384.8 cubic inches. With a price significantly lower than any other Lincolns, the Model K 7-passenger Touring vehicle was used primarily as a limousine. Though at $4,400, the model K still cost ten times the amount of a Ford.

The largest updates were contained in the body style. The wheel base was now increased to 145 inches with a longer hood, and rounded bumpers which now gave it a low and sleek profile. Dual trumpet horns and large bowl-shaped head lights now gave the front a stunning look. Utilized mainly as a limousine, sales were less than half of what they were in the late 1920s due to the Depression.

A reflection of the earlier Ford Model K, the Lincoln K-series was a luxury vehicle line that was produced until 1942. A V12 became standard in 1933, while the original K-Series featured a 385 in³ (6.3 L) V8. The option of ordering a fully custom coachwork was available for customers.

Appearing on a new chassis in 1931, the original Model K had a 145 in (3683 mm) wheelbase. Available as a dual cowl model, factory bodies were a 2 or 4-door phaeton. A derivative of the earlier L-series 60° V8, the 384.8 in³ (6.3 L) engine had a dual downdraft Stromberg carburetors, altered timing upped power to 120 hp (89 kW), and higher compression.

Splitting into two lines in 1932, the Lincoln K-series featured the carryover Model KA and the new V12-powered Model KB. The engine output was pushed to 125 hp (93 kW) while the V8 car reverted to a 136 in (3454 mm) wheelbase. Producing 150 hp (112 kW), the KB featured the marque's new V12, 447.9 in³ (7.3 L) 65° L-head unit. These two new lines featured a new grille with less of a surround, and vent doors rather than vertical louvers on the sides of the hood. Both series also featured a parking light on top of each front fender and 18 inch wire wheels.

The Model KA V8 engine was replaced in 1933 with a new 381.7 in³ (6.3 L) V12. The large KB engine shared very few similarities with this new L-head engine. Only a few minor changes that were readily visible occurred on the 1933 K-series. The return of hood louvers and the deletion of the bar linking the headlights were by far the most obvious updates. The chassis was also revised, along with thermostatic shock absorbers and transmission.

In 1934, the V12 engines were replaced by a single 414 in³ (6.8 L) version of the updated model KA V12. The KA and KB nameplates now denoted the wheelbase only. For this year, the only styling updates included the replacement again of the louvers with doors on the side of the hood, and a body-colored grille surround.
For 1935, the Lincoln line was trimmed down considerable, as all vehicles where simply referred to as the Model K. Putting focus on the lofty over-$4,000 segment, the marque was attempting to improve profitability, though unfortunately limiting sales in the depression devastated US.

The following year, a more modern Lincoln Zephyr was debuted. Costing much less, the Model K's days were considerably numbered. However, despite its high $4700 price-tag, a 7-passenger Model K limousine was the marque's best-selling model for 1936. A new and improved raked windshield and pressed steel wheels were also part of this years update.

Continuing in production for the next five more years, the Model K unfortunately faced a decrease in sales in comparison to the more modern Zephyr and the new flagship Continental which became more appealing to buyers. Though production was mostly ended with the 1939 model year, one final Model K, the 1942 model was a one-off 'Sunshine Special' convertible limousine that was built especially for President Roosevelt.
By Jessica Donaldson
For more information and related vehicles, click
here
Postwar Ferrari Named Best of Show at 2014 Pebble Beach Concours d'Elegance
1954 Ferrari 375 MM Scaglietti Coupe Named 'Best of Show' PEBBLE BEACH, Calif. (August 17, 2014) -- Excited cheers echoed across the 18th fairway of Pebble Beach Golf Links Sunday when a 1954 Ferrari 375 MM Scaglietti Coupe was named Best of Show at the 64th annual Pebble Beach Concours d'Elegance. The car, owned by Jon Shirley of Medina, Washington, was the first postwar car to take the top award at the prestigious event in nearly five decades. It was also the first Ferrari to win. ...[Read more...]
Art Deco Theme to be Featured at The Elegance at Hershey
Hershey, PA (April 16, 2014): The Elegance at Hershey has announced the theme for this year's event: the Era of Art Deco, and the visual arts movement of the 1920s, 30s and 40s. 'The cars of that era have always been some of the most beautiful creations ever built,' noted Car Selection Chairman and Elegance Board member Mark Lizewskie. 'The attention to detail and unique styling cues have made these automobiles some of the most sought after models among collectors'. A prime example i...[Read more...]
Two Best of Show Winners : Similar Designs : Same Owner
When these two vehicles won Best of Show honors at major Concours d'Elegance events, they both were owned by Judge Joseph Cassini III. The green colored Chrysler 4 door Phaeton with tan convertible top wears coachwork by LeBaron. In 2012, it won the Best of Show title (for an American car) at the Concours d'Elegance of America at St. Johns. The other car is a Packard 2 door Convertible Victoria with coachwork by Dietrich. It won this years Pebble Beach Concours d'Elegance Best of Show honors...[Read more...]
63rd Pebble Beach Concours d'Elegance Names 1934 Packard 'Best of Show'
The competition showcased 248 cars, including 48 from abroad PEBBLE BEACH, Calif. (August 18, 2013) -- A 1934 Packard 1108 Twelve Dietrich Convertible Victoria owned by Joseph and Margie Cassini III of West Orange, New Jersey, was named Best of Show at the 63rd Pebble Beach Concours d'Elegance, held Sunday on the 18th fairway of Pebble Beach Golf Links at Pebble Beach Resorts. The event showcased 248 cars from 36 states and 12 countries and raised $1,277,007 for charity. 'This Pack...[Read more...]
Lincoln at Los Angeles Auto Show Press Days: Celebration of Its Past and Future As Brand Rolls Out Its Reinvention
> The brand pays tribute to its heritage today, displaying seven of the most influential Lincoln designs > Thursday sees a display full of the all-new MKZ premium midsize sedan and MKZ Hybrid, the future of Lincoln, on the Lincoln stand > Lincoln launches on Tumblr http://lincolnnow.tumblr.com beginning with the visually stunning classic Lincolns shown on the stand and select images from archives. Continues with an all-new collection of photographs by photographers Jamie Beck and Kevin Burg ...[Read more...]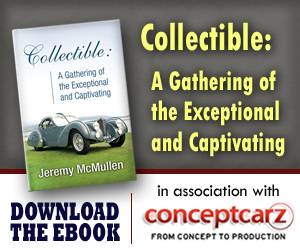 Lincoln
Monthly Sales Figures
Volume
December 2014
9,690
November 2014
8,113
October 2014
8,883
September 2014
7,257
August 2014
8,146
July 2014
7,863
June 2014
7,271
May 2014
8,845
April 2014
6,803
March 2014
8,969
February 2014
6,661
January 2014
5,973
(More Details)
© 1998-2014. All rights reserved. The material may not be published, broadcast, rewritten, or redistributed.