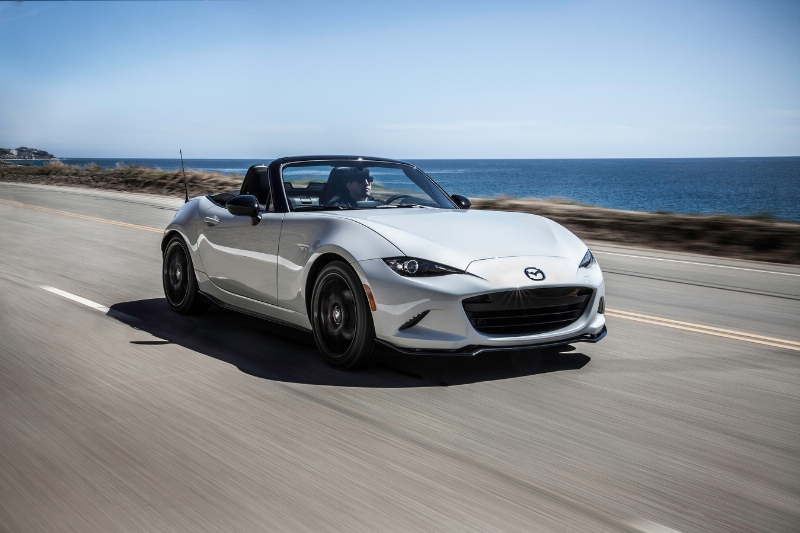 2016 Mazda MX-5 Miata Club
2016 Mazda MX-5 Miata Club Makes World Debut At New York International Auto Show
- Performance-focused MX-5 Club has trim level-exclusive Bilstein suspension, limited-slip differential -NEW YORK, April 1, 2015 /PRNewswire/
-- Mazda North American Operations (MNAO) today introduced the 2016 Mazda MX-5 Miata Club at the New York International Auto Show, marking the world debut of the North American-focused Club model.
Lighter, smaller, quicker and more nimble than its predecessor, MX-5 has adopted Mazda's full suite of SKYACTIV Technology and KODO—Soul of Motion design. In the process, MX-5 has shed approximately 150 pounds from its predecessor, wîth a curb weight of 2,332 lbs. when equipped wîth SKYACTIV-MT six-speed manual transmission (2,381 lbs. wîth the six-speed automatic transmission).
The MX-5 Club heightens performance wîth trim-level exclusive:
◾17-inch gunmetal alloy wheels wrapped in 205/45R17 tires
◾Limited-slip differential when equipped wîth SKYACTIV-MT
◾Bilstein shocks when equipped wîth SKYACTIV-MT
◾Shock tower brace when equipped wîth SKYACTIV-MT
◾Front air dam and rear lip spoilers
Standard equipment on MX-5 Club models includes MAZDA CONNECT™ infotainment system wîth a seven-inch color touchscreen display and multi-function commander control, HD and SiriusXM Satellite Radio, two ÚSB ports, piano black side mirrors and seatback bars and a nine-speaker Bose audio system wîth headrest speakers.
Vital Stats

---

6-speed Manual, 6-speed Automatic
Also available for the MX-5 Club is a package that equips the roadster wîth forged lightweight BBS 17-inch wheels, Brembo front brakes and functional aerodynamic side sill extensions and rear bumper skirt that were previewed at the Chicago Auto Show and on the MX-5 Global Cup race car.
'MX-5 is the heart and soul of Mazda, serving as a beacon for the rest of our lineup wîth its fun-to-drive dynamics, design and technologies,' said Jim O'Sullivan, president and CEO, MNAO. 'Jinba Ittai—oneness between driver and machine—defines the MX-5. It's a philosophy that has led every decision we've made toward bringing the MX-5 back to the basics that made drivers fall in love wîth it 26 years ago when the first generation debuted.'
All MX-5s bound for North America will come wîth compact LED headlights, Bluetooth phone and audio streaming and a SKYACTIV-G 2.0-liter engine. The MX-5 will be equipped wîth either a standard six-speed SKYACTIV-MT manual or available six-speed automatic. Further packaging details will be made available closer to the MX-5's summer on-sale date.
Mazda North American Operations is headquartered in Irvine, Calif., and oversees the sales, marketing, parts and customer service support of Mazda vehicles in the Únited States and Mexico through nearly 700 dealers. Operations in Mexico are managed by Mazda Motor de Mexico in Mexico City. For more information on Mazda vehicles, including photography and B-roll, please visit the online Mazda media center at www.mazdausamedia.com.
Source - Mazda
Rumor to be designed after the Lotus Elan, the Mazda Miata is the world's best selling sports car. With over 720,000 produced between 1989 and 2005, production proves Mazda held its title consistently.
The history of the Miata is one of interest and success. Unveiled in 1989 as the 'Eunos Roadser', prior to the name change to the Miata, it was a designed collaboration between the USA and England. Created to be a basic roadster without unnecessary weight, it was an instant success with over 23,000 sold by the end of its first year. With a starting price of $13,800, the Miata, despite its small design, made a sizeable impact in the success of Mazda's future.
The shell of the Miata is all steel with an aluminum bonnet. Weighing in at over 2,380 pounds, the Miata confirmed its small roadster appeal. The trusswork is uniquely called the 'Powerplant Frame', which connects the engine to the differential, creating a more firm and responsive feel. It's quick and responsive handling is helped due to independent double wishbone suspension on all four wheels with an anti-roll bar at the front. Optional paddle shifting was available with the six speed automatic versions of the Touring, Sport, and Grand Touring models. With power to the rear wheels, drivers thirst for corners even if they're beginners.
The Miata's appearance ranks among attractive qualities. Its cozy, subtle, curved design helped to propel sales to customers of all ages to a higher level. The bright color palette offered during production accented the appearance and still turns heads today, making onlookers yearn to get behind the wheel of this convertible on owners pine for the summer months.
A 'Special Touring Option Edition' was also offered, which included stainless steel scuff plates, Twilight Blue paint, and 15 inch Enkei wheels. The 'Club Spec' version was available with 16 inch alloy wheels and four wheel disc brakes with ABS, but also offered a limited amount of color options: Winning Blue Metallic, Marble White, and True Red.
The interior, though tight, beckoned stereo enthusiasts and those who revel in the appeal and stigma of leather. Optional passenger-side airbags and standard drivers–side airbags provided safety without drastically impacting the beauty of the interior.
With the introduction of the 'M Edition' came a wood shift knob and chrome wheels with Montego Blue paint. The option of a wooden parking brake handle was available on this edition for complete look. Other editions such as the 'Touring Package' included power steering, a leather wrapped steering wheel, power mirrors, aluminum alloy wheels, and power windows. Also, the available 'Club Spec' model included CD player with speed sensitive sound, four speakers, black cloth trimmed upholstery, power windows, locks, and mirrors and black vinyl top.
Engines for the Miata were available with a 1.6L, 1.8L or 2.0L. The 1.6 L dual overhead cam inline four-cylinder engine produced 120 horsepower with 0-60 times consisting of 8.2 seconds and a top speed of 119 miles per hour.
The 1.8L produced 140 horsepower with help of the raised engine compression ratio and the additions of domed pistons. The additions also helped the 0-60 time, which was marked at 7.9 seconds with a top speed of 123 miles per hour. In 2005, the 2.0L was the latest engine thrusting the Miata. The 16 valve engine produced 170 horsepower with a 0-60 time of 6.5 seconds, bringing the Miata to a fast finish when production ceased in the same year.
Even though all 3rd generation 2006 models all over the world now go with the name 'MX-5', the Miata will always be the true coupe that helped to accelerate the sports car appeal with today's roadsters.
Kyle McMullen
Recent Vehicle Additions
Mazda Models
© 1998-2018. All rights reserved. The material may not be published, broadcast, rewritten, or redistributed.