1933 Rolls-Royce Phantom II Continental news, pictures, specifications, and information

Tweet
Introduced in 1929, the Rolls-Rocye Pantom II was intended to carry customers accustomed to being driven by a chauffeur. However, in 1930 the chassis was produced for those who wanted to take control of the wheel themselves in more sporting fashion. Of the total 1681 Phantom II chassis produced, only 281 were Continentals.

The Continentals were short chassis vehicles made to accommodate lighter 4-passenger coachwork, with the rear-seated passengers sitting well ahead of the rear axle. Adjustable shock absorbers, as well as a lower rake steering were also employed in the chassis. The 7.7-liter OHV 6-cylinder engine benefited from a higher compression ratio and a high performance camshaft.

Chassis 124MY, priced roughly at 1,850 British Pounds, was ordered by the fashionable London dealership of H.R. Owen & Co. Only 12 of these 3-position Drop Head Coupes were produced. 124MY was kept on display in the Berkeley Street showroom during June of 1933.

The car had many prestigious royal owners throughout the years, and in July of 2003, Pennsylvania collector John W. Rich purchased 124MY, starting another chapter in its history.
Of the total 1681 Phantom II chassis produced, only 281 were Continentals. And there were only 12 of these 3-position Drop Head Coupes produced.

In October of 1921, Rolls Royce along with coach builder Brewster and Co, debuted the Phantom II at the London Olympia Motor Show. Under the bonnet was a 6 cylinder engine with 2 banks of 3 cylinders each, topped by a common head. The Phantom II, a very rugged and reliable auto that was much faster than previous Rolls Royces. This was the last model designed by Henry Royce.

ROLLS-ROYCE PHANTOM II CONTINENTAL
Chassis Number 124MY Engine Number JC95 With Owen Sedanca Coupe coachwork by Gurney Nutting

Introduced in 1929, the Rolls-Royce Phantom II was intended to usually carry formal coachwork for those customers accustomed to being driven by chauffer. However, starting in 1930 the Continental chassis was produced for those so inclined to take control of the wheel themselves in a more sporting fashion. Of the total 1681 Phantom II chassis produced, only 281 were Continentals.

The Continentals were short chassis vehicles usually made to accommodate lighter 4-passenger coachwork with, typically, the rear seated passengers sitting well ahead of the rear axle. To further emphasize its sporting intention, Hartford Telecontrol adjustable shock absorbers, as well as a lower rake steering was employed in the chassis. The 7.7 liter OHV 6 cylinder engine benefitted from a higher compression ration and a high performance camshaft. Continental buyers were also encouraged to order cars with rear mounted spares to improve road holding and higher ratio rear axles were fitted to render the cars more suitable for high speed, long distance touring.

Chassis 124MKY, priced at roughly 1,850 British Pounds, was ordered for stock for the fashionable London dealership of H.R. Owen & Co. The coachbuilding firm of Gurney Nutting was chosen to complete the package with a wonderful design patented by the dealership owner, Capt. H.R. Owen. Only 12 of these 3 position Drop Head Coupes were produced. 124MY was kept on display in the Berkeley Street showroom during June of 1933.

On June 15th of that year, the prestigious King George V Gold Cup equestrian race was held at Ascot.Sir (Edmund) Keith Nuttall, a successful civil engineer, head of a prominent construction company, and avid racehorse owner, was on hand that day. To his grand luck, his horse won the event. Much champagne flowed and celebration followed. A telephone call was put through at some point to Captain Owen from Sir Keith stating that if 124MKY could be delivered to Ascot by 5pm that day, he could consider it sold. Delivery was promptly executed, and the car would become part of the Nuttall's stable. Not quite immediately, however. It would seem that so much champagne had been consumed that an 'error of judgment' occurred on the way home and the car was returned to Gurney Nutting for repair. The damage was probably more to Sir Keith's ego than the vehicle. Tragically, Sir Keith passed away in 1941 at the age of 40 while serving his country in WWII, but Lady Nuttall, his widow, kept the car in use at their London home. It was recorded by Rolls-Royce in 1945 under the name of Mrs. Edward Firzpatrick (previously Lady Nuttail).
The Phantom II is one of the greatest British pre-war sporting cars ever produced. Powered by the well balanced in-line six engine, the continental chassis were ideal for fast touring around the continent. Many of the PII were mated wîth extraordinary coachwork, this one in particular wîth Gurney Nutting's finest. This particular car is on a short chassis and is one of the finest available today. Ordered new by Mr. Cox Hill of Birmingham the car has a number of special order items. It later came to the ÚSA and graced the collection of Mr. Phil Witchard of New York. The car was a First Place Winner at a Classic Car Club of America's National meet.
Source - Blackhawk Collection
The Rolls-Royce Twenty became the new 25/30, while the New Phantom later became known as the Phantom I after the launch of the Phantom II. It was still rated at 40/50 horsepower, the same as the Silver Ghost and the Phantom I. A major difference was the it's lower stance, and its suspension which now utilized front and rear semi-elliptic leaf springs. Just like in the Riley Nine, the passengers' feet in the Phantom II were now comfortably tucked under the front seats in foot wells. This new design feature allowed a variety of close-coupled coachwork to be fitted.

The Phantom II Continental was a lightweight sporting car designed by Ivan Evernden and originally built by Barkers. They were based on the short 144-inch wheelbase and fitted with a stiffer five-leaf spring suspension, and a 12/41 axle. This new axle, replacing the standard 11/41 unit, allowed for greater cruising speeds. The engine was given modifications including a compression ratio increase to 5.25:1. Other changes to the car included a Hartford remote-control shock absorbers, low-rake steering column, and a lowered floor.

The PII Contientnal was capable of speeds of 100 miles per hour. There were just 1,680 Phantom IIs were manufactured between 1929 and 1935, and only 281 were Phantom II Continentals.

The Sedanca Coupe was originally designed and built by Gurney Nutting for London Rolls-Royce dealer H.R. Owen. It did not take long before other custom coachbuilders introduced their own styling on this gorgeous design. This example, chassis 32PY, is believed to be an original Gurney Nutting car. This vehicle has a close-coupled body, and two-position convertible top, low windshield.

The original owner of this car, it is believed, was a resident of London, England and sold through the main agents H.R. Owen Ltd. The second owner was also of London, who sold it in December of 1944 to a gentleman in Scotland. It was later sold to Dr. A. Dickson of Aberdeenshire in May of 1948. Mr. Dickson's ownership of the care was longterm, including several years in storage. It was sold in the late 1980s, and given a restoration by Gurney Nutting.

In the early 1990s, the car was sold to a Florida-based collector. It entered another prominent private collection in the Midwest in 1998 or 1999. The interior was converted from tan to blue leather upholstery and carpeting.

The car currently wears paint that was applied nearly 2 decades ago. The Sedanca roof is in dark blue cloth with chrome landau irons. It rides on original wire wheels fitted with aluminum covers painted to match the body. There is a proper 'Spirit of Ecstasy' radiator mascot, and a rear-mounted luggage trunk. The interior is rich medium blue leather upholstery.

In 2009, this Rolls-Royce Phantom II Continental Sedanca Coupe was offered for sale at the Automobiles of Arizona auction presented by RM Auctions. It was estimated to sell for $500,000 - $600,000. The lot was sold for the sum of $375,000 including buyer's premium.
By Daniel Vaughan | Apr 2009
The Phantom II Continental was aimed at the sporting buyer of Rolls-Royce motor cars; it was created for those individuals who wanted to motor across the continent in the grand manner - in a car with increased performance and stiffer handling. The Hooper coachwork company of London was responsible for this particular four-seat sports coupe. Its first owner was a navy captain who intended to drive himself, but he specified Port and Starboard bar fittings in red and green velvet for the passengers in the rear. Other interesting features are the advanced 'semaphore-style trafficators,' extra driving lights and an integral trunk, which was unusual for the period.
This Gurney Nutting-bodied Phantom II (chassis 170 MY) has been owned by some of the most discerning motorists in the world. Its first owner was Sir hugo Cunliffe-Owen, a director of British American Tobacco. In 1936 the car was purchased by Bentley racing driver Jack Dunfee. Rolls-Royce Phantom IIs were also owned by several other race drivers of the period. This car spent some time in the Blackhawk Collection, then was purchased by a well-known English collector, and eventually joined the collection of Formula 1 supremo, bernie Ecclestone. This one of the most famous and desirable of the 281 Phantom II Continentals built, and it has been featured in many articles.

The current owners purchased the Phantom II in 2007. It has undergone a complete body-off restoration.
The Rolls-Royce Phantom II was first shown at the London Motor Show in 1929. With its 6-cylinder, 7.7-litre engine it was much faster than previous Rolls-Royce cars. The Continental, introduced in 1930 was designed for the owner-driver to enjoy and was built on a shorter chassis than previous Phantoms. It was the last Rolls-Royce designed by Henry Royce. Rolls-Royce created 281 Phantom II Continentals, and the Sedanca Three Position Drophead with coachwork by Gurney Nutting is one of the most beautiful of them all. Around twelve of these cars were built and just a handful remains. Chassis 71 MW was first owned by Albert Primrose, the sixth Earl of Rosebery.

On May 26th of 1933, H.R. Owen placed an order with Rolls-Royce for a Phantom II Continental. Chassis number 71MW was completed off-test July 7th and just 10 days later delivered to Gurney Nutting. The car was fitted with the desired 11-degree slant to the hood louvers, which would eventually carry into the cowl of the coachwork. Gurney Nutting completed the Three-Position sedanca Coupe on August 31st of 1933. Upon completion, the car was finished in dark green with a turquoise pinstripe and dark green leather interior with turquoise piping.

On September 7th of 1933, 71MW was delivered to its first owner, Albert Edward Harry Meyer Archibald Primrose, 6th Earl of Rosebery, Baron Epsom of Epsom. In addition to 71MW, harry added to the family stable three other Phantom IIs and a Phantom III. The latter Phantom II (179TA) and the Phantom III (3AZ158) also sported Gurney Nutting Sedanca coachwork.

On July 18th of 1936, the car was acquired by Sir John Francis Roskell Reynolds. It would remain with John until 1943 or thereabouts when the car was given Paddon Brothers Ltd. of Kensington and subsequently sold to the Honorable John Clotworthy Talbot Foster Whyte-Melville Skeffington, the 13th Viscount Massereene and Ferrard. Skeffington was noted for having driven the former Aston Martin Works Ulster, LM20, to an astonishing 5th overall at the 1937 24 Hours of Le Mans.

It is believed that the Rolls-Royce was subsequently advertised for sale in the July 1956 issue of Motorsport. In response to the ad, Wesley B. Hartman imported the Continental to Scottsdale, Arizona.

In 1962, Alan McEwan purchased the car and would retain it for 46 years. In 2008, the car was purchased by its current owner. A short time later, the car was given a restoration. In 2009, the completed Continental was invited to the Pebble Beach Concours d'Elegance where it participated in the Tour d'Elegance before Sunday's big event. It achieved a First in Class and was further awarded as the Gwenn Graham Most Elegant Convertible.

In 2010, it won First in Class and Best of Show at 9 major events, including the La Jolla Concours, the Belmont Concours, the Hillsborough Cocours, the Capitol Concours, the Niello Serrano Concours, and the Ironstone Concours, and was the 2010 Champion with the SCCA, frequently scoring a perfect 100 points. The following year, the car won First in Class and Best of Show at the Forest Grove Concours and First in Class and Best of Show at the Santa fe Concours.

In 2012, the car was invited to take part in the Windsor Castle Concours of Elegance. In May of 2013 the car was invited to the Concorso d'Eleganza Villa d'Este, where it was awarded Most Elegant Rolls-Royce and a Second in Class.
Chassis number 2MY is an original factory trials car fitted with many prototype features. The car was used as a trials car by the factory for a decade and it was the first Phantom II to be fitted and tested with many innovation features that would later make their way onto the entire Phantom II series. This was also the first Continental Phantom II with a high-lift camshaft, heavy-duty exhaust valves, a high ratio rear axle, a crankshaft with balance weights, and cast-iron brake drums. This was also the first Rolls-Royce to display the Rolls-Royce logo on the wheel hubs, and the first with 11-degree bonnet louvers. The car has a Rolls-Royce 20/25 radiator mascot along with Lucas horns and brackets.

The trials were completed on January 3rd of 1933, when the car was sent to Barker & Company to be fitted with a sport touring saloon body, number 6684. In the next six months, it was then used as a sales demonstrator and driven by Captain Len Cox. In June 1933, it was returned to the London Service Department for special pistons to be installed. After additional tuning, it was used for road testing over the next year by Sir Malcolm Campbell.

On August 4th of 1933, the car was road tested by Autocar who reported it as having a timed top speed of 92.31 mph.

The car was sold by the factory on November of 1934 to Major P. Gribble, who traded in his 8-Litre Bentley and received an £500 allowance on the Continental. Subsequent owners included William Klein Jr. of Elizabethtown, PA, and D.L. Masland, of Camp Hill, PA.

The car has been the recipient of recent cosmetic and mechanical freshening. It was repainted in rich mulberry with a claret coachline. There is a new stainless exhaust system, electric overdrive, a new cylinder head, a ring gear, and new engine mounts. The car was used in Australia in 2004 for a commemorative tour.

The car has its original offside touring spare, polished Ace wheel discs, a center 'anti-dazzle' lamp, and dual Lucas 'Mellotone' trumpet horns, as well as its original registration plate.

The overhead valve six-cylinder engine displaces 7688cc and offers 120 horsepower. There is a four-speed gearbox and four-wheel servo-assisted brakes.
By Daniel Vaughan | Feb 2014
The Phantom II was the first completely new car since the 20HP seven years earlier. The Phantom II was still rated 40/50 HP but was lower and the springing half-elliptic all around.
The car, although to Royce's design and specification, was mainly the work of his West Wittering design team and included many innovations and a redesigned engine that, wîth the gearbox, was now one unit.

The introduction of the Phantom II, only four years after the Phantom I, was prompted again by increased competition from other manufacturers, particularly Buick and Sunbeam. Ironically, the head of Buick had bought a Phantom I and, which so impressed everyone at Buick that they stripped it and copied much of what they learned.

Royce himself knew they were lagging behind: 'I have long considered our present chassis out of date. The back axle, gearbox, frame, springs have not been seriously altered since 1912. Now we all know it is easier to go the old way, but I so fear disaster by being out of date, and I have a lot of stock left, and by the sales falling off by secrets leaking out, that I must refuse all responsibility for a fatal position unless these improvements in our chassis are arranged to be shown next autumn, and to do this they must be in production soon after midsummer 1929.'


Royce was influenced by the lines of the current Riley Nine, and the manner in which the rear passenger's feet were tucked comfortably under the front seats in 'boxes', enabling 'close-coupled' coachwork to be fitted. Royce decided to build a special version of the car for his personal use.

Superb coachwork wîth modern styling was now available and Royce decided on a lightweight sporting body, which Ivan Evenden designed and Bakers built. This car became the forerunner of the legendary Phantom II Continentals.

The chassis is the standard Phantom II short model wîth a few modifications. These consist of a low §teering column and specially selected springs. There never was a defined speciation of a Continental Phantom II. The series to series engineering improvements were applied to all chassis.
Source - Rolls-Royce Motor Cars Limited
The Rolls-Royce Phantom II was very similar to the Phantom I in many ways, but brought improvements such as a higher horsepower rating and the removal of the traditional torque-tube drive. Instead, the engine and gearbox were constructed in unit with each other rather than being separate. The Autovac was now using an engine-driven pump. A new water-heated induction system was used. The Battery and magneto ignition was the same as in the Phantom I. Built-in centralized lubrication was now a standard feature and the Catilever rear springs were shed in favor of semi-elliptic units. The bodies of the car sat atop of a separate sub-frame which helped eliminate distortion.

After the construction of the first Phantom II, named the 18 EX, it was put through its paces on a 10,000-mile test drive to identify the vehicles short-comings and to ensure the vehicle was constructed to Rolls-Royce standards. The car was driven on many types of terrain and at various speeds. It was reported that the car drove best at 70-mph.

Most of the left-hand drive coachwork, those vehicles intended for the United States market, was handed by Brewster and Co. The European versions were bodied by names such as Hooper, Arthur Mulliner, Park Ward, Barker, and Thrupp & Maberly.

Construction of the Phantom II lasted from 1929 through 1935, at which point it was succeeded by the Phantom III and its large twelve-cylinder engine.
By Daniel Vaughan | Feb 2007
For more information and related vehicles, click
here
BARRETT-JACKSON REACHES HISTORIC HIGHS FOR SALES, CROWDS AND CELEBRITY APPEARANCES IN SCOTTSDALE
• Barrett-Jackson sold 1,611 vehicles, which went for more than $130 million (unaudited), smashing records in the company's 44-year history during the 10-day auction at WestWorld of Scottsdale • Automobilia sales nearly tripled world records, with 2,000 pieces selling for more than $6.55 million • Celebrity attendance and crowds, along with ratings on Discovery and Velocity, spike SCOTTSDALE, Ariz. – Jan. 18, 2015 – Barrett-Jackson, The World's Greatest Collector Car AuctionsTM, reac...[Read more...]
Dream Car Saturday Ready to Launch at Russo and Steele's 15th Anniversary Scottsdale Auction Event!
Scottsdale, Arizona (January 17, 2015) – Following 2 great days of record attendance, stratospheric sell through and a world class seminar moderated by SEMA Hall of Fame member Wade Kawasaki and featuring an all-star panel of guest experts which included such noted personalities as Wayne Carini from TV's Chasing Classic Cars, McKeel Hagerty of Hagerty Insurance, Jim Menneto from Hemmings Motor News, and Oscar Pereda from Michelin North America, we prepare to enter our exclusive gladiator...[Read more...]
MIDWEEK RECORD CROWDS AT DAY FIVE OF BARRETT-JACKSON
You would have never guessed it was a Wednesday if you were walking around Barrett-Jackson Scottsdale today. The party atmosphere, the crowds, and the excitement on the auction block made it feel more like a Friday. The collect car hobby is truly thriving. Where else can you see a beautifully restored Jaguar, a classic sightseeing bus and a sleek Street-Rod crossing the same auction block? You can always count on diversity at Barrett-Jackson, and today was no exception. Today saw th...[Read more...]
CELEBRITIES JEFF GORDON AND BUBBA WATSON ALONG WITH FORD AND GENERAL MOTORS DONATING VEHICLES FOR CHARITY
•NASCAR racing legends Jeff Gordon and Ray Evernham will auction a 1999 No. 24 Pepsi Chevrolet Monte Carlo (Lot #3007) to benefit Jeff Gordon Children's Foundation •Professional golfer and Masters champion Bubba Watson is donating a '39 Cadillac LaSalle C-Hawk Custom Hardtop Roadster (Lot #3005) to benefit Birdies for the Brave •Barrett-Jackson consigner Joe Riley is donating a '79 Oldsmobile Cutlass Hurst Coupe (Lot #3004) to support the Cancer Research Fund at TGEN in memory of Russ and Bri...[Read more...]
SEMA SHOW: MOTHERS® SHINE AWARD PRESENTED TO 1969 FORD TORINO TALLADEGA 'GPT SPECIAL'
Everything is bigger and brighter in Las Vegas, NV and here at the SEMA Show the Mothers® Shine Award is one of the brightest and most coveted achievements within the car builders' community. As always, the 13th annual edition of the Shine Award was selected from, no less than, hundreds of the world's premier cars on display at the most anticipated aftermarket industry event of the year. An international panel of respected members of the automotive world, including seasoned builders, paint speci...[Read more...]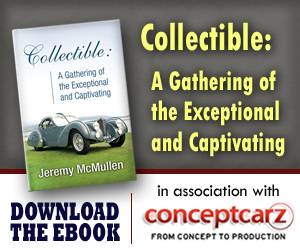 Rolls-Royce
Monthly Sales Figures
Volume
December 2014
75
November 2014
75
October 2014
75
September 2014
75
August 2014
75
July 2014
75
June 2014
75
May 2014
75
April 2014
75
March 2014
75
January 2014
86
(More Details)
© 1998-2014. All rights reserved. The material may not be published, broadcast, rewritten, or redistributed.